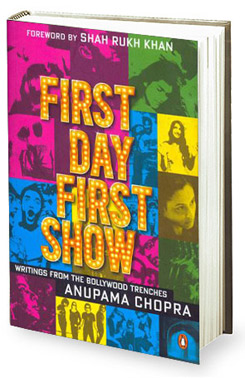 This article was last updated on April 16, 2022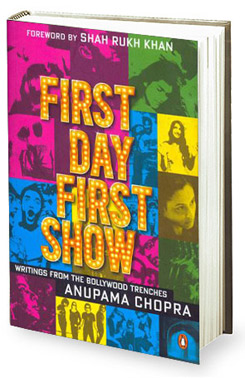 Dinner table, bed, traffic signal, lounge, multiplex, saloon – These and many more places are what formed various settings for me to read and complete 'First Day First Show'. Simply put, the book is addictive as it gets. Hard to put down and making for a fluid read, this 400 odd page book made of short chapters ranging from 4-6 pages at an average is such an engaging read that I tended to carry it wherever I went. This means that even though I couldn't get those 5-6 hours at stretch to wrap up the book, the chapter approach made it all the more comfortable for me to flip through the pages, pick up a chapter that was to my liking at this hour and wrap it up in a jiffy. Now this is what turns out to be a major USP of this Anupama Chopra book as it never tires the reader by being way too overbearing. One can read it at his/her leisure without ever getting too bogged down to wonder about what would happen next. A series of write-ups that Anupama has done over the last 15-20 years is what fills in the pages of this quintessential Bollywood book which is a must read for all those hardcore 'masala' flicks lovers. This is pretty much apparent from the manner in which Anupama goes about picking up her subjects. After all, it is difficult to Google down on what happened when Amitabh Bachchan made his comeback with Mrityudaata? Or how Govinda was a superstar once and didn't hesitate throwing his weight around? Or that Sanjay Dutt had seen some rollicking success for himself during the days of Khalnayak? Or that Border as well as Dil Toh Paagal Hai weren't quite lapped up by all critics? Or that Aftab Shivdasani was actually one of the hottest properties after the release of Mast?
Frankly, these are the details that archives are made of and it is this very fact that makes one look back not quite far away and read about things that happened in our own generation. So for those who have been a regular follower of real information or gossips that were shared in magazines like 'Filmfare' or 'Stardust' over the years or far more generic 'India Today' (from which most of the articles have been reproduced), 'First Day First Show' turns out to be a highly interesting read. What also makes this book all the more entertaining is the fact that Chopra comes across as a hardcore Bollywood follower, something that reflects in her writing for majority of chapters. She also seems to be having a good handle over the economics of filmmaking as more often than not, her stories are punctuated with box office facts and figures. The best part about these chapters though is abundance of examples and anecdotes that appear in practically every page. This means that while the writer definitely has her own point of view being heard, there is enough added along to substantiate the claims as well. Having said that, one also gets a strong sense that eventually majority of her point of views are on a positive and goody-goody side that makes it all a lot too comfortable for all involved. No, one wasn't looking for any tabloid hunting here but then there aren't any strong opinions being made (or at least published here) that would have led to further debates being made. Yes, there are references made to superstars falling down or their series of flops but none of that is scathing enough to make any of them stand up, notice and question. Also, there are hardly any write ups from the new Millenium. Yes, there are quite a few movie reviews being reproduced (the newest ones being Dabangg, Raajneeti, Love Sex Aur Dhokha, My Name Is Khan etc.) but then the articles are mainly coming from the decade of 90s. Now that's disappointing because one would have wanted to read a lot more about last decade as well, especially the first half of it.
Moreover, for a book which maintains an out and out 'commercial appeal' (as rightly reflected through a lengthy foreword by Shah Rukh Khan – whose Dilwale Dulhaniya Le Jaayenge also gets a good enough dissection), there are some elements that purposefully aim (but not quite succeed) at giving readers some non-Bollywood stuff to go through as well. Picture this: There can't be many expected to be wowed with write ups around the 'modelling business', 'Film and Television Institute of India', 'Neena Gupta', 'Columnists', 'IFFI' or some art house cinema coming from down South. Thankfully number of such articles is low which means one can quickly flip through the pages and move on to something interesting soon. Also, since none of the two consecutive chapters are related to each other, one can pick and choose from any point and still not miss any of the fun. What stands out though is the very first chapter (Into Production) which is like a thrilling prologue to the entire drama. The entire underworld and filmmakers nexus is touched upon (though not quite exposed) to set the 'right mood' for the chapters that would unfold at a later stage. One of the chapters around 'cell-phone boom' for Bollywood celebrities a decade and a half ago makes for an interesting read as well with the fact being revealed that Shah Rukh Khan was one of the first buyers of this 'exclusive gadget'! Mithun Chakraborty running his mini-industry in Ooty during the 90s is given a status better than just folklore. Moreover, it is also revealed that Ajay Devgn would one fine day make a film titled Antim Sanskar and for that he was once thinking of roping in Kamal Hassan. He has the script ready and though the statement was made way back in 1999, not much was said and written about it ever again. Breaking news anyone?
Price: Rs. 499 Rating: 3.5/5
You can publish this article on your website as long as you provide a link back to this page.