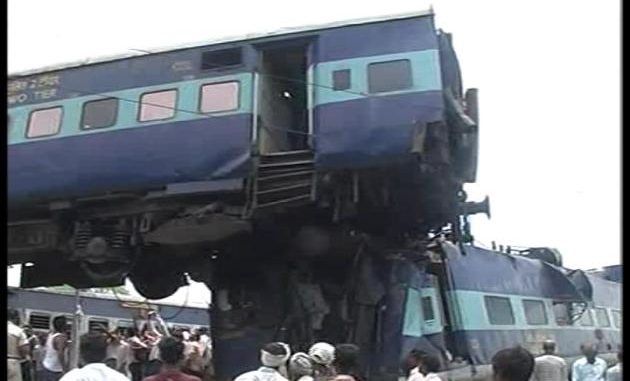 The Howrah-Kalka Mail bound to Kalka got derailed at Fatehpur Malwa station in Uttar Pradesh killed 35 people & leaving more than 140 people injured. Special team from the Army & National Disaster Relief Force reached the accident spot as soon as possible. The train was running with the speed of 108 km/hr & got derailed at 12.20 AM. The impact of the mishap was huge. 13 coaches were derailed some raised upon each other. The local people first came to help the injured people & then police reached the spot. Some of the people broke the glasses & then came out of the tangled train.
On the other hand, Guwahati-Puri express got derailed at Rangia, Assam & challenged 31 lives. It was running at the speed of 65 km/hr & was heading towards Puri (Orissa). In this accident about 50 people are injured. S. K. Roy, the district collector of Kamrup said that, there are very less number of casualties. The engine & the four bogies got derailed at around 8.30 PM. The Railway Protection Force (RPF) reached the spot & the relief train from Bongaigaon has been reached to the accident spot to help the injured people. The experts examined that during the derailment may be the brakes & the four wheels of the engine got blast & that's why the derailment occurred. the helplines for the Guwahati train accident are 0361-2737154/55, 2731621/622/623, 9957554804
Now both the mishaps raise many questions in front of the Indian Railways. Such as:
· The Kalka mail was running at a speed of 108 km/hr. When the train was not having any stop at Fatehpur Malwa then why the driver of the train applied the emergency brake.
· The experts are saying that the application of the emergency brakes won't lead to derailments. It will create the sudden jerks but not derailment. It means that the air brake of the other bogies may have got failed at that moment.
· Or the tracks were damaged.
· In the Guwahati train accident, the experts are predicting that due to the blast the train got derailed. If the blast is true, then why & how the blast occurred at the railway track & who are involved in this.
· If the blast occurred then why the railway officers didn't checked the tracks before the arrival of the train.
· If the problem lies in the brakes of the engine then the car shed engineers are at the fault that they didn't checked the train properly.
But at the end of the, what the reports says & what the experts concluded that's not enough for those who have lost their near & dear ones.
Article viewed at: Oye! Times at www.oyetimes.com