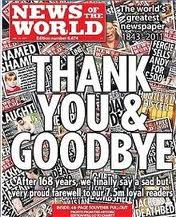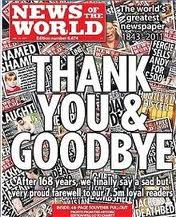 It is the end of an era. A newspaper which has been publishing for 168 years is summarily dismissed, forced to close its doors. While to many this seems like a stunning decision on the part of Rupert Murdoch, there seems to be a larger, more important issue at stake here. Mr. Murdoch's News Corporation has recently been granted regulatory permission for a 100% takeover of the company BSkyB a satellite broadcasting company operating in the United Kingdom and the Republic of Ireland which is the largest pay-TV broadcaster in the United Kingdom with over 10 million subscribers.
What's the perspective on all this? The company's gross revenue is listed for the 12 months ending June 2010 as £5.9 billion or $9.5 billion. Yes, that's billion. In comparison, the newspaper had merely 2.1 million subscribers. At the moment, I can't lay my hands on any revenue figures but have to assume is less, much less than what BSkyB is generating. In other words, Murdoch sees the political scandal swirling around NOTW as jeopardizing his purchase of the TV broadcaster and felt shutting down the paper was the prudent thing to do. The question now is whether or not this strategic move will dampen a growing taste for vengeance against an organization which has betrayed the confidence of the public and its own ethics.
Andy Colson, former editor of the paper has now been arrested as part of a widening investigation about just what was going on at the paper. Colson had been hired as a communications director by the government but resigned his post this past January due to continuing claims of phone hacking. Friday's arrest saw Colson facing charges of conspiring to intercept communications and corruption. Clive Goodman, former royal editor for the paper was also arrested on suspicion of corruption.
One point about the scandal centers on Milly Dowler who was abducted and murdered back in 2002. Wikipedia's article reads:
The Guardian reported on 4 July 2011 that Scotland Yard had discovered Dowler's voicemail had been accessed by journalists working for the News of the World and the newspaper's private investigator Glenn Mulcaire. During their ongoing investigation into that newspaper's phone hacking activities, police detectives discovered that journalists had deleted some messages – potential evidence – in Dowler's voicemail box because it was full; that freed up space for new messages, which they could listen to. The deletions misled family and friends into thinking that Dowler was still alive. Dowler's parents announced via their solicitor that they would pursue a claim for damages against the News of the World.
The BBC is reporting that the family of Milly Dowler is going to meet with Deputy Prime Minister Nick Clegg on Monday for discussions about the independent inquiries related to the phone hacking scandal. They will also meet Prime Minister David Cameron.
As the investigations delve deeper into what transpired, there can be no doubt many interesting and probably scandalous stories will come out. Time Magazine ran an article on Friday about the actor Hugh Grant with a video interview. Mr. Grant talks about confronting Paul McMullen, then an editor at News of the World fully admitting he had hacked Grant's phone. Grant claims to have actually recorded McMullen saying this. (Mediate's article on this) McMullen explains this was going on under the directorship of Andy Colson and seems to have been a common practice at all the tabloids.
The Telegraph has now written that Ed Miliband, the Labour Leader, is seeking a motion to block the BSkyB deal until the criminal investigation of News of the World is complete. Will Rupert Murdoch see his bid to buy BSkyB go up in smoke?
Published on Jul 10, 2011 by Euronews
Murdoch in London to save BSkyB deal
Media baron Rupert Murdoch has arrived at the London headquarters of his newspaper empire to take control of the phone hacking crisis amid fears his 100 percent buy-out of Britain's biggest pay TV network could be in jeopardy. The 80-year-old billionaire clutched the final edition of the News of the World, the tabloid he closed this Sunday. The takeover of BSkyB is subject to government approval, which the opposition Labour party insists should now be overruled or at least delayed.
References
Britain's Telegraph is reporting live updates about this scandal as they happen. (click here)
Wikipedia: News of the World phone hacking affair
The News of the World phone hacking affair is an ongoing scandal concerning illegal practices that have taken place, with further hacking alleged to have taken place at the News of the World, a weekly British tabloid published by News Group Newspapers of News International, itself a subsidiary of Rupert Murdoch's News Corporation.
Wikipedia: News of the World
The News of the World is a national tabloid newspaper published in the United Kingdom every Sunday. It is published by News Group Newspapers of News International, itself a subsidiary of Rupert Murdoch's News Corporation, and is the Sunday sister paper of The Sun. The newspaper concentrates on celebrity-based scoops and populist news. Its fondness for sex scandals gained it the nicknames "News of the Screws" and "Screws of the World". It also has a reputation for exposing celebrities as drug users or criminals, setting up insiders and journalists in disguise to provide either video or photographic evidence, and phone hacking in ongoing police investigations.
Wikipedia: List of alleged victims of the News of the World phone hacking scandal
The following people have been identified as victims of the News of the World phone hacking affair.
official web site: News of the World
Thank you and good-bye. After 168 years, we finally say a sad but very proud farewell to our 7.5m loyal readers
Wikipedia: Murder of Milly Dowler
Amanda "Milly" Dowler was an English schoolgirl who was abducted on her way home from school at the age of 13 in Walton-on-Thames, Surrey, on 21 March 2002, and subsequently murdered. Her body was discovered on 18 September 2002.
Wikipedia: British Sky Broadcasting
Click HERE to read more from William Belle
Article viewed at: Oye! Times at www.oyetimes.com