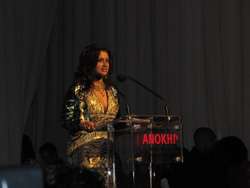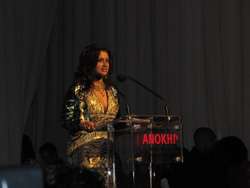 Raj Girn, Founder and Publisher of Anokhi Magazine
On February 5th, Anokhi Magazine celebrated its 7th anniversary in fine style at the Liberty Grand Entertainment Complex in Toronto handing out awards to honour talented South Asians in the media, entertainment and fashion industries from around the world at Anokhi's 4th Annual Awards Gala.
Numerous celebrities, musicians and fashion designers were in attendance to accept awards as well as perform and showcase their fashion designs. The theme for this year's awards gala was Sexy & Successful and the gala coincided with the release of Anokhi's 7th anniversary collector's issue highlighting over 40 of the hottest South Asians in the World.
"We are excited to feature some of the top celebrities, musicians and fashion designers from the global South Asian community here at our 4th annual Awards Gala," said Raj Girn, founder and publisher of Anokhi Magazine.
"With South Asians becoming more and more successful across all industries and an increased interest by society in general with South Asian culture, our Annual Awards Gala allows us to showcase our talents and share our stories."
And the Award Goes to…
The awards were presented and hosted by local South Asian TV personalities such as Nalini Sharma, Francis D'Souza and Farah Nasser of Citytv, Omar Sachedina of CTV and CBC's Anne-Marie Mediwake.
For excellence in acting, former Miss India U.S.A. Pooja Kumar received the award for best female actor while Faran Tahir of Star Trek and Iron Man fame was named best male actor.
For musical achievements, awards were given to Dutch Punjabi singer Imran Khan for best male artist, Oakville's Anjulie for best female artist while UK's DJ Kayper was named best DJ. Ottawa-born and Toronto-based Farahri was named Most Promising Musical Artist and fellow Canadian Gurpreet "The Tabla Guy" Channa received the award for Most Promising Musician.
Other notable awards were handed out to entrepreneurs Gurbaksh Chahal and Anjula Acharia-Bath. American-born Chahal received the award for Excellence in Digital Entrepreneurship. Chahal is one the richest self-made millionaires in the world. UK-born and US-based Bath is the Chairman, President and Founder of DesiHits! and was awarded with Online Entrepreneur of the Year. The global online music site has become the leader in East meets West music collaborations, working with Indian musical stars as well as mainstream artists including Britney Spears, Sean Paul and Lady GaGa.

Models from Ashley Rebello's exclusive fashion runway show
India's premier Bollywood fashion designer to the stars, Ashley Rebello was given the award for Excellence in Fashion Design. Rebello also showcased his collection for the first time in North America in an exclusive fashion runway show.
Throughout the evening there were extraordinary live performances by musical artists Farahri featuring Choclair and Fire Lion, Imran Khan, Raghav and Anjulie. The awards were followed by a VIP after party where DJ Kayper spinned an entertaining set and included encore performances by Imran Khan, Anjulie and Farahri again featuring Choclair and Fire Lion.
About Anokhi
Award winning Anokhi is the longest-running quarterly contemporary high gloss South Asian fashion, lifestyle and entertainment magazine in North American history, now going into its six issue calendar year in 2010. Anokhi targets today's intellectually hip, progressive and culturally diverse generations of South Asian and mainstream women in North America. Anokhi is available throughout Canada, the US and the UK. The magazine is entering its eighth year of publication. For more information visit:
www.anokhimagazine.com
.
Complete List of Winners:
Gurbaksh Chahal
Excellence in Digital Entrepreneurship 2010
Anjula Acharia-Bath
Online Entrepreneur of the Year 2010
Rohan Oza
Excellence in Brand Development 2010
Vasanti Cosmetics
Most Promising Beauty Entrepreneurs 2010
Anjulie
Musical Artist of the Year, Female 2010
Imran Khan
Musical Artist of the Year, Male 2010
DJ Kayper
DJ of the Year 2010
Farahri
Most Promising Musical Artist 2010
Gurpreet Chana
Most Promising Musician 2010
Pooja Kumar
Actor of the Year, Female 2010
Faran Tahir
Actor of the Year, Male 2010

Ashley Rebello
Excellence in Fashion Design 2010
Emanuel Sandhu
Excellence in Sports 2010