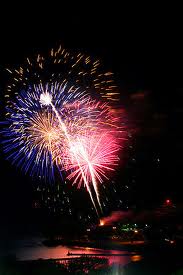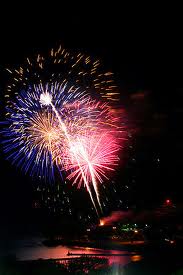 Today is the Fête de la Reine, named for Queen Victoria (1819-1901). Of course she's long gone and probably all the reasoning why we celebrate her but who's going to refuse a day off? As well as a long weekend, this also means a four day work week. All right! Fist pump!
Weather
Boo, Environment Canada is reporting for Monday: Becoming cloudy this morning. 30 percent chance of showers late this morning and early this afternoon. A few showers beginning this afternoon. Risk of a thunderstorm late this morning and this afternoon. Wind south 20 km/h becoming southwest 40 gusting to 60 late this morning. High 23. UV index 4 or moderate. Rats. Oh well, when we go out, we have to be prepared with an umbrella.
Fireworks
Ashbridges Bay is scheduled to set off some fireworks on Monday at 9:45pm. The show is set to last 15 minutes. Ontario Place has nothing scheduled. (Anybody catch Canada's Wonderland Sunday night?)
Other Events
Queens Quay Terminal and the surrounding area is playing host on Monday from 11am to 5pm to some free pirate-themed fun ranging from face-painting and crafts to performances by magician Zoltan the Adequate Pirate and man of daring-do Long Jon Strong.
All weekend, Harbourfront Centre has circus-themed performances and activities for all ages. Since the Harbourfront Centre is right next to the Queens Quay Terminal, on Monday you could do the circus and the pirate themes in one trip.
On Monday, May 23rd, Fort York will be open from 10am-5pm for Victoria Day Celebrations and the Gibson House will be celebrating the Queen's Birthday from noon-5pm. Montgomery's Inn is having a Victoria Day Tea and Tour on Monday.
The Distillery District is playing host to artisans from across Ontario and Quebec who will be showing their handmade arts and crafts from 11 a.m. to 6 p.m. The Outdoor Craft Show is also promising to entertain visitors with live musical performances.
Toronto.Com has a complete listing of weekend events.
For those of you considering a movie, Cinema Clock provides a complete listing for Toronto. This is a big weekend for Pirates of the Caribbean: On Stranger Tides, but there is a big selection. I will point out reviews of Thor, Fast Five, and Certified Copy and I note that you can still catch some older films like Source Code, Hanna, The Lincoln Lawyer, and The Adjustment Bureau.
Doors Open Toronto: May 28 & 29
Check out Toronto's web site for information about this up-coming weekend event. I've been out a few times and it's a great way to get in to see some buildings that normally may be off-limits to the public. Our city has a number of interesting places so why not check out what's in your own backyard?
The web site has a short video highlighting some of the buildings you may or may not be familiar with. Plus, there's a comprehensive list and a map of where they are. Be there or be square!
Other News
As you may or may not know, Saturday was supposed to be the end of the world, well, according to one Harold Camping, a Christian evangelist from California. I've updated the article with some new information from May 22, end of the world plus one. See May 21: The End of the World (Afterword May 22)
Lots of other stuff to keep track of. Canada Post will not being going out on strike this week. The Richelieu River flooding is not good. There is talk of banning smoking from beaches and parks. Do you support this?
Lottery Stuff
Good lord, one family in British Columbia have had their lives upended by winning the Lotto Max this past Friday with a jackpot of – get this – $35,738,798. That's all for one ticket; no splitting; no sharing. Holy moly, can you imagine this?
David Rennie, his partner Sandra Morgan and their son Kyle Rennie were videotaped holding the winning ticket by a local TV station. This steelworker from Campbell River on Vancouver Island has announced that he is going to quit his job, but first wants to make sure the money is deposited in his account which supposedly will happen on Tuesday.
Click here to see a video report from CHEK-TV a local station on the island telling the story with an interview with Dave Rennie and his family. As Dave says, "It's surreal."
For Ontario, the WCLC is saying that Saturday's winning 6/49 ticket was purchased in Ontario. Hey, that's a cool $3,276,853. Nothing to sneeze at there.
6/49: Sat, May 25, 2011: $3,000,000
Lotto 6/49: One chance in 13,983,816
Lotto Max: Fri May 27: $10 million (No MaxMillions)
Lotto Max: One chance in 28,633,528
All the latest winning numbers
You can visit the Lotto web site and check out all the latest winning numbers including Poker, 49, Lottario, Keno, Pick 4, Pick 3 and Payday. Of course, all the Encore numbers can be found there as well.
See you all around on the pages of Oye! Times.
References
Wikipedia: Victoria Day
Victoria Day (in French: Fête de la Reine) is a federal Canadian statutory holiday celebrated on the last Monday on or before May 24, in honour of both Queen Victoria's birthday and the current reigning Canadian sovereign's official birthday. It is sometimes informally considered as marking the beginning of the summer season in Canada.
Click HERE to read more from William Belle
Article viewed at: Oye! Times at www.oyetimes.com