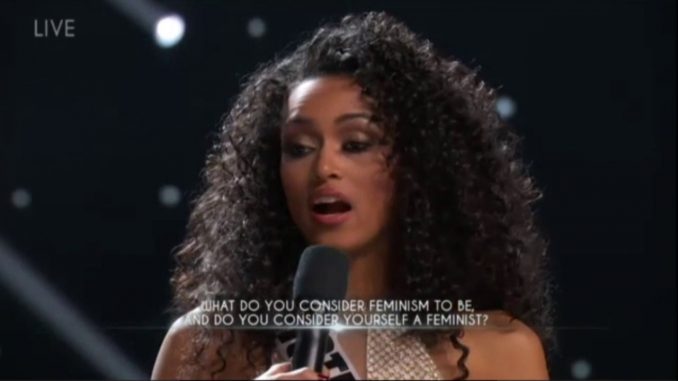 If you tuned into the Miss USA competition last weekend, you might have noticed some big changes. For the first time in the show's 65-year run, a Black scientist won the 166.82-carat crown. What's more, she was wearing her natural textured hair, sported a one-piece swimsuit, and found herself in the final two with a feminist, Indian-American immigrant — not exactly the status quo. Seen individually, these might be small wins for diversity, but together, it's a purposeful reinvention of a brand embroiled by controversy over its previous owner, President Donald Trump.
"We're so much better than we were before," Paula Shugart, longtime president of the Miss Universe organization told me ahead of the pageant. We met in a private hotel room at Mandalay Bay, but she still speaks in hushed tones and can't bring herself to utter Trump's name a single time during our interview. "I wouldn't say we were stifled [by Trump], but this is the proper time for us to flourish…Honestly, he was a larger than life personality, but now our personality is coming to the foreground." It's a vital move to the organization's survival, although the deck's been stacked against them.
Trump's nearly-20-year control over the pageant is more than a PR disaster, it's a reminder of the bigotry and sexism pageants are inherently steeped in. It took 38 years for a woman of color to win Miss USA and there is still a long way to go. This year, Miss Missouri received racist comments after being the first woman of color to win her state's pageant. Rules disqualifying more than half of American women because of lifestyle choices are still in effect. Then there's the swimsuit competition, which Shugart insists is a contestant favorite. Not to mention the lack of a talent competition, which its rival, Miss America, proudly features.
Many contestants believe this is the year that will dismantle the stereotypes, while others are still unsure if feminism has a place amid the high heels and bikinis. Speaking with the women backstage it becomes clear the competition is stuck somewhere in the middle: The contestants who represent more-conservative pageant ideals are pushed to the background so the professional and diverse women can be visible, a much smaller portion of the 51. But how far has the organization actually come since Trump signed over the rights two years ago? And will it be enough to save its faltering reputation? I went to Las Vegas, home of the intense four-day competition, to find out.

Cleaning Up Trump's Mess
"Once the presidential announcement happened, everyone knew," Shugart says. But it was more than a presidential conflict of interest that cemented the looming sale of the Miss Universe Organization to IMG/WME, an entertainment corporation that owns properties like Frieze arts fairs and UFC martial arts. Trump's racist comments about Mexicans on the campaign trail had already started a domino effect with longtime sponsors of the pageant, and then NBC/Univision dropped the show. (Now it's on Fox.) The transition has been a long time coming — and Shugart is quick to remind me that the pageant is nothing if not resilient. "The company has gone through many owners," she says. "[Trump] was just, obviously, the most intense, but I think we came out more positive on the other side."
It's been two years, but Trump still loomed over my weekend at Miss USA like Voldemort, referred to only as "the previous owner" in discussions by contestants and corporate executives. His name was used only when necessary, and then, only in hushed tones. Rumors about how he used to run the show — including the "Trump rule, " his supposed veto power over the final contestants — continued to swirl backstage.
His involvement is
tough to read about
. There are the allegations he walked through dressing rooms at the teen competition while minors were undressed (which he partially admitted to in an
interview with Howard Stern
). Then there's
what he said
about sleeping with contestants: "You could say, as the owner of the pageant, that it's your obligation." And, who can forget 1996 winner Alicia Machado, who he allegedly called "Miss Piggy" for gaining weight after her win and "Miss Housekeeping" for her Latin background.
But now that he's gone, things are changing — a lot, actually.
The New Class
Let's take, for instance, this particularly hard-to-listen-to interview Trump had with Stern back in 2002. He said things like, "I made the heels higher and the bathing suits smaller," and he also dismissed the importance of the women having careers: "They had a person that was extremely proud that a number of women had become doctors… and I wasn't interested."
In sharp contrast, 2017 was the first year that a woman wearing a one-piece was crowned a winner — and she was a scientist at the Nuclear Regulatory Commission. When it comes to the diversity of the contestants in a competition that's long been whitewashed, things also start to look better: Winner Kára McCullough is the 10th Black woman to win since Miss USA started in 1952, and this marks the first time two Black women have earned the spot, back to back.
The company has gone through many owners, [Trump] was just, obviously, the most intense…
McCullough was also the only woman among 51 to wear her curly hair natural on stage — a huge step in breaking down the dated and non-inclusive "pageant look." She was crowned by 2016 Miss USA Deshauna Barber, a captain in the Army Reserve who used her last walk to wear her hair natural as well. Four out of five finalists this year were women of color, and one was an immigrant.
Then there were the judges. Among them were Halima Aden, the first woman to compete in a Miss USA state pageant wearing a hijab and burkini, and Janet Mock, a trans woman who is a TV host, advocate, and author. "Trump rule" was clearly a thing of the past — although you never actually hear these women speak during the competition.
Instead, many of co-host Terrence J's remarks offset the feminist tone, and it could be argued that every step forward was paired with two steps back. He referred to McCullough as one of "one of the most intelligent contestants in recent memory," followed closely by one liners like, "If you would've been my science teacher, I would've paid more attention in class." Viewers were quick to respond, as well as point out the odd pairing of a question about feminism adjacent to a performance by Pitbull and his gaggle of overtly-sexualized female dancers.

Pageant Patties Need Not Apply
"It will take strong winners, one after another to break the stereotypes," Miss Kentucky Madelynne Myers told me. She's doing her part: she missed her graduation ceremony from Vanderbilt with a molecular and cellular biology degree to compete. "The winner isn't going to be the girl that wants world peace anymore. She's a woman with a career outside of this pageant that she's putting on hold to help other people. No one here is a Pageant Patty." (That's pageant talk for the stereotype you see on TV.)
Other contestants I spoke to were quick to acknowledge the changes being made post-Trump. "I think that the organization as a whole is moving past that," Miss Missouri Bayleigh Dayton told me backstage. She made it to the top 10 after being the first Black representative for her state, a role that's been met mostly with praise. "A lot of people have said, 'I am done with the organization for the year that you're here, I'll follow this next year when there isn't a Black Miss Missouri.'"
The winner isn't going to be the girl that wants world peace anymore, she's a woman with a career outside of this pageant that she's putting on hold to help other people.
Miss Florida Linette De Los Santos immigrated from the Dominican Republic with her family — one of five immigrants in the show — and is currently in law school. She wants to be an immigration attorney. "We have such a diverse class this year and I really think they're embracing and empowering [us]," she told me.
McCullough adds. "If young women, or even children, see a woman who went to school on a free ride, loves chemistry, studied nuclear chemistry, studied radio chemistry, and then went on to work for the nuclear regulatory commission, they're going to be encouraged."

But They Still Have To Take It Off?
So with all of this progressive talk, you might ask yourself: why is the bathing suit competition still even a thing? And where is the talent portion? All the contestants I spoke to defended it in the same way, saying it shows "how hard the women have worked." When I challenged this line of thinking in private interviews, identical talking points bubbled up over and over again. "Compare Miss Georgia and me — I don't have those curves!" one said. During the live show Miss Georgia DeAnna Johnson led the pack down the runway, her only screen time through the weekend, assumably placed first by the organization to show just how "diverse" the bodies have become. Many of the viewers at home thought otherwise — and plus size model Ashley Graham, reporting from backstage for the second year in a row, brings up the same point.
Ahead of last year's show, Graham told People, "The fact that they've asked me to come and speak backstage means that there is more feeling of diversity of beauty… I really do hope that the people at Miss USA are considering it and talking about it." With a lack of change among body shapes, this year she brought it up again, this time live as the models walked off stage in their swimsuits. "Pageants now, I'm hoping, are going to start putting curvy and plus-size women in front of the camera," she said to the camera.
There's also a rule that no one could quite explain the value of to me backstage: "Contestants may not be married or pregnant. They must not have ever been married, not had a marriage annulled nor given birth to, or parented a child. The titleholders are also required to remain unmarried throughout their reign," the rule states.
During the weekend I asked every woman I interviewed for her take on this rule — something that, according to the U.S. Census Bureau, cuts out well over half of America women aged 18-28. Some contestants didn't know why this was a thing, some hoped it would change to include more women "with different life experiences," and others suggested that these women to look at other pageants. Many pointed out that some contestants were engaged, but keeping it quiet and putting off their ceremonies until after the show so they could still compete.
Shugart fidgets nervously when I ask her about the policy. "You're an employee for us for the year, so you have to be able to commit to us," she says. "If you have a family, or those commitments, it's gonna be… it was probably pushing the envelope for the Army Reserve [with Barber], but, it's really just, we don't want you to have to be…" she trails off. "You shouldn't be raising a family while also having to… there are other events for that," she concludes.

When I asked the contestants and executives point blank if the show was now "feminist," many couldn't say the word. "That's a hard one… I don't know if I have an answer," De Los Santos responded when I asked if she thought a contestant could be a feminist and win the competition. And on stage, when asked what she considers feminism to be, and if she considered herself a feminist, McCullough stumbled, eventually side-stepping, and finishing with an answer that fell flat. "As a woman scientist in the government, I like to transpose the word feminism to equalism. I don't want to consider myself, I try not to consider myself this die-hard, you know, I don't really care about men," she said.

So What Does It All Mean?
These competitions play a confusing role for modern women. Are they empowering? Perhaps they can be. A great platform to champion for your cause? If you play it right. Steeped in bigotry and sexism? It still lurking, that's for sure. And who's to say if progressive changes will help, or hurt, the organization's survival longterm.
Variety reports that ratings tanked even further this year — down 27% from last year — and McCullough's first few days weren't the complete blessing the organization undoubtably hoped for. Instead, they've quickly gone from controversial to contrived and back again, with mixed messages about where she stands politically. It's fodder for our political climate and the organization's former associations, and McCullough's interviews are being analyzed by everyone from Cosmopolitan to The Federalist.
The Miss Universe Organization has not replied to our questions about the ratings, but it's easy to wonder if they worry if the forward-thinking gamble has paid off. They certainly could have gone the opposite way: Thursday's preliminaries saw two old-school contestants for every progressive one, but none of the former women made it to the top 10. Their callouts could be seen as dated by some: One woman prioritized the pageant system over college, while another shared her passion for shooting guns. Their bodies were meticulously groomed and manicured (OR: meticulously spray tanned, toned, and manicured). Lots of smooth, voluminous blowouts. Did they know they never had a chance?
As the old guard is pushed out, will women who can represent the new class dare join? Will they feel welcome, or will it be a fatal exercise in alienating its loyal and longtime base? According to
Variety
, close to three million people still tuned in — although it was the lowest network numbers in the two-hour time slot, and was over a million people fewer than last year.
Contestants backstage are passionate about change, even if words like Trump and feminism still make some women feel uneasy or defensive. Shugart is optimistic. She brings up Barber and Aden, noting that state pageant directors have seen more diverse women signing up than ever before. 'They've said, 'I can't believe the people who are coming out and registering for our pageants [now],' realizing that they can have their moment," she tells me.
Backstage, the entire weekend felt like a microcosm of our political climate: stuck in the middle with no clear future, a clashing of ideals, and the palpable presence of new feminism moving in swiftly. Only time will tell if pageants can truly become modernized, but either way, Shugart's sure she's already seen the worst of it. "The reason we succeed is because we change with the times," she says with a smile. "It's only natural."
Click HERE to read more from Refinery29.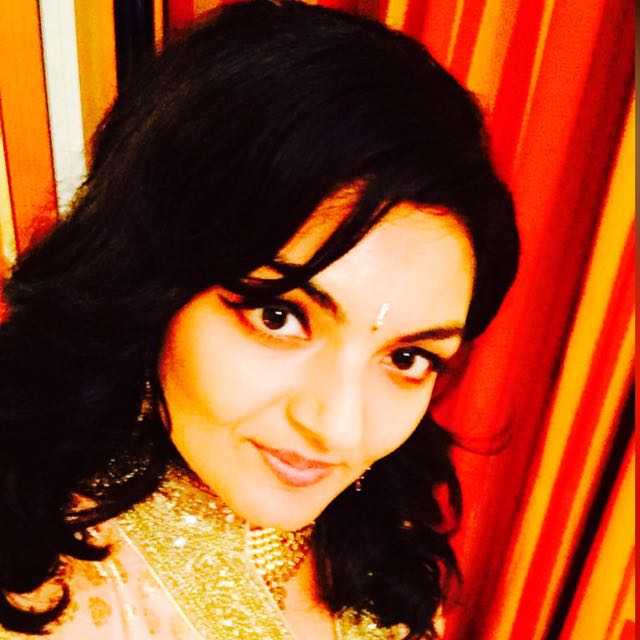 Vote for Shikha Dhingra For Mrs South Asia Canada 2017 by liking her Facebook page.


Loading ...