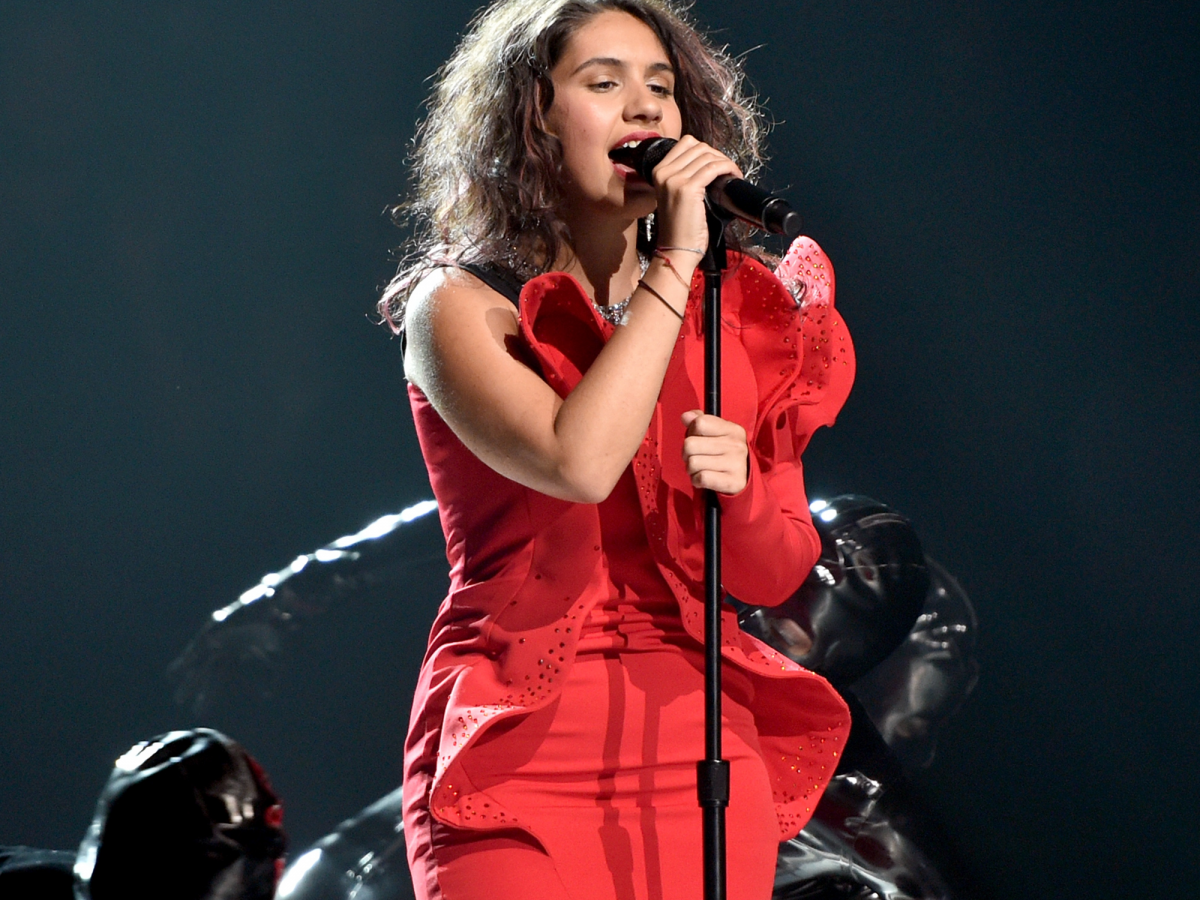 When you think of the makeup-free movement, chances are Alicia Keys (who attended last year's VMAs without a stitch of the stuff) is the first to come to mind. But tonight, "Scars To Your Beautiful" singer Alessia Cara just upped the game. She took to the stage to perform her anthem of inner beauty for a crowd of uncharacteristically made-under celebs with a gorgeous beauty look: On her lips, a saturated shade of crimson that matched her floor-length gown; her hair was cut in a sleek, editrix bob with not a strand out of place. Or so we thought.
Within seconds of her performance, the hair (a wig) was ripped from her head, revealing the singer's own loose curls, slightly askew, underneath. Her red lips and makeup were next to go, as she unabashedly wiped it off mid-song before tossing the cloth with a dismissive flick.
The brazen act not only left Cara more natural-looking and strikingly beautiful minus the glam, it also served as an undeniable authentication of the song's message, as she sang, "You should know you're beautiful just the way you are, And you don't have to change a thing, the world could change its heart, No scars to your beautiful, we're stars and we're beautiful."
It's something that we — and, seemingly, all of Twitter — can get behind. Right after her song, the singer joined Logic and Khalid on stage, performing to a standing ovation — without even adding a pop of gloss to her lips. Meanwhile, social media blew up, giving the singer props for living her strong statement.
Echos of "Yaaaaaaaassssssss!!" and "thank you for reminding us that it's ok to be exactly who we are!" filled the Twittersphere.
Yaaaaaaaassssssss!! I'm in love with this performance #AlessiaCara #VMAs pic.twitter.com/vhczs1ewDE
— Melanin Power ✊?? (@I_Am_Jewels) August 28, 2017
You're beautiful just the way you are (too) #AlessiaCara …thank you for reminding us that it's ok to be exactly who we are! #VMAs
— Z100 New York (@Z100NewYork) August 28, 2017
Alessia Cara is such a good role model a queen #VMAs #AlessiaCara pic.twitter.com/G7ASBjuKf7
— Destiny Angel (@destinychatman7) August 28, 2017
Moreover, her performance serves as an important reminder that women never look more beautiful than when we're not only talking the talk — but walking the walk.
Click HERE to read more from Refinery29


Loading ...