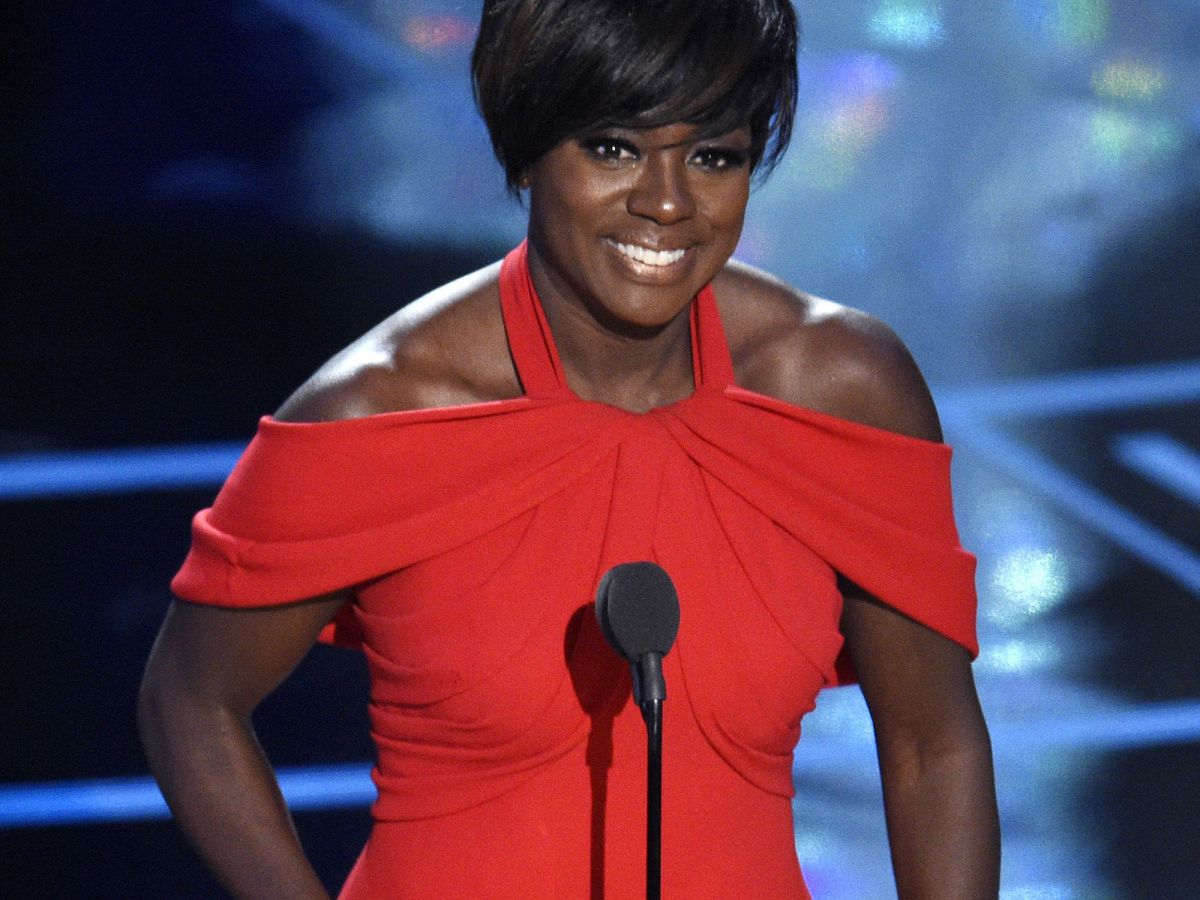 Right this very moment, the chosen ones in Hollywood are carefully considering their words, listing every agent and publicist, and jotting down some witty asides onto index cards, which they will carefully tuck inside a jacket pocket or Swarovski-embellished evening bag. If there's ever a time to ensure your public-speaking skills are on point, it's Oscars night.
The pressure is high. We all have a tendency to remember the things people say and do up there behind the podium. We remember who made us weep, who rambled, who bored, who inspired, and who just completely lost their shit. From goth Angelina professing her love for her brother and Jamie Foxx doing his Ray Charles bit, to Cuba Gooding Jr. practically cartwheeling onto the stage and Halle Berry sobbing openly, there have been so many memorable Oscar moments. Will anyone on Sunday night be able to compete?
In preparation for the Academy Awards this weekend, we're offering a look at the speeches we remember most. Some of them are funny, some poignant, and some are just downright crazy — watch and enjoy.
Most Committed: Jack Palance, 1992
By this point, Palance had been working in Hollywood for over four decades. He wanted to prove he was still a sprightly man, so in addition to a speech, Palance did some one-armed push-ups on stage.
Most Moving: Tom Hanks, 1994
In Philadelphia, Tom Hanks plays a lawyer who is fired from his firm after the partners discover he is gay and HIV positive, and then he sues the firm. After winning Best Actor, Hanks thanked his two high school drama teachers, who happened to be gay men.
Hanks teared up when speaking of the many, many victims of HIV/AIDS, like his character in the movie. "I wish my babies could have the same sort of teacher, the same sort of friends. And there lies my dilemma here tonight. I know that my work in this case is magnified by the fact that the streets of heaven are too crowded with angels. We know their names. They number a thousand for each one of the red ribbons that we wear here tonight."
Most Inspiring: Viola Davis, 2017
Davis gave a powerful speech about the importance of the existence of artists in the world. She said her job as an actor and storyteller is to exhume the bodies of people who never got to have their voices celebrated, and do it for them. "I became an artist and thank god I did because we are the only profession that celebrates what it means to live a life," she said.
The Tearjerker: Halle Berry, 2002
You can't blame Berry for getting weepy. Her win for Monster's Ball made her the first Black woman to win a Best Actress Oscar. We dare you to watch this clip without welling up and giving her your own standing ovation. Bonus: There's a Vivica Fox shout-out.
Most Bromantic: Ben Affleck and Matt Damon, 1998
The hugging of the moms. The embrace with Robin Williams (sob). The frat-tastic shouting. Dignified? No. Adorable? Yes.
Most Inflammatory: Michael Moore, 2003
The next time your Red Stater uncle goes on a rant about the liberals in Hollywood, pull up this video of Moore getting booed as he trashes George W. Bush. The presentation for Best Documentary Feature has never been so exciting.
The Golden Girl: Gwyneth Paltrow, 1999
This girl really, really loves her family. Mock her tears all you want, but we think it's touching.
Best YOLO Moment: Adrien Brody, 2003
When you're a fairly unknown actor who just beat Jack Nicholson, Daniel Day-Lewis, Michael Caine, and Nicholas Cage to the Best Actor Oscar, you're probably feeling pretty invincible. So, why not make out with Halle Berry?
Most Enthusiastic: Cuba Gooding Jr., 1997
The speech against which all other speeches are measured. It's okay to be happy, people.
Most Gracious: Lupita Nyong'o, 2014
Poised, polished, perfect. A shining example of grace under pressure.
Best Mama's Boy: Jared Leto, 2014
Leto's ode to mama Constance was the ultimate tribute. Anyone else call their mom after watching it?
Best "Imma Let You Finish" Move: Julia Roberts, 2001
You tell that orchestra who's boss, Julia.
Best Recovery: Jennifer Lawrence, 2013
Only JLawr could bounce back from face-planting on the Oscar stage. Way to keep it real, girl.
Best "Respect Your Elders" Speech: Denzel Washington, 2002
After prying Julia Roberts off himself, the Training Day star paid homage to Sidney Poitier, the first Black male to take home the Best Actor award.
Best Mix of Class & Comic Relief: Dustin Hoffman, 1980
Gotta love Hoffman's shout-out to his acting peers, followed by his observation that Oscar has "no genitalia."
Biggest Statement: Marlon Brando, 1973
The Oscar audience took offence to Brando's refusal to accept his award for The Godfather based on Hollywood's poor treatment of Native Americans. That chorus of boos? Not the industry's finest moment.
Best Just-Go-With-It Speech, Three 6 Mafia, 2006
Shout-outs to George Clooney, Ludacris, and Jesus in the same speech? Very impressive.
Best Confidence Boost: Ruth Gordon, 1969
With all due respect to Sally Field, the Rosemary's Baby actress' joke about feeling encouraged is our favorite.
Click HERE to read more from Refinery29


Loading ...