You can publish this article on your website as long as you provide a link back to this page.
This article was last updated on April 16, 2022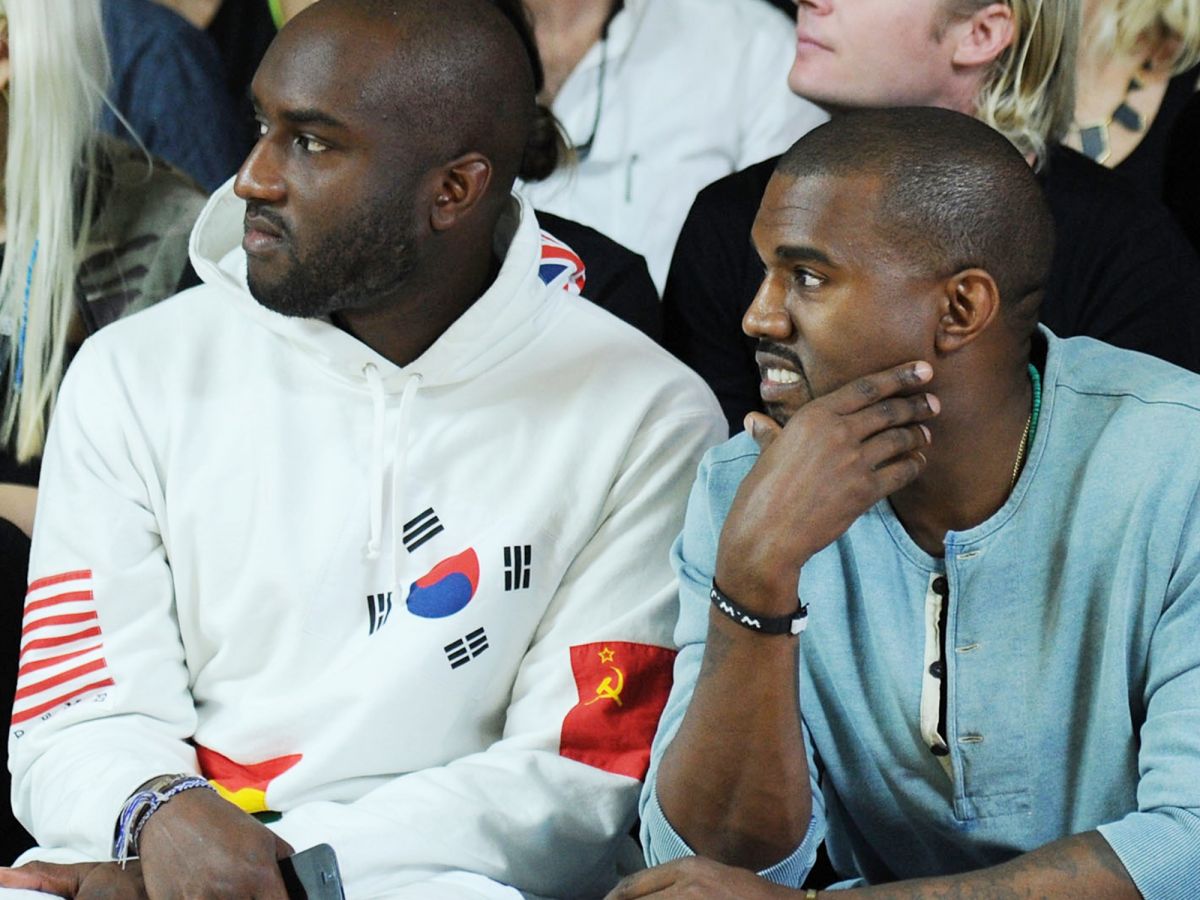 Late Sunday evening, The New York Times broke the news Louis Vuitton had appointed Virgil Abloh as its new artistic director, replacing Kim Jones (who is now installed at Dior Homme). Abloh is the first African-American to hold the position, and one of just two Black designers to run a LVMH-owned fashion house (the other is Balmain's Olivier Rousteing).
It was through Kanye West the fashion industry was first introduced to Abloh, who worked as the rapper's fashion advisor and creative director for 14 years; the two even interned at Fendi together. "I was working and then all of a sudden, I got a call from Kanye West," Abloh told System magazine of meeting the man who would change his life. "He said: 'Hey, I heard about this kid in Chicago who can design and understands music and culture.'"
Their partnership helped catapult the rapper to a different stratosphere style-wise. When Watch The Throne, West's album with Jay Z, debuted, Rolling Stone called it "One Of The 50 Greatest Tours In The Last 50 Years." It was around this time 'Ye also began to be seen as a Fashion Person™. There were the kilts. There was his first fashion show in Paris. And Virgil Abloh was behind it all.
Yet despite the two working side-by-side for the majority of each of their careers, they're both perceived very differently. Because where Abloh has had access to certain spaces in the fashion industry, West has, for the most part, remained shut out. But why that is may lie in the way they each look at race.
West is divisive, and doesn't shy away from offering his takes on race and politics — just think of the time he went on live TV during a Hurricane Katrina fundraiser and said George Bush doesn't care about Black people. In 2013, when he was gearing up to release Yeezus, he told The Times that he's always been someone who thinks about what it means to be a Black man first. "I mean, I am my father's son. I'm my mother's child. That's how I was raised," he offered by way of explanation. "I am in the lineage of Gil Scott-Heron, great activist-type artists. But I'm also in the lineage of a Miles Davis — you know, that liked nice things also."
Abloh, on the other hand, has acknowledged race more subtly. With his first fashion line, Pyrex, he said: "I use my project to talk about race in the most non-literal terms. As soon as you talk in literal terms, people's brains shut off." It's within that line of thinking that Abloh created Off-White. As he explained to System, "I came up with Off-White™ as a means to talk about race. But where West was vocal and outspoken, Abloh's opinion existed more in metaphor. "Off-White™ is in-between black and white, but my version of in-between is tainted with my opinion. It's a blank canvas, a piece of off-white material that millions of artists can shape to give it value and meaning. Off-White™ is a modern version of a fashion brand. It's a Trojan Horse for me."
One could say, then, that Abloh rode that horse right into his position at Vuitton. For people like Shelby Ivey Christie, a manager of Omni Media, L'Oreal Luxe (previously a digital sales planner at Vogue) who educates her followers with historical fashion lessons on her Instagram Stories, in order to understand current happenings within the industry, you need a certain amount of context. "So much of [what happens] is below the surface," she tells Refinery29. "And beyond that, so many of the contributions Black people make are way below the surface — hidden almost."
Just gonna place this here. K, go watch my story asking the question: Does Virgil push Black culture forward?
A post shared by Shelby Ivey Christie (@bronze_bombshel) on Mar 26, 2018 at 8:19am PDT
On Monday, Christie dove into all the spaces West was shut out of but Abloh was accepted in, beginning in 2013 when Louis Vuitton's vice president refused to meet with the rapper after his shoe collaboration. As a result, West called for boycott of the brand. West also had poor experiences with both Nike and Ikea, two companies that have gone on to partner with Abloh. "My strong feeling is that 'Ye was blacklisted for being so vocal," Christie wrote on Instagram.
"A traditional French house has just appointed their first Black designer," she explains. "We have to look at the why and the how. Why Virgil? How did it come to be him and and not any of his successors?" She continues: "I think still having Black 'firsts' in 2018 requires we examine these things a bit more closely. It demands we ask the tough questions and have the uncomfortable conversations. Especially in the luxury space, which is a space founded on exclusion and exclusivity." When we asked if she thought Abloh may have a position for West at Vuitton, she said: "The evidence points to no. Did he bring Kanye into his Nike deal? Or his Sunglass Hut deal?"
And Christie isn't the one asking questions. While some agree that "Virgil is living out Kanye's plan" and wonder how the rapper feels about his close friend and collaborator getting a job that perhaps could have been his, others feel that if there was anyone West would want to see in this type of position of power in fashion, it's Abloh.
Kanye made it out of Chicago, brought his entire entourage with him and now they're all independently successful in their own right. Virgil's the most obvious one but it's an amazing story of empowerment and someone backing their mates. Inspirational.
— JB™ (@gunnerpunner) March 26, 2018
It's pretty stupid to think that Kanye would be mad at Virgil's new role at Louis Vuitton. If anything, this is one of the many things Kanye's been wanting to see in the fashion industry.
— ronald isley (@yoyotrav) March 26, 2018
Virgil hired as Men's fashion director in 2018
plot twist
by 2025 Kanye & Kim offer to purchase Louis Vuitton…
— v (@sirtahloue) March 26, 2018
*i also think it's toxic to attribute his success just to Ye. Virgil is a black man, a first generation Ghanaian who worked through architecture school and landed a job working and consulting for kanye and DONDA.. he earned that, he worked for it
— Shelton Boyd (@flyrebel) March 26, 2018
Virjoo's background is what set him apart from Kanye. It was more desirable to their buisness interest.
— A.B.G. (@BBOYGREGORY) March 26, 2018
Virgil is living out Kanye's plan. Geniuses.
— Neff Film (@filmcolours) March 26, 2018
But honestly, who's to say this wasn't the plan all along? Abloh and West have already asked us to watch the throne. Now maybe they want us to watch them descend upon it — together.
Click HERE to read more.

You can publish this article on your website as long as you provide a link back to this page.