This article was last updated on April 16, 2022
Canada:

Oye! Times readers Get FREE $30 to spend on Amazon, Walmart…
USA:

Oye! Times readers Get FREE $30 to spend on Amazon, Walmart…

Trendy makeup often gets a bad rap. See, those who approach beauty as a way to enhance their best features often presume that newly-popular colors and textures aren't their speed. And those who see makeup as an artistic expression of self? They often avoid jumping on the most popular bandwagon for fear of blending in with everyone else.
We get it — but hear us out. While not every makeup trend is a winner for everyone (we'll be sitting out feather and barbed wire brows, thank you), trying new products and styles is the best way to get out of a rut and find fresh, new inspiration when creating your unique aesthetic. As celebrity makeup artists are proving, now is a choice time to get in on burgeoning trends — because there are a lot of them right now.
Take vividly-colored eye makeup. This trend is intimidating, sure, but there are tons of ways to try it, from sunset, denim and two-toned styles, to subtle, softer looks, many of which you'll find ahead. Even no-makeup makeup gets a fresh update when using a summertime staple in new ways.
Convinced yet? Click through our slideshow for nine ways to evolve your look this spring, no matter your aesthetic or personal take on makeup, all thanks to some of Hollywood's best new makeup trends.
The Swap: Replace your black or brown liner for something colorful.
Ask Audrey Hepburn in the '50s or just about any makeup wearer today: Nothing beats a clean swipe of winged liner in inky black. Though the eye-opening look will never not be a winner, it's not exactly groundbreaking.
To give it a new twist, replace black or brown with a swipe of colored liquid liner, like makeup artist Allan Avendaño did here. For a liner that's as precise as it is brightly hued, try Urban Decay Water-Resistant Longwear Liquid Eyeliner in any shade that strikes your fancy.
The Swap: Trade red lipstick for on-trend mauve.
Listen, red lipstick will always be en vogue — always. But it's also one of those looks that needs to be reinvented from time to time to stay fresh, whether by adding gloss, trying it blotted, or by doubling down on a glossy stain.
This spring, however, we implore you to give the classic hue a break for a shade that feels incredibly fresh for spring: mauve. Like red, the color looks good on everyone — and it's trending in a big way right now.
The Swap: Replace matte lipstick with a blurred lip.
Thanks to the proliferation of liquid, matte lipsticks, the red carpet and Instagram are full of perfectly-lined lips. But makeup artists like Mélanie Inglessis are bucking the trend with a look that's totally made for summer: blotted lipstick, in which lip color is dabbed onto the center of the lips and buffed out with fingers.
The resulting effect is softer than a stain — and imperfectly beautiful. Try choosing a light shade in a formula with no shine, like Glossier Generation G, which feels like a balm, but delivers a diffused finish.
The Swap: Forget classic liner — try dots instead!
Most dotted eyeliner looks worn by celebs as of late have been rendered in graphic black. For a more subtle and summer-ready take on the trend, try pointillism with pastels, white, or soft metallics, like Allan Avendaño did with this look on Ashley Graham.
Using lighter shades doesn't just create a softer look, it's much more forgiving, should smudging occur.
The Swap: Trade your boring ol' mascara for a colorful formula.
With sunset, denim and two-toned eye looks taking over red carpets and Instagram, there's never been a better time to try colorful eye makeup. Still, piling on bright shades of green, blue, purple, or pink can feel a bit intimidating sometimes — which is why we love this look by makeup artist Val Garland.
By swiping brightly-colored mascara on the lower lashes only, irises pop. Try the trick with a volumizing mascara (like Marc Jacobs Beauty O!Mega Lash Volumizing Mascara) in a bright shade that falls opposite of your eye color on the color wheel. Add a touch of lip gloss and you have a summer-ready look that doesn't feel fussy.
Swap: Update your cat-eye with negative space.
There's something about negative space eyeliner that gives instant cool-girl cred to anyone who wears it. Double down on the effect with negative space done in vivid color, like with this look created by makeup artist Nicole Chew. The saturated shade and unique shape feel very Memphis Milano — without looking totally '80s.
The Swap: Trade pink lipstick for oxblood.
Fun fact: Rules were meant to be broken. In any given year, we can bank on makeup trends to swing richer and darker come winter and lighter and more colorful come summer. But who says we have to stick to certain colors in any given season? Hollywood's biggest makeup artists have made a strong case for wearing deep, rich, oxblood in spring — and it's just the kind of off-kilter trend we plan to keep rocking through summer.

The Swap: Replace tightliner with a watercolor effect.
Good news for those who live fast and messy: bedhead lipstick isn't the only beauty trend that's swapping coloring within the lines for a blotted look. Makeup artists are taking the same approach to eye makeup as well. Take Mandy Moore's look, created by makeup artist Jenn Streicher. Instead of a neat stroke of eyeliner, she gives definition by diffusing shadow on the lower lashline for a soft-focus effect.
Photo: Jason LaVeris/FilmMagic.
The Swap: Swap pink for purple.
For some, there's only so much millennial pink that one can take. If pink statement makeup has started to feel a bit rote, do like Peggy Olson and change the conversation. One suggestion? Try an eye-catching shade in a deeper, purple hue. Makeup artist Tasha Reiko Brown used the shade to play off of Jenna Ortega's pink eyes and cheeks, using a double wing to give the look some edge.
The Swap: Trade highlighter for a new kind of dew.
For this look, makeup artist Andre Sarmiento buffed MAC Cosmetics Mineralize Skinfinish Natural Powder in Sun Powder all over the face after applying a thick, balm-style moisturizer.
"The balmy skin and the mineral base of the the MAC powder actually end up melting together instead of caking, like talc- or silica-based powders can," he says. "So it just ends up turning into this bronzy, dewy tint. Buffing is key, make sure everything is thoroughly blended out." After bronzing the face, Sarmiento also used the shade as eyeshadow, along the bridge of the nose, and a "blush-y contour" before applying brown mascara. "The effect of the look is monochromatic, but very alive, as sometimes monochromatic looks can come off a little pallid," he says.
Click HERE to read more..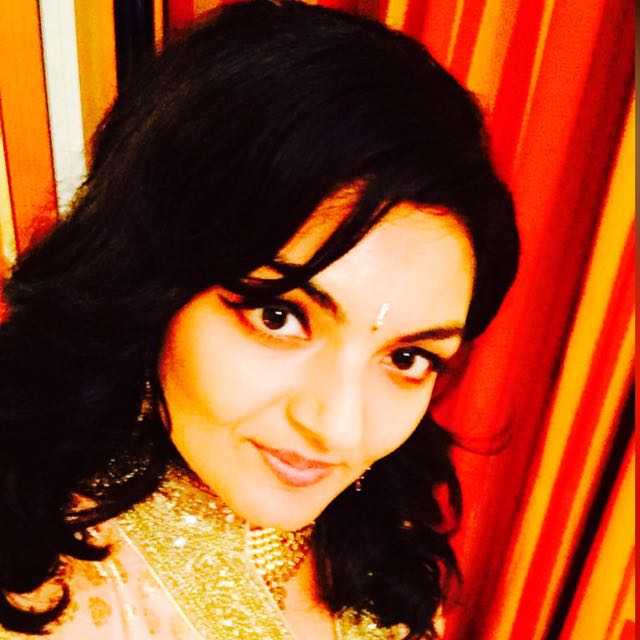 Vote for Shikha Dhingra For Mrs South Asia Canada 2017 by liking her Facebook page.

You can publish this article on your website as long as you provide a link back to this page.
You can publish this article on your website as long as you provide a link back to this page.