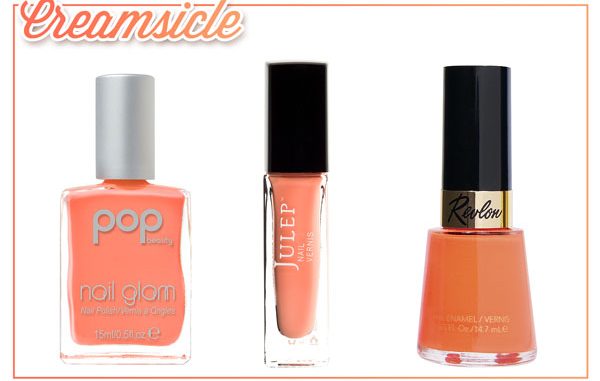 Warm-weather fashions practically beg for you to flaunt your fingers and toes, so make sure your tips are properly attired. Where spring nail trends featured more ladylike, sophisticated hues, summer is all about flashes of unexpected colors like aqua, sherbet, and golden undertones. Here, you'll find our top 7 summer manicures, along with the spankin' new polishes you need to get the look. Better start prepping now: Once you see these stunning shades, you're going to want to flash your tips and toes all over town.

Tangerine Tango may have been the color of spring, but summer belongs to the creamsicle. Just like the delicious frozen treat it's named after, this sherbet-y shade looks youthful and yummy on your nails.
Above, from left: Pop Beauty Nail Glam in Orange, $10, available at Nordstrom; Julep Nail Vernis in Hayden, $14, available at Sephora; Revlon Fire & Ice Nail Enamel in Siren, $4.99, available at Ulta.
Homepage Photo: Thibaut de Saint Chamas/Courtesy of Dior

Like ice cream trucks and mosquito bites, turquoise nails are one of the many surefire signs that summer is officially here. We're loving this year's crop of aqua lovelies — they run the gamut from nearly neon to Caribbean waters.
Above, from left: Dior Vernis in Saint Tropez, $23, available at Nordstrom; Orly Nail Lacquer in Skinny Dip, $8.50, available in May at Orly; Elle Cosmetics Nail Lacquer in Surfer Babe, $10, available at Kohl's.

Maybe it's all the dreaming we've been doing about our impending beach vacations, but for some reason we're finding ourselves drawn to sandy nudes. Just a few swipes of one of these warm neutrals on our nails and we've suddenly got a strong urge to don our bikinis, slather on some SPF, and crack open a trashy novel.
Above, from left: Chanel Le Vernis in Island, $26, available in May at Chanel; L'Oréal Colour Riche Nail in Walk On The Beach, $5.99, available at Drugstore.com; CK One Long Wear + Shine Nail Color in Romper Room, $14, available at Ulta.

Taking the place of pastel pink and fuchsia comes a cross between the two: salmon pink. This offbeat shade has the softness of light pink, blended with the boldness of a bright. Keep it creamy for a more girly finish, or turn up the volume with a vibrant iteration.
Above, from left: NARS Nail Polish in Trouville, $18, available at NARS; Butter London Nail Colour in Trout Pout, $14, available at Butter London; Priti Nail Polish in Red Maple, $12.50, available at Priti.

Neons will continue to be a big trend well into spring, but expect to see an influx of retina-searing yellows once the temperature starts to soar. Unlike hot pink or orange, which looks good on a variety of skin tones, bright yellow really only works on skin that's got a bit of bronze in it — it can look a little scary against porcelain skin, hence its popularity in the summertime.
Above, from left: Illamasqua Nail Varnish in Rare, $14, available at Sephora; Le Métier De Beauté Nail Lacquer in Yield To Yellow, $18, available at Bergdorf Goodman; Ginger + Liz Nail Lacquer in Never A Dull Moment, $12, available in May at Ginger + Liz.

Move over lilac — there's a new purple in town. Punched-up versions of this usually demure hue will dominate in the coming months, with extra-saturated blurples, eggplants, and mauves taking center stage.
Above, from left: Laqa & Co. Nail Polish Pen in Blurple, $15, available at 3floz.com; Deborah Lippmann Nail Lacquer in Private Dancer, $18, available at Deborah Lippmann; China Glaze Nail Polish in Beach Cruiser, $7, available in May at China Glaze.

The latest craze in nails is adding an undertone of gold to dark nail colors. The gilt sheen helps warm up the moody hues and makes them feel fresh and light. If you are the type of girl that swears by Black Satin, this is a great, seasonally-appropriate way to wear your signature dark shades without having your digits look too heavy or winterized.
Above, from left: Ciaté Paint Pots Nail Polish in Oil Slick, $15, available at Sephora; Estée Lauder Nail Lacquer in Molten Lava, $19, available at Macy's; OPI Nail Color in Just Spotted The Lizard, $8.50, available in May at OPI.
Click HERE to read more from Refinery29.