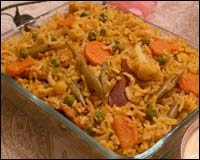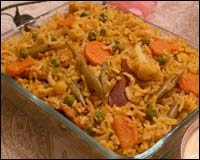 A delicious combination of rice with fresh green onions and mushrooms.
Cooking time: 14 mins.
Preparation time: 10 mins
Ingredients
1 cup long grained rice
1 cup mushrooms, sliced
4 spring onions
2 cloves
12 mm. (1/2″) piece cinnamon
2 green cardamoms
1 bay leaf
1 teaspoon garam masala
1 teaspoon cumin (jeera) powder
2 tablespoons oil
Salt to taste
Serves: 4
Method
 
1. Clean and wash the rice. Soak in warm water for about 10 minutes. Drain and keep aside.
2. Chop the spring onion whites and the green separately. Keep aside.
3. Combine the oil, spring onion whites, cloves, cinnamon, cardamoms and bay leaf in a glass bowl. Microwave on HIGH for 2 minutes.
4. Add the mushrooms and microwave on HIGH for 1 more minute.
5. Add the rice, mix well and microwave on HIGH for 1 minute.
6. Add 2 cups of hot water to the rice mixture along with the spring onion greens and salt and mix well. Microwave on HIGH for 10 minutes, stirring twice in between after every 4 minutes.
7. Serve hot.