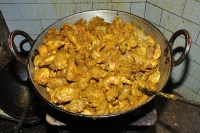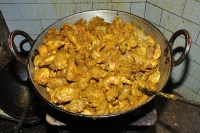 Kadai Chicken
Ingredients :
1 whole chicken,cut into small pieces
4 tablespoons oil
1/2 cup onions, sliced
1 1/2 cups tomatoes, peeled and sliced
2 tablespoons fresh coriander leaves, chopped
1 tablespoon ginger paste
1 tablespoon garlic paste
4 teaspoons garam masala powder
2 bay leaves
4 whole red chilies
2 teaspoons coriander seeds
1 teaspoon red chili powder
salt (optional)
Method :
Grind corriander seeds and whole red chillies into a coarse powder.
Heat oil in a kadai.
(A Kadai is a not-so-shallow not-so-deep frying pan, of fairly heavy grade aluminum)
Add bay leaves.
After about 30 seconds, add onions and saute till they turn light golden brown.
Add ginger-garlic paste
Saute for 2 minutes on medium flame.
Add the above coarse powder.
Stir well.
Add tomatoes and cook till they are fully cooked.
Add chicken pieces, salt to taste and red chilli powder.
Mix well.
Cover the kadai.
Cook till the chicken becomes tender.
Sprinkle garam masala powder over the chicken.
Garnish with corriander leaves and onion rings.
Serve hot with rotis or parathas.