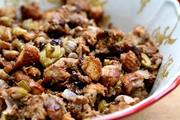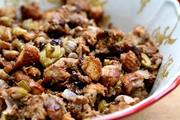 Italian Turkey Stuffing
Ingredients:
1 large onion, roughly chopped
3 stalks celery, roughly chopped
1 pound lean ground beef
1 pound lean ground pork
1 hot Italian sausage, casing removed and broken into pieces (optional)
14 ounces seasoned bread stuffing mix
2 cups chicken broth, defatted
2 eggs, lightly beaten
1 teaspoon poultry seasoning
1/2 teaspoon rubbed sage
Salt and pepper to taste
1/2 cup butter, melted
Directions:
1• Heat olive oil in medium sauté pan. Stir in onion and celery and cook over medium heat until transparent.. Transfer to a large bowl and set aside.
2• Sauté beef, pork and optional sausage, breaking up until no longer pink. Remove with slotted spoon to a separate bowl and set aside. Let cool slightly.
3• Using a large soup pot to combine ingredients, pour in stuffing mix, cooled meat and onion mixture. Add chicken broth and mix well
4• Stir in eggs, poultry seasoning and sage. Season with salt and pepper to taste. Pour over butter and mix well. If not moist enough, add more broth.
5• Stuff into turkey and put remainder into a casserole. Casserole must be at least 160°F when done.
Serves: 8 – 10 with turkey