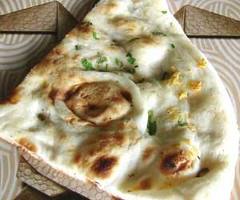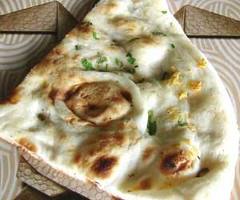 Spicy Paneer Naan
Ingredients :
For the dough :
500 grams maida
20 grams fresh yeast or 2 tsp dry yeast
25 grams ghee or margarine or butter
2 tbsp fresh curds
1½ tsp sugar
1 tsp salt
For the stuffing :
100 grams paneer, grated
1 onion, chopped
3-4 green chillies, chopped
2 tbsp coriander, chopped
salt to taste
Method :
Sieve the flour properly.
Put the sugar and yeast in 1 teacup of warm water and mix till the yeast dissolves. Cover and wait for 5 to 7 minutes until the mixture is full of froth.
Put this liquid along with the curds, ghee and salt to the flour and make soft dough by using some more warm water.
Knead the dough for at least 6 to 7 minutes.
Keep the dough under a wet cloth for 30 minutes. Knead again for 1 minute.
Mix all the ingredients for the stuffing properly.
Divide the dough into 20 small parts and shape into naans. Put 1 tbsp of the filling in the centre.
Seal the edges and roll into oblong shape to any other shape whichever you like.
Grease a pressure cooker very lightly with oil. Take out the lid from the pressure cooker and heat it upside down.
Take each naan, apply a little water on one side and stick the wet side around the inside of the pressure cooker till brown spots appear. Continue the same procedure for the remaining naans. (One at a time you can apply 3 to 4 naans inside the walls of a pressure cooker).
Take out and apply butter.
Ready to serve.