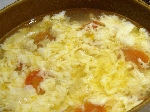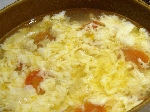 Hairy Gourd Egg Soup
Ingredients:
150g pork, sliced
800 ml water
1 hair gourd (small), peeled and sliced
2 eggs
Marinade:
1 tbsp light soy sauce
½ tsp corn flour
A little sesame oil
Seasoning:
Salt and pepper to taste
Directions:
Mix pork with marinade and marinate for 30 minutes.
Bring water to boil, put in hairy gourd and cook for 10 minutes. Add in pork, seasoning and stir well.
Lastly, break in eggs, cook at low heat for ½ minute. Serve hot.