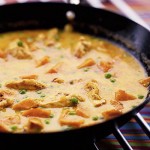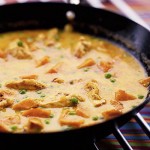 Chicken Curry In a Coconut Base
Ingredients :
2 lb chicken
For the paste
3 tbsp coconut
3-4 red chillies
2 green chillies
1 lemon size ball of tamarind
1 tsp cumin seeds
1 tsp coriander seeds
1 tsp poppy seeds
5-6 flakes of garlic
1″ piece ginger
2-3 cloves
1″ cinammon
2-3 cardammoms
Paste of 2 tbsp cashewnuts
2 onions ,sliced finely
Cooking oil
Salt to taste
Cilantro, chopped
Method:
Heat oil and fry the onions till well browned.
Add the masala and fry till the oil begins to seperate.
Now add the chicken pieces and salt and simmer till chicken is cooked.
When chicken is tender, add the cashewnut paste and bring to a boil.
Garnish with chopped Cilantro.