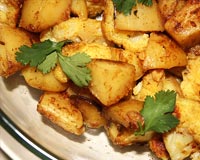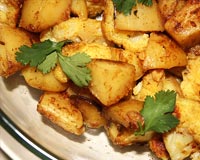 Dry Aloo Chaat
Ingredients :
2 potatoes scrubbed & boiled
1 small cauliflower
1 tsp coriander finely chopped
5-7 mint leaves finely chopped
1 tiny green chilli finely chopped
½ tsp chaat masala
Salt to taste
½ tsp lemon juice
2 tbsp oil
Method :
Do not peel potatoes.
Cool and chop into chunks.
Clean and break cauliflower in medium sized florets.
Dip in boiling hot water for 5 minutes.
Drain and keep aside.
Heat oil in a heavy pan.
Fry chunks of potato and cauliflower some at a time.
Fry to a crisp golden brown.
Drain and keep on kitchen paper to soak excess oil.
Take all ingredients in a large bowl.
Add fried piece of potato and cauliflower.
Toss with a fork till pieces are well coated with seasoning.
Ready to serve.