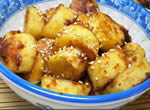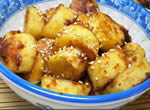 Glazed Sweet Potatoes
Ingredients:
1 lb sweet potatoes
8 tbsp sugar
1 tbsp oil
Oil for deep frying
Directions:
Peel sweet potatoes and cut into pieces about French-fry size.
Fry potatoes in deep oil until golden brown. Remove to a plate.
Heat 1 tbsp oil in pan over low flame (to avoid burning), add sugar, and stir constantly over medium flame until sugar is melted.
Cook about 2 minutes more until sugar forms a thick syrup.
Dip fried sweet potatoes into syrup until they are well coated. Syrup should form threads as you remove potatoes from it. Serve potatoes hot.