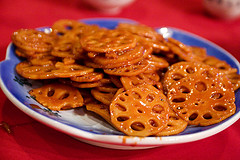 You can publish this article on your website as long as you provide a link back to this page.
This article was last updated on April 16, 2022

Lotus Sweets
Ingredients:
1 lb lotus seeds, soaked in boiling water for 10 minutes and drained
2 pints water
1 cup sugar
2 eggs, beaten
Directions:
Rub the lotus seeds with your fingers to remove the skin. Use a toothpick to draw out the green bud from the centre of the lotus seeds.
Put the water in a pan and bring to the boil. Add the sugar and stir to dissolve. Add the lotus buds and simmer for 40 minutes.
Gradually stir in the eggs to form 'an egg flower'. When the egg has set, pour into a serving bowl and serve hot.