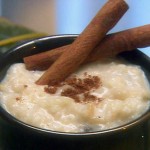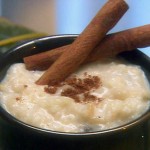 Mexican Rice Pudding
Ingredients:
3 inches cinnamon sticks or 1 teaspoon ground cinnamon
1 cup long-grain white rice (155 g)
3 cups water
4 cups milk (or for richer pudding substitute 1 can of evaporated milk and add enough regular milk to equal 4 cup)
1 tablespoon very fine julienne strips lime peel (optional)
1 pinch salt
1 1/2 cups sugar , to taste (375g)
1/3 cup raisins (60 g)
1 egg
1 teaspoon vanilla extract
Preparation:
Place the rice in a large saucepan with the water, cinnamon, lime peel and salt. Bring to a boil; lower the heat and cook, covered, until most of the water has been absorbed. Beat an egg into the milk. Stir in the milk, egg mixture and sugar, stirring constantly, over low heat until the mixture thickens. Add the raisins and vanilla and cook for 2 minutes. Remove from the heat and let cool for 10 to 20 minutes. Transfer to a platter or individual bowls and refrigerate.Garnish with ground cinnamon if desired.