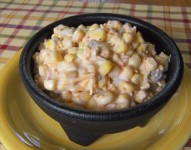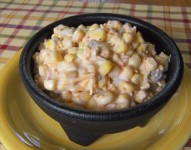 Best Mexican Cheese Corn Dip Ever
ngredients:
2 cups shredded cheddar cheese
1 (7 ounce) can diced green chilies
3 (11 ounce) cans mexicorn whole kernel corn , drained
3/4 teaspoon ground cumin
1/2 teaspoon black pepper
2/3 cup green onion , chopped
1 (8 ounce) container sour cream
3/4 cup mayonnaise
Preparation:
In a medium to large bowl, Combine sour cream,mayonnaise and cumin. Stir well. Add corn,cheese,chiles,black pepper,and onions to the sour cream mixture. Stir with a wooden spoon (are whatever you have) til all is combined. Cover and chill for 2 hours or overnight. (overnight is what I do, the seasonings are blended in better) Serve with warm tortilla chips.