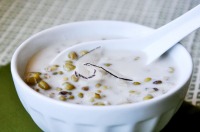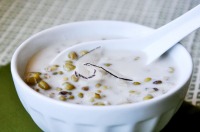 Sweet Mung Bean Soup
Serves 4
Ingredients:
3 oz. mung beans
1 oz. red dates
1 oz. glutinous rice
Sugar to taste
Directions:
1. Wash and soak the mung beans, red dates and glutinous rice separately for 3 hours.
2. Put them all together with 6 cups of water and boil gently for 1 ½ hours.
3. Add sugar to taste and serve either hot or cold.