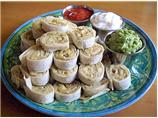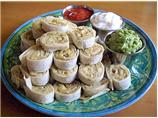 Mexican Spirals
Ingredients:
1/4 lb monterey jack cheese , shredded
1/4 cup chopped fresh coriander or 1 teaspoon dried coriander
8 ounces cream cheese
1 cup diced cooked chicken
2 teaspoons ground cumin
2 tablespoons dicedfresh jalapeno peppers or 2 tablespoons diced canned jalapeno peppers
3 (10 inch) flour tortillas
vegetable oil
salsa
sour cream
Preparation:
In a large bowl, combine cream cheese, chicken, monterey jack, coriander, jalapeno peppers, and cumin. Spread mixture evenly over tortillas. Roll up each tortilla tightly around chicken mixture. Wrap tightly in plastic wrap and refrigerate for at least 2 hours. Just before serving, cut each tortilla roll into 1/2 inch slices. Arrange on greased baking sheet, brush with oil, bake in 350 degree oven for 12 to 15 minutes or until lightly browned. Serve hot with salsa and sour cream.