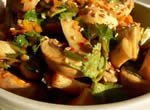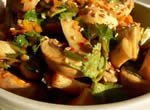 Sweet and Sour Mushroom
Ingredients:
300g white mushroom
1 pc green pepper
1/5pc carrot
50g bamboo shoot
Seasonings:
1/3 tbsp oil
1/3 tbsp ketchup
1/5 tbsp sugar
A little vinegar
A little salt
Directions:
Blanch mushrooms in boiling water and score several times on top.
Rinse green pepper, carrot and bamboo shoot. Cut them all into slices.
Stir-fry all ingredients with seasonings in water two ladles. Add cornstarch water to thicken liquid.