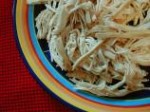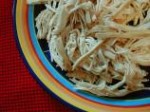 Crock Pot Chicken Taco Meat
Ingredients:
1 lb boneless skinless chicken breast
3 tablespoons taco seasoning
1 cup chicken broth
Preparation:
Dissolve taco seasoning into chicken broth. Place chicken breasts in crock pot and pour chicken broth over. Cover and cook on low for 6-8 hours. With two forks, shred the chicken meat into bite-size pieces. To freeze, place shredded meat into freezer bags with the juices. Press out all the air and seal.