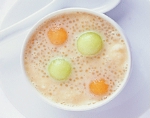 You can publish this article on your website as long as you provide a link back to this page.
This article was last updated on April 16, 2022

Pearl in Honey Dew
Ingredients:
1 honey-dew melon (approx. 3 lbs)
100g tapioca pearls (sold in ethnic food stores)
2/3 cup sugar
2 1/2 cups water
1/2 cup coconut milk
1/3 cup evaporated milk
Directions:
Cut away 1/3 of the melon from top; remove seeds and lining fibers.
Soak tapioca pearls in piping-hot water (but not boiling) for 30 minutes. Start boiling tapioca pearls until they become transparent.
Put them in a fine sieve and soak in cold water to remove stickiness. Drain and lightly press dry.
Boil 2 1/2 cups of water, add sugar and tapioca pearls and bring to a boil, add coconut milk and evaporated milk and bring to a boil again.
Wait until cool, then pour into melon and place in fridge. Serve chilled.