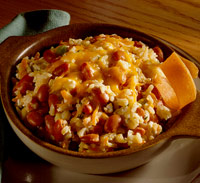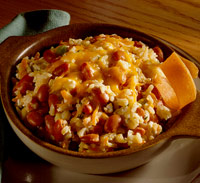 Cheesy Beans and Rice
Ingredients
1 cup uncooked brown rice
1 (16 ounce) can kidney beans, rinsed and drained
1 large onion, chopped
1 tablespoon canola oil
1 (14.5 ounce) can diced tomatoes and green chilies, undrained
2 teaspoons chili powder
1/4 teaspoon salt
1 1/4 cups shredded reduced-fat Cheddar cheese, divided
Directions
Cook rice according to package directions. Transfer to a bowl; add the beans. In a nonstick skillet, saute onion in oil for 4-5 minutes. Stir in the tomatoes, chili powder and salt. Bring to a boil; remove from the heat.
In a 2-qt. baking dish coated with nonstick cooking spray, layer a third of the rice mixture, cheese and tomato mixture. Repeat layers. Top with remaining rice mixture and tomato mixture.
Cover and bake at 350 degrees F for 30 minutes or until heated through. Uncover; sprinkle with remaining cheese. Bake 5-10 minutes longer or until cheese is melted.