You can publish this article on your website as long as you provide a link back to this page.
This article was last updated on April 16, 2022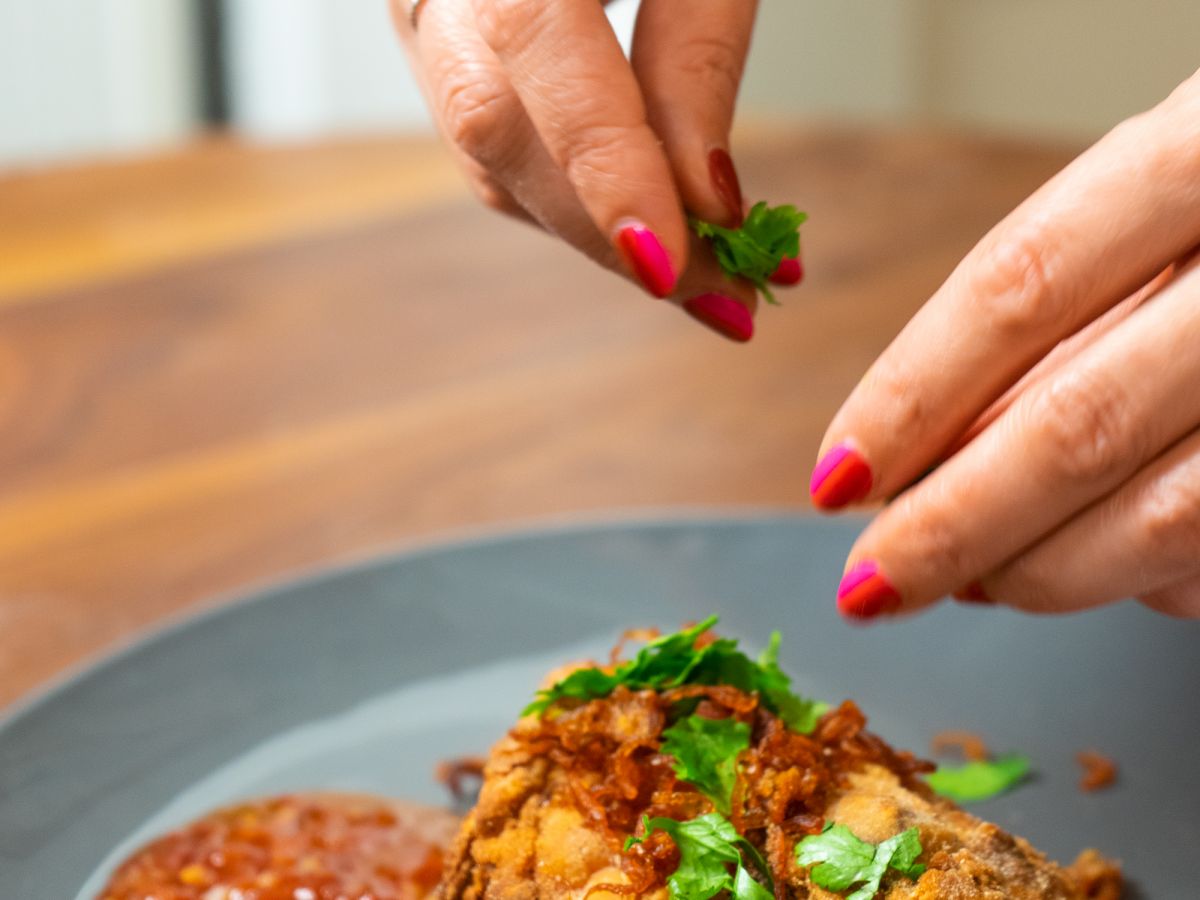 Chef Leah Cohen Takes On A Tiny NYC Apartment Kitchen
On Good Chef, Bad Kitchen , professionals take on the ultimate challenge: Cooking in a bare, millennial kitchen. In this episode, chef Leah Cohen of New York City's Pig & Khao shows us how to make her Thai fried chicken — despite somewhat dangerous circumstances.
If you're like me, deep-frying anything is A-level scary. Like, horror movie, run-and-hide, please don't burn the house down scary. But for Leah Cohen, chef of Pig & Khao and former Top Chef contestant, this was just another day in the kitchen.
Cohen dropped by Alyssa Coscarelli's tiny, under-utilized kitchen to show us how to make fried chicken. The catch: Alyssa doesn't cook much, so the tools we had were limited. Exhibit A: Not a single sharp knife was to be found in the kitchen. Here, three major lessons we learned from this experiment:
1. Your Pot Size Is Important
"This is probably the smallest pot I would go with for frying chicken," Cohen says of the pot she worked with in the video. It was still so small, she could only fry one piece at a time.
What you really want is a pot that's pretty deep, that can hold enough oil to cover the chicken as well as the chicken itself, without overflowing. If the oil overflows, it could start a fire, and if you don't have enough oil (as we didn't in our video), you'll have to turn the chicken over mid-fry — tricky, and dangerous if you don't have the right tools. Which brings us to…
2. So Are Tongs
Cohen used two forks to turn the chicken — turning the piece away from her to avoid getting oil splattering on her — and also to lift out the chicken. Still, this posed some risk — if the chicken dropped, it would splatter oil at 350 degrees F, which could hit her hands or her face. "What you want is either a slotted spoon or tongs to carefully take out the fried chicken from the pot," Cohen says.
3. Finally, A Thermometer Will Help
Even Cohen admits that getting the temperature right is tricky to eyeball. "If it's too low, the coating can come off. If it's too high, you could smoke out your apartment, which is not ideal," she says.
Still interested in making this? Get the recipe below.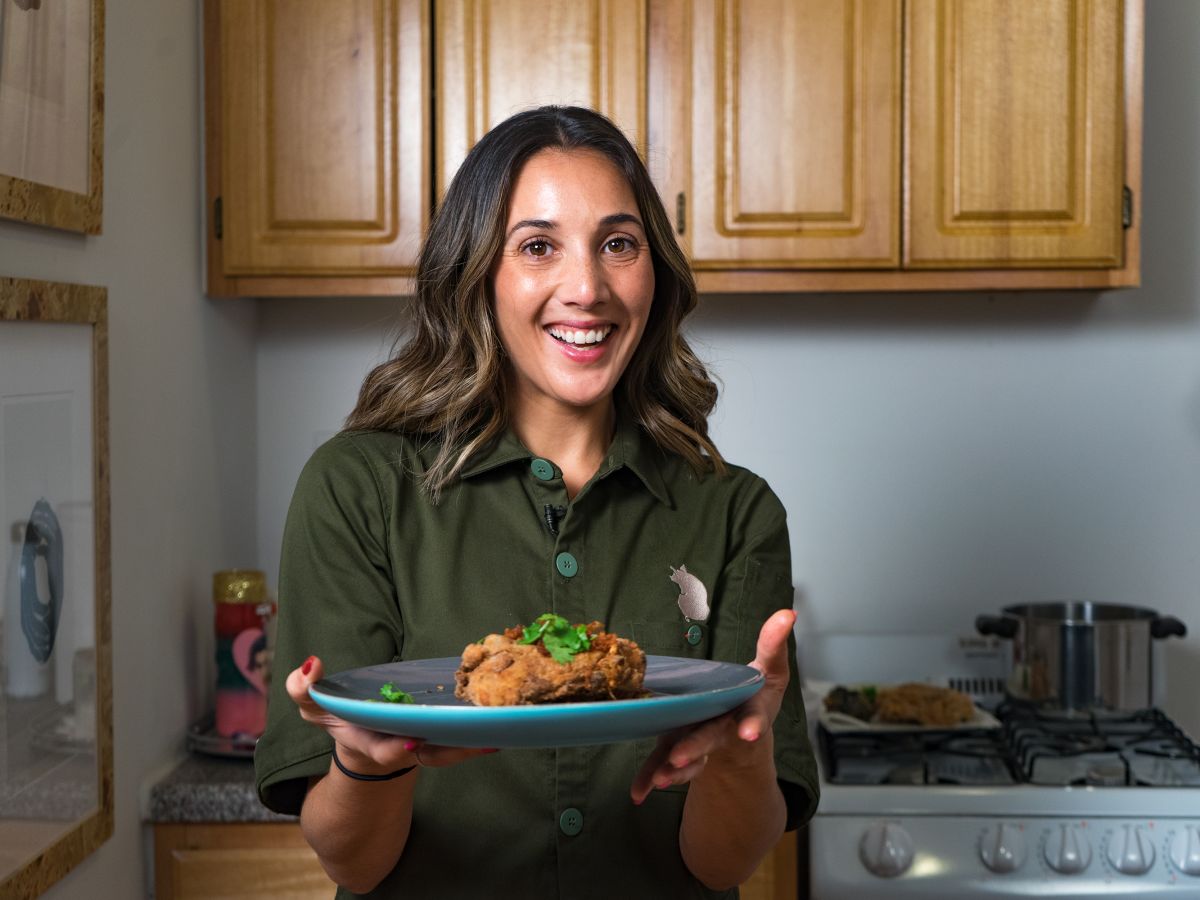 Leah Cohen's Thai Fried Chicken
Ingredients
For the marinated chicken:
3 lbs chicken thighs, bone in skin on
4 to 5 garlic cloves, peeled
1 tbsp whole coriander seeds
1 tbsp whole white peppercorn
1/8 cup cilantro root, chopped
2 tbsp fish sauce
2 tbsp oyster sauce
1 tsp sugar
2 tsp salt
1 pinch msg
For the batter:
3 cups rice flour, separated
1 tsp salt
1 tsp mushroom powder
1 cup limestone water (can sub 1 cup seltzer and 2 tsp baking soda )
For the fry:
Canola oil
3 large pandan leaves, patted dry
Crispy shallots and Thai sweet chili sauce, for garnish
Instructions
For the chicken:
1. To marinate the chicken, start by slightly scoring the chicken so the marinade can get into the meat.
2. In a mortar and pestle, pound together the garlic, coriander seed, white pepper, and cilantro root with a pinch of salt until you get a paste.
3. Mix in the remaining ingredients (fish sauce, oyster sauce, sugar, and msg). Then rub the marinade into the chicken and let sit 6 hours, or overnight, in your refrigerator.
For the batter:
1. Once the chicken is done marinating, get your coating together. In a large bowl, pour in one cup of the rice flour, salt, mushroom powder, and baking powder, if using.
2. Whisk in the limestone water or seltzer, until the batter is the consistency between a pancake and crepe batter.
3. Pour out the remaining two cups of rice flour in a pan. Coat your chicken in the wet batter, then coat in dry flour. Let sit uncovered for 30 minutes.
Final steps:
1. Heat up your oil to 300 degrees F. You want to make sure there is enough oil in the pot to cover the chicken, but not too much oil where it will overflow the pot after placing the chicken in.
2. Once the oil is heated to 300 degrees F, knot the pandan leaves together and carefully place them in the oil to flavor it.
3. Fry the chicken until cooked, approximately 6 to 8 minutes, and carefully remove the chicken from the fryer, using tongs. If you need to turn the chicken, turn the chicken away from you, not towards you, to reduce the risk of splattering.
4. Turn up the heat to 350 degrees F, and fry until crispy, 2 to 3 minutes.
5. Remove from oil and drain on a paper towel. Garnish with crispy shallots and serve with sweet chili sauce.
Click HERE to read more.

You can publish this article on your website as long as you provide a link back to this page.