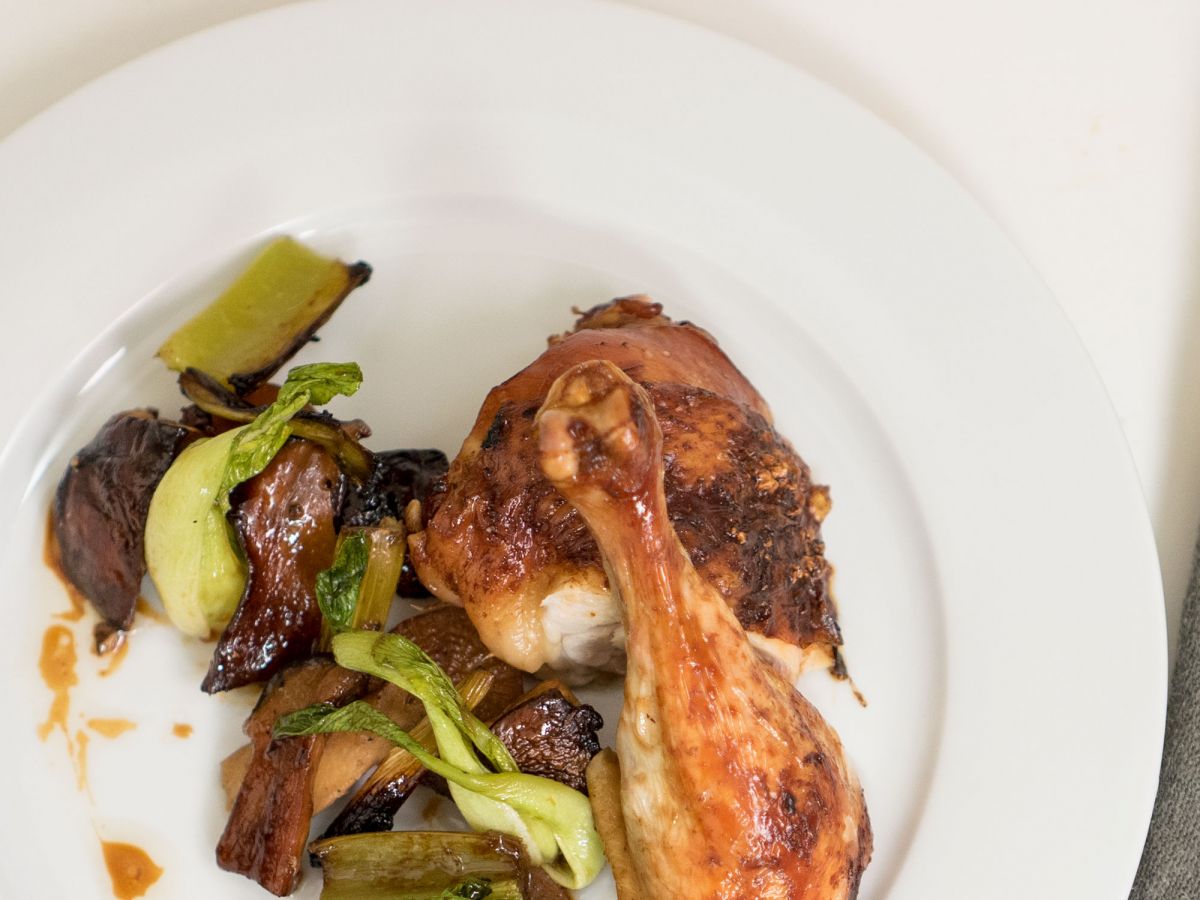 I Made Roasted Chicken In An Empty NYC Kitchen
On Good Chef, Bad Kitchen , professionals take on the ultimate challenge: Cooking in a bare, under-utilized kitchen. In this episode, chef Adrienne Cheatham shows us how to make her signature soy-stout roasted chicken.
Thanks to Seamless, it's possible to live in an apartment and never cook a meal at home. But there could be a day when you look at your empty kitchen and think, Yes, let's host a dinner party. And on that day, may we suggest a roasted chicken?
Specifically, a soy-stout roasted chicken courtesy of Top Chef season 15 runner-up Adrienne Cheatham, who dropped by a very under-stocked kitchen to show us just how easy it is. Truthfully, a roasted chicken is the epitome of fancy-yet-easy, and Cheatham's recipe combines two tried-and-true flavors: beer and soy sauce. Sure it takes a little time (the brining is key), but you could even skip the garnishes and still impress the pickiest of guests.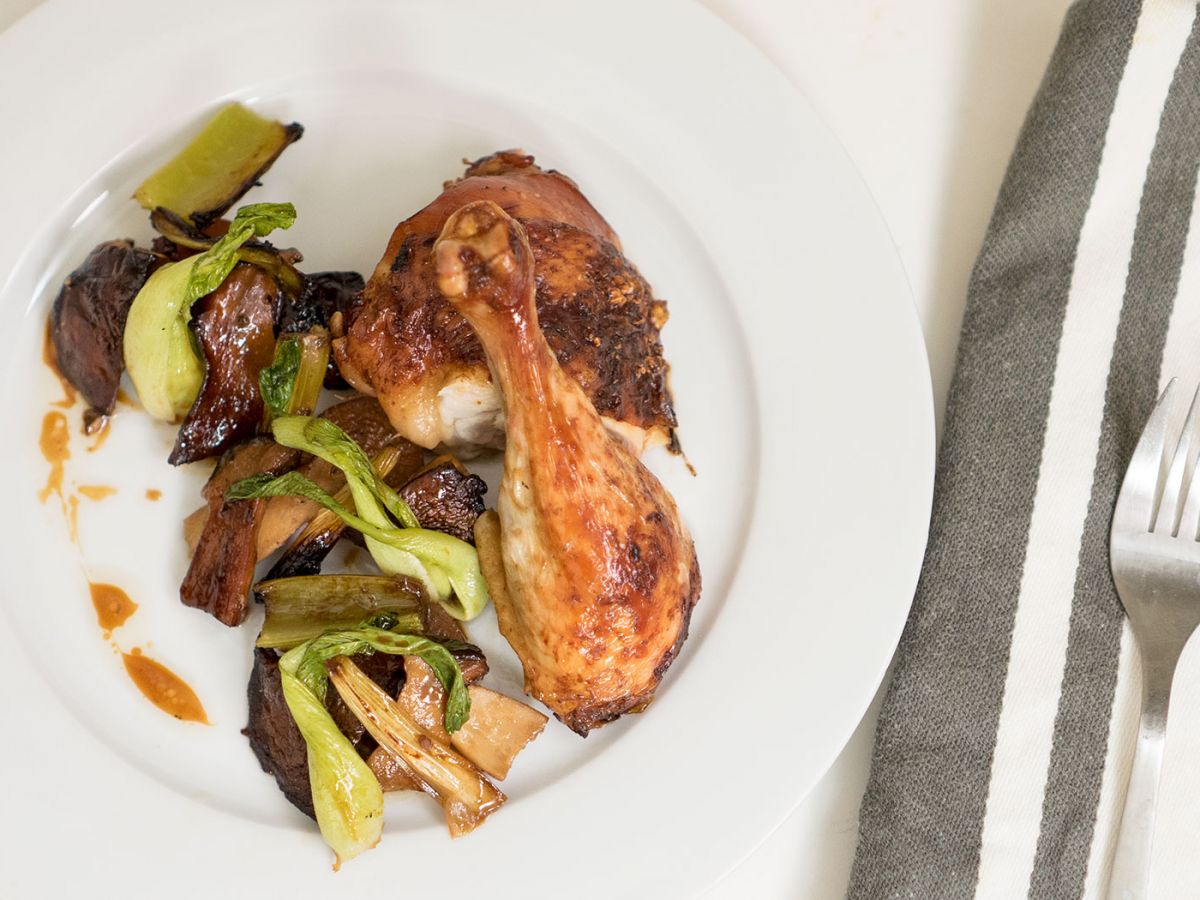 Adrienne Cheatham's Soy-Stout Roasted Chicken
Ingredients
For the chicken:
1 whole chicken (3-4 lbs)
Salt and pepper to taste
1 1/2 cups soy sauce or tamari (gluten-free soy sauce)
1 (12-oz). bottle of stout beer, like Guinness or Old Rasputin
1 tbsp Red Boat fish sauce
2 cloves garlic
1 bunch scallions, root ends trimmed and cut into 2-inch pieces
3 stalks celery, trimmed and cut into 2-inch pieces
12 large shiitake mushrooms, stems removed
6 large King Trumpet mushrooms, trimmed and cut in half lengthwise
Grapeseed or canola oil for brushing
For the garnish:
3 cups reserved chicken brine
2 tbsps unsalted butter, cold
1 medium daikon radish, peeled and cut into 1/2-inch slices
12-16 pieces baby bok choy, with the outer leaves trimmed
Instructions
For the chicken:
1. Rinse chicken and pat dry. Using kitchen shears or a sturdy knife, remove the backbone and cut lengthwise between the breasts, cutting the chicken in half. Season the chicken lightly with salt and freshly cracked black pepper and let sit for 10 minutes.
2. Meanwhile, combine the soy sauce, beer, and fish sauce in a large bowl. Peel the garlic cloves and crush with the side of a knife. Add garlic and cut scallions to the bowl, then the chicken halves, plus the backbone, skin side down.
3. Marinate the chicken for 2-3 hours (longer is possible), turning occasionally.
4. Preheat the oven to 475 degrees F.
5. Prep and season the celery and mushrooms with some oil, salt, and pepper. Arrange the seasoned vegetables on a half-sheet tray.
6. Remove the chicken from the marinade and place in the center of the tray, on top of some of the mushrooms, skin side up. Rub a drizzle of oil over the skin. Strain the marinade, reserving two cups. Place the scallions and garlic on the tray with the chicken.
7. Place the tray on an upper rack in the oven to cook, roasting for 30 to 45 minutes, or until the juices run clear.
For the garnish:
1. In a small pot, add 2/3 cup of the marinade with some water and the daikon. Bring to a simmer on medium heat. Turn heat to low and continue cooking until daikon slices are tender and translucent. Drain and set aside.
2. Place remaining marinade in a small pot and bring to a boil on high heat, whisk in butter. Add trimmed baby bok choy to the pot and cook until just tender. Drain and set aside.
Assemble
1. Remove the chicken once fully cooked and let rest for 10 minutes. Then, carefully carve the chicken out. Arrange on a plate with a few pieces of daikon, bok choy, and roasted mushrooms, plus a drizzle of the reduced marinade. Eat the backbone with your fingers.
Click HERE to read more from Refinery29


Loading ...