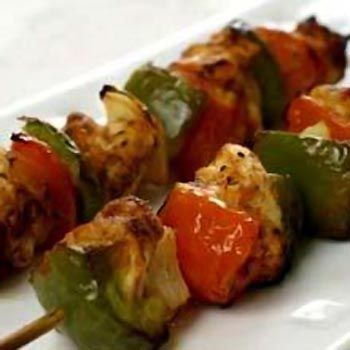 This article was last updated on April 16, 2022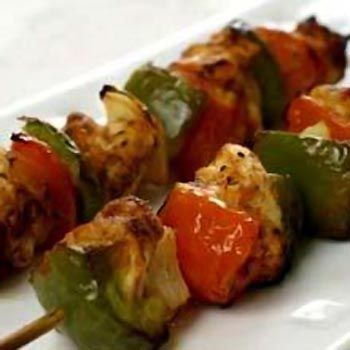 Shashlik is popular all over the world with different sort of styles and tastes. The main taste of Shashlik is meat marinating. Here is the very tasty recipe of Chicken Shashlik. The below recipe is for 2-3 servings but if you want to increase the take all the ingredients in double quantity.
Ingredients to Marinate Chicken Shashlik:
– Boneless Chicken ½ kg
– Soya Sauce 2T-sp
– Lemon Juice 2Tbsp
– White Vinegar 1Tbsp
– Mustered Paste 1Tbsp
– Red chili Powder ½ teasp
– Garlic Chopped 2cloves
– Salt as per taste
Cut the boneless chicken in cubes and Marinate Chicken in all above ingredients for 2o to 45 minutes. Take the vegetables of your choice; most preferably vegetables for chicken Shashlik are capsicum, tomato, onion. Place the marinated chicken pieces and vegetables in Shashlik Sticks.
Now there are two choices to cook it. You may barbeque it or you can simply fry in hot sizzling pan. The total cooking time of Chicken Shashlik sticks will be 10 to 15 Minutes.
Chicken Shashlik Sauce:
– Chicken Stock 1 cup
– Ketchup ½ cup
– Corn Flour 2 Tbsp
– Garlic Chopped 1 clove
– Oyster Sauce 1 Tbsp
– White pepper ½ tea-sp
– Salt as per taste
– Cooking oil 1 Tbsp
Heat the 1 Tb sp oil in sauce pan, stir fry the garlic for 30 seconds and pour the one cup chicken stock in it. Put oyster sauce, white pepper, salt and ketchup it in and cook for one minute on oiling point. Mix the corn flour in water then pour it in and wait until it the Chicken Shashlik sauce gets thick.
Put the Chicken Shashlik sticks in platter line wise and then pour the Chicken Shashlik sauce on it. Serve it with Fried Rice. Happy Eating
Click HERE to read more from Fashion Central.
You can publish this article on your website as long as you provide a link back to this page.