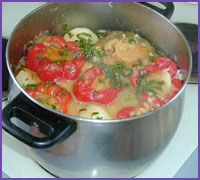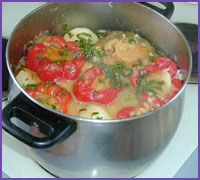 Ingredients :
3 zucchini, chopped to round
1 capsicum/banana chilli, chopped
1 tomato, chopped
1 inch ginger, finely chopped
1 cup coriander, finely chopped
1 tsp limeJuice
2 tsp canola oil
2 tbsp skim yogurt
½ cup water
Spices :
1 tsp red chilli powder
tsp coriander powder
½ tsp turmeric
½ tsp garam masala
Method :
Put yogurt in a bowl and mix well all the spices.
Heat a deep skillet and pour oil. When the oil becomes hot, put the spice paste.
Cook till a mesh type texture results and oil separates out
Put zucchini and tomato pieces and lime juice and mix well.
Cover the skillet and keep it to boil for 5 minutes.
Garnish with coriander leaves powder.