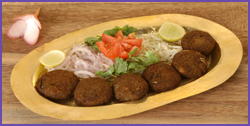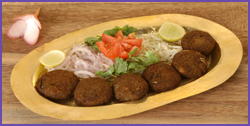 Ingredients :
3 potatoes, boiled & mashed
1 carrots, grated
¼ cup fresh green peas
1 big onions, chopped
1 tsp red chili powder
2 tbsp maida
Oil
1 tsp garam masala powder
½ cup rusk powder
salt to taste
Method :
Steam the grated carrot & peas in a pressure cooker.
Heat oil in a pan and sauté the chopped onions until it turns golden brown.
Then put mashed potatoes, steamed carrots and peas.
Fry for 10 minutes and add garam masala, chili powder & salt and sauté well. Take out from heat and keep it to cool.
Make lemon sized balls out of this vegetable mixture.
Add some water to maida and make it as a paste.
Dip the vegetable balls in the maida paste and coat with rusk powder.
Flatten this into thin patties. Heat 2 tbsp of oil in a shallow frying pan and fry few cutlets at a time until both sides become brown.
Repeat the same procedure for the remaining cutlets.
Serve hot.