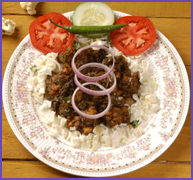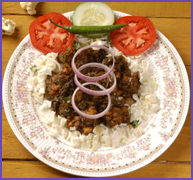 Ingredients :
2 no cauliflower
1 cup grated onion
1 tsp garlic paste
1 tsp ginger paste
½ cup tomato puree
1 tsp red chili powder
1 tsp garam masala powder
1 tsp coriander powder
2 tsp turmeric powder
1 tsp cumin powder
2 tsp oil
Salt to taste
Method :
Remove stalk from cauliflower. Boil in salted water with 1 tsp turmeric powder till half cooked.
Heat oil in a Kadhai. Add grated onions and sauté until golden brown in colour.
Add Ginger Paste, Garlic Paste, cumin powder, coriander powder, remaining turmeric powder, Garam Masala Powder and salt.
Stir for half a minute.
Add tomato puree and cook till oil leaves the masala.
Add ½ boiled cauliflower and cook on steam for 10 minutes.
Garnished with chopped green coriander and serve hot.