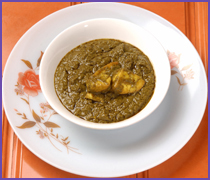 This article was last updated on April 16, 2022

Ingredients :
3-4 steam of spinach
1 cup coconut gratings
10 roasted red chillies
tamarind lump (marble size)
1 small garlic pod
2 tbsp oil
salt to taste
Method :
Chop leaves of spinach finely. Cut its stem into 2″-3″ long pieces.
Cook them together in a vessel with 1½ cups of water.
After sufficient cooking, put salt. Boil well.
Grind coconut gratings with roasted red chillies and tamarind to a fine paste.
Put the masala to the cooked spinach. Bring to boil. Take out from flame.
Season the curry with peeled garlic cloves in oil.
Bilimbis can be used, instead of tamarind, to give the sourish taste.
Ragi greens ambit is also prepared in the above manner, substituting spinach with those greens.
Pieces of suran or Chinese potato (kooka) are generally combined with the ragi greens.
You can publish this article on your website as long as you provide a link back to this page.