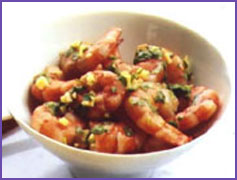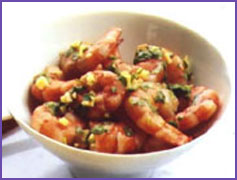 Ingredients :
250g prawns, onion
500g minced pork
¼ cabbage, finely shredded
6 spring onion, finely chopped
1 egg
2 tbsp cornflour
2 tsp soy sauce
2 tsp sesame oil
½ x 250g packet wonton wrappers
oil for deep-frying
Method :
Devein prawns, chop 8 prawns; reserve. Chop remaining prawns finely.
Combine chopped prawns, pork, cabbage, onion, egg, cornflour, soy sauce and sesame oil in bowl; mix well.place
a tsp of mixture onto centre of each wrapper.
Gather the sides of wrappers around filling, pleating edges together, but leaving top open.
Place a small piece of reserved prawn on top of each dim sim.
Deep-fry dim sims in batches in hot oil until golden brown.
Remove; drain on absorbent paper.