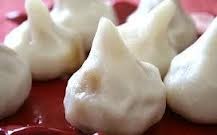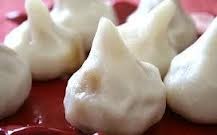 Ingredients:
For Dough
2 cups rice flour
1 tbsp oil
A pinch of salt
For Filling
1 coconut (grated)
1 cup jaggery (powdered)
1 tbsp ghee
Method :
Mix grated coconut, jaggery and ghee in a heavy pan. Cook on a medium flame, stirring
continuously till thick. Allow to cool. Form small balls and set aside. Heat 2 cups of water in a pan. Add salt, oil and flour, then stir
continuously till dough leaves the sides of the pan. Allow to cool and knead well. Take a small ball of dough and with greased palms pat
into a disc. Put some filling in the middle and seal it. Make all Kozhakattais and steam till done.