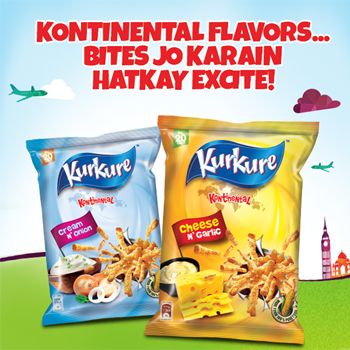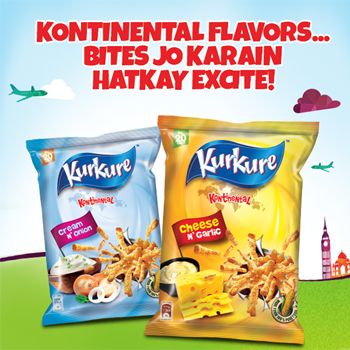 Meet two brand new crunchy, super tasty offerings from Kurkure, Pakistan's most exciting, flavorful, different-from-the-rest snack – the
Cream N' Onion
and
Garlic N' Cheese
!
These two lip-smacking international flavors join the ever-growing Kurkure family, and are very different from the current Kurkure flavors. Both exciting tastes are scheduled to be launched in the Pakistani market near Eid and will be available throughout the country, at your nearest store.
Kurkure Pakistan has always been committed to innovation and the launch of these two extensions reflects their passion for offering consumers new alternatives that enhance their snacking experience. With the Kontinental line, they aim to offer their consumers a wider choice of all-time favorite flavors from around the world. Kurkure snacks are prepared using high quality 100% pure corn goodness which makes snacking a healthy and fun experience!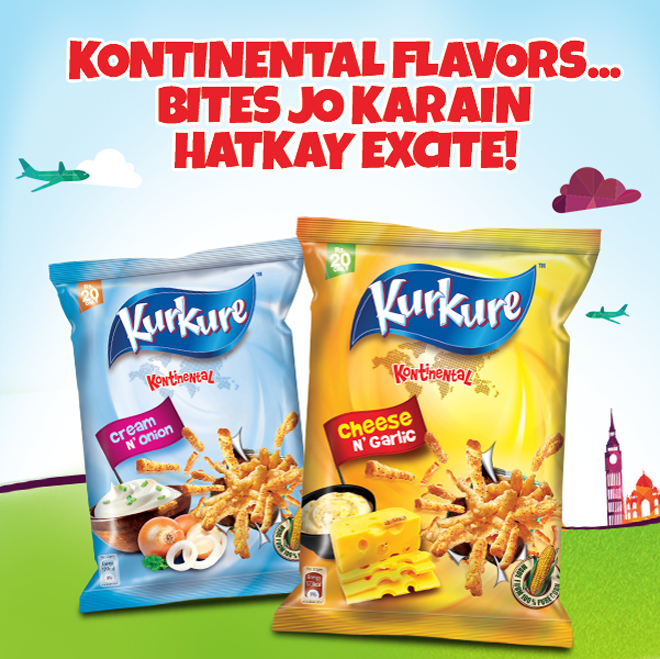 Kurkure Pakistan has also been running a competition on their Facebook page where they have asked participants to guess the names of the new flavors being introduced, using the hashtag #KurkureNewExcitingFlavors. The winner, who will be awarded with flavorful excitement, will be announced soon via the facebook page.
Kurkure is an International brand from the makers of Lays, launched in Pakistan in 2007 under the prestigious umbrella of FritoLay Pakistan (Pepsico) and has since then gone on to become one of the bestselling and most loved snack brands of the country.
Get ready to bite into the new Kurkure Kotinental Excitement to celebrate flavors of life, a little differently! You know you want to!
Click HERE to read more from Fashion Central.