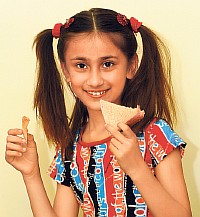 This article was last updated on April 16, 2022
Canada:

Oye! Times readers Get FREE $30 to spend on Amazon, Walmart…
USA:

Oye! Times readers Get FREE $30 to spend on Amazon, Walmart…

Today, children are spending seven to eight hours out of their homes in schools and colleges.
Their major meals are eaten out of their homes. If children eat better they concentrate better, work without feeling fatigue and their immunity and percentile rates improve. Once food improves, children feel better, less irritable and less tensed, so it's very important to plan healthy meals for their tiffin and snack boxes.
Snack tips:
Unfortunately, lots of parents use breads and biscuits which are nutrient robbers in snack boxes. Our children become sick because of an explosion of empty nutrient food and empty calories due to white flour, chemicals and sugar. The breads and biscuits available in the market are 50 per cent white flour, sugar, extra salt, artificial colours and emulsifiers are added.
Given their way children would love to grow up on a diet of bread, biscuits and junk food which are addictive. So let's make junk healthy.
Eat foods which are as close to the natural state, which promote growth, immunity and energy.
Here are some interesting recipes:
Protein Pancakes
Ingredients: One teacup moong dal ; 200 gms white gourd; three green chillies; three tbsp fresh low fat yogurt; a pinch of asafoetida; salt to taste; two tomatoes, chopped; two finely chopped green chillies; two to three tbsp chopped coriander; salt to taste (rock salt); one tsp extra virgin oil.
Method: For the batter, soak the dal for three to four hours. Grind the soaked dal with green chillies and yogurt.
Add asafoetida and salt, mix well. To proceed, heat a non- stick tawa and spread a little moong dal mixture and oil on it. Then, spread a little stuffing and smear a oil on the sides. Turn upside down and cook again for a few minutes.
Repeat with the remaining mixture and stuffing.
Serve hot with mint chutney or sweet chutney.
Hot tip: The batter can be prepared the day before and the pancakes can be made fresh in the morning. It is a complete meal as it contains all food groups.
Spinach tikki with vegetables
Ingredients: One bunch spinach shredded; half grated white radish; one grated carrot; two boiled potatoes; salt to taste; one-two tsp green chilli and ginger paste; quarter cup crushed peanuts.
Method: Grate carrot, radish and boiled potatoes. Mix them with all other ingredients. Make small tikkies from that mixture. On each tikki add chopped tomatoes, both chutneys and serve.
Hot tip: The potatoes can be boiled one day before and the vegetables can be cut and kept in the fridge.
Potato Pizza
Ingredients: 250 gms potatoes; 100 gms tomatoes; one capsicum; quarter cup boiled yellow corn; one chopped onion; two-three olives; some mushrooms.
Method: Boil and mash potatoes. Add salt to taste. Make tomato puree. Add salt to taste. Make small flat pancakes from the boiled and mashed potatoes. Decorate it with capsicum, corn, onions, olives and mushrooms, grate paneer on top. Bake in an oven at 400 degree celsius for 15 minutes.
Hot Tip: Puree and potatoes can be made before hand.
Masala Idli
Ingredients: 6-7 idlis ; one tomato finely chopped; one cup capsicum finely chopped; one onion finely chopped; one tablespoon pav bhaji masala ; salt to taste; one teaspoon chili powder; handful of chopped coriander leaves; one tsp olive oil.
Method: Cut each idli into four pieces. Saute all the vegetables in oil. Add the masala , idli and coriander, mix well and serve hot.
Hot tip: Batter can be made the day before.
Paneer wrap
Ingredients: 100 gms grated paneer; 100 gms boiled French beans and carrots; one cup chopped coriander; one chopped onion; one tsp jeera; juice of one lemon; half tsp red pepperika; one tsp extra virgin oil; 100 gms whole wheat flour
Method: Make four rotis from the whole wheat atta . Grate the paneer and add all the ingredients to it beside oil. Sauté it in oil and place it on the roti and roll it. Have it with green chutney or salsa. The dough can be prepared the day before. All the ingredients can be chopped the day before. Remember to always make food fun for children. My definition of fun is fresh, unprocessed and natural.
You can publish this article on your website as long as you provide a link back to this page.