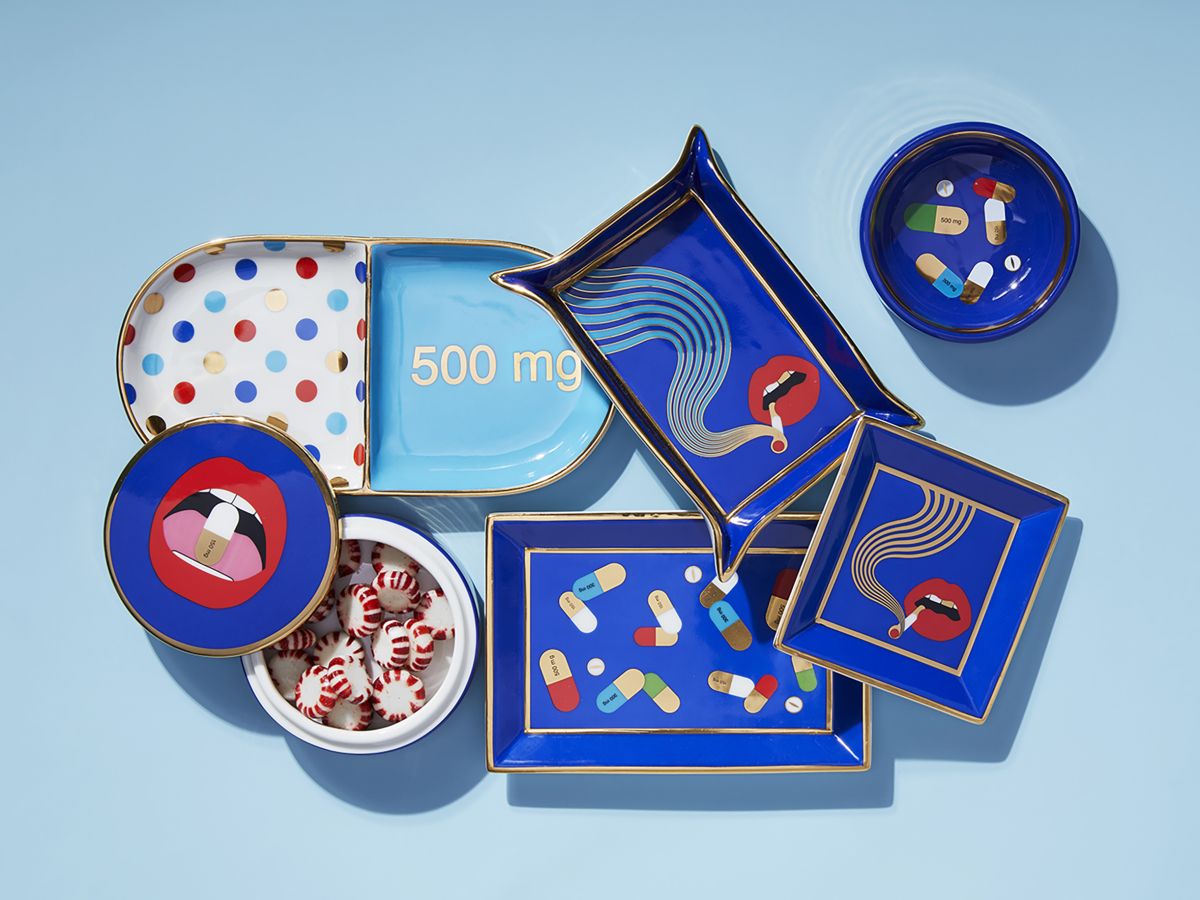 We sat down with one of the most iconic names in modern-day design, Jonathan Adler, to talk about pot. The self-proclaimed, "aesthetic libertine," just debuted his smoking-hot (pun intended) capsule collection in timely 4/20 -fashion with Higher Standards, a premium shop shelling out elevated smoke-accessories.
Some call them, "ashtrays," but Adler — who's been crafting the vibrant ceramics marketed as everything from catchalls to trays and coasters for years — holds a more liberating perspective on defining his designs: "I never think about calling anything anything. I've never been title-oriented." It's with this exact mentality that Adler is able to transform the once alienating dishes into stylish and inclusive lifestyle accents that both smokers and non-smokers can enjoy — a decor trend he describes as, "the perfect home for a new level of chic."
"Ashtrays were such a thing of my youth — and I think they just went out of vogue, even though they have to exist," Adler shared. Although a non-smoker, the designer still draws style-inspiration from the, "saucy, sassy, and subversive," themes the taboo practice evokes (as encapsulated in his evocative smoking-lip design). "In my youth head-shops were all about pewter dragons and goblins, rainbow-colored glass clowns and bongs, and it was kind of funny but not stylish," Adler explained. "I thought the introduction of style in this set [for Higher Standards] felt perfect for me and fell very much in line with what I've always been doing and what I strive to do." Ahead we round up our favorite Adler ashtrays-to-some and catchalls-to-others from his newest collection and a few from his older (but still powerful) classics. Scroll on to shop this major 4/20 decor-trend from a smoking or non standpoint — and more importantly, to join Adler with the rest of the aesthetic-libertines in a home style-inclusivity moment.
Promote your product line on a page similar to this. Contact matt at oyetimes.com for more details.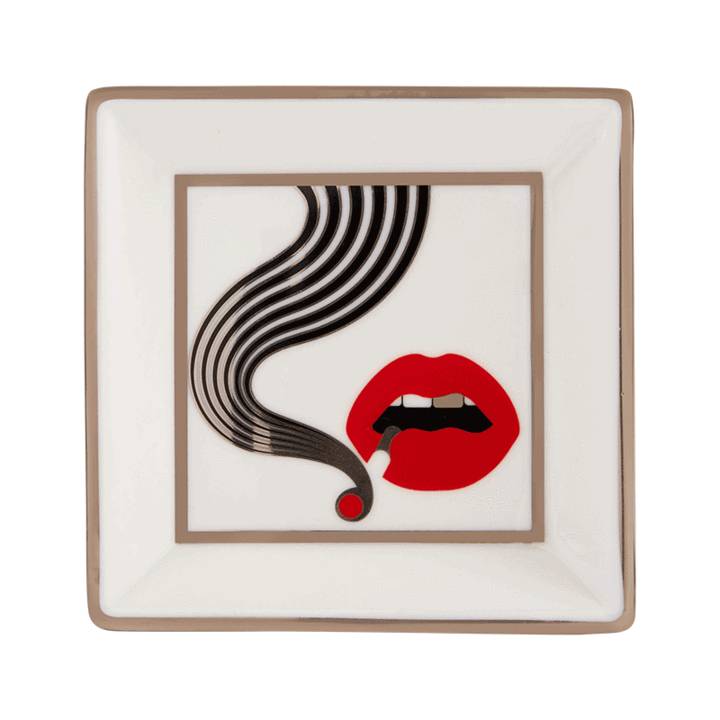 Adler poured that iconic, "sassy, saucy, and subversive," style into the first of his new decor designs with Higher Standards — appropriately dubbed the, "Smolder," this statement-making tray is crafted from high-fired and smoke-resistant white-porcelain with his stylish smoking-lips' seal.
Jonathan Adler Smolder Square Tray (Jonathan Adler x Higher Standards), $38, available at Higher Standards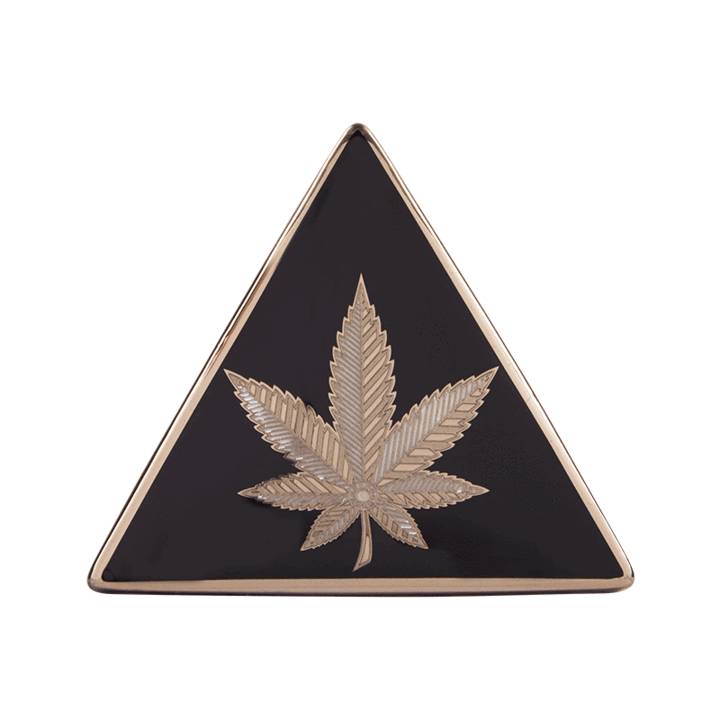 For this exclusive collaboration, Adler strayed away from his usual use of black and gold ceramics into a black and silver look that the designer describes as, "a slightly cleaner, different feel" — and also reminiscent of the Oakland Raiders.
Jonathan Adler Hashish Triangle Box (Jonathan Adler x Higher Standards, $68, available at Higher Standards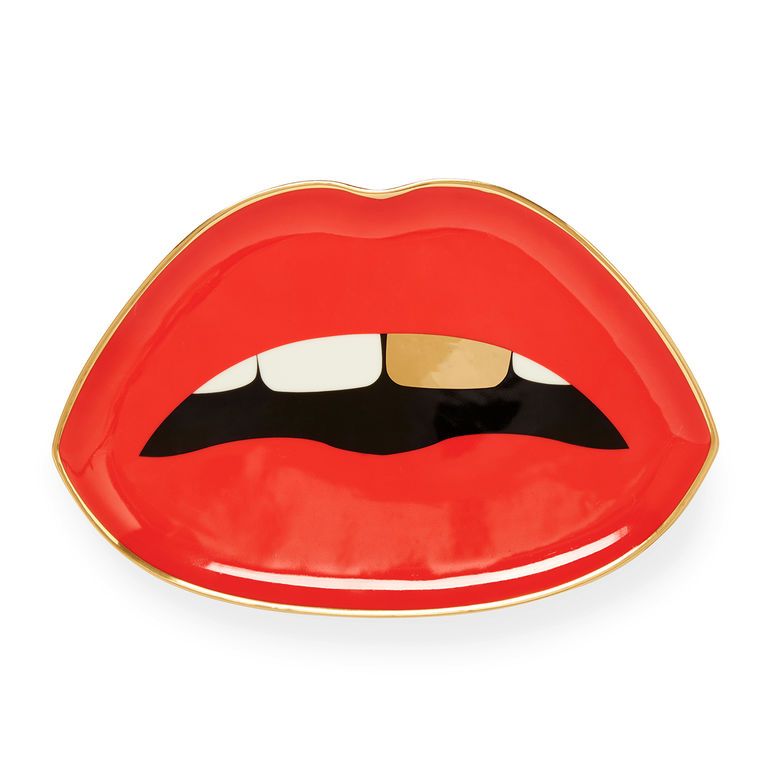 This rich, red-lipped tray evokes the most classic, "sexy, seductive, saucy," style of Adler's designs.
Jonathan Adler Lips Trinket Tray, $98, available at Jonathan Adler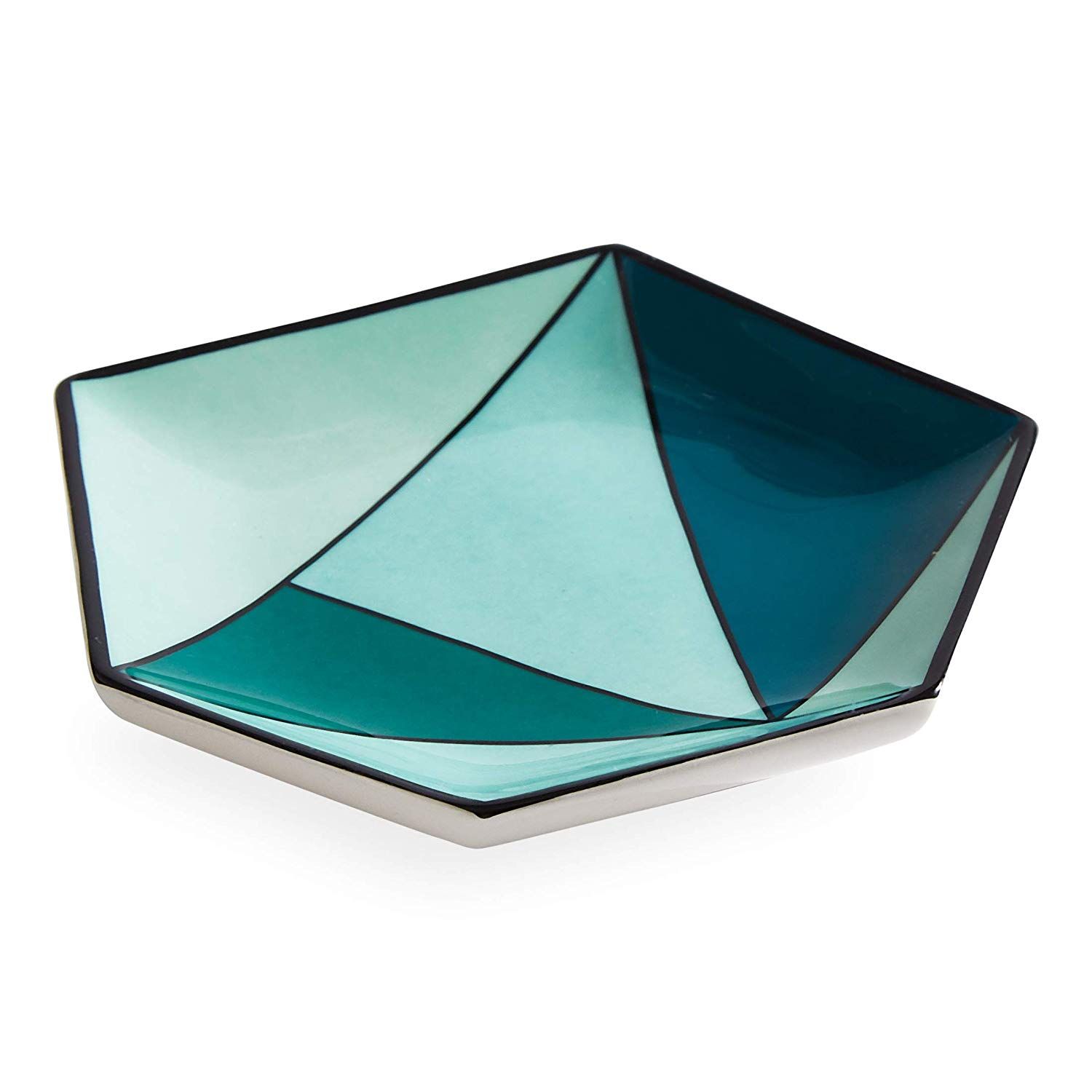 Adler's exciting Now House collection launch on Amazon gave birth to this gem-inspired, glazed-stoneware dish that has quickly become a shining decor (and-or 4/20) essential.
Now House by Jonathan Adler Facet Small Decorative Tray, Green, $16, available at Amazon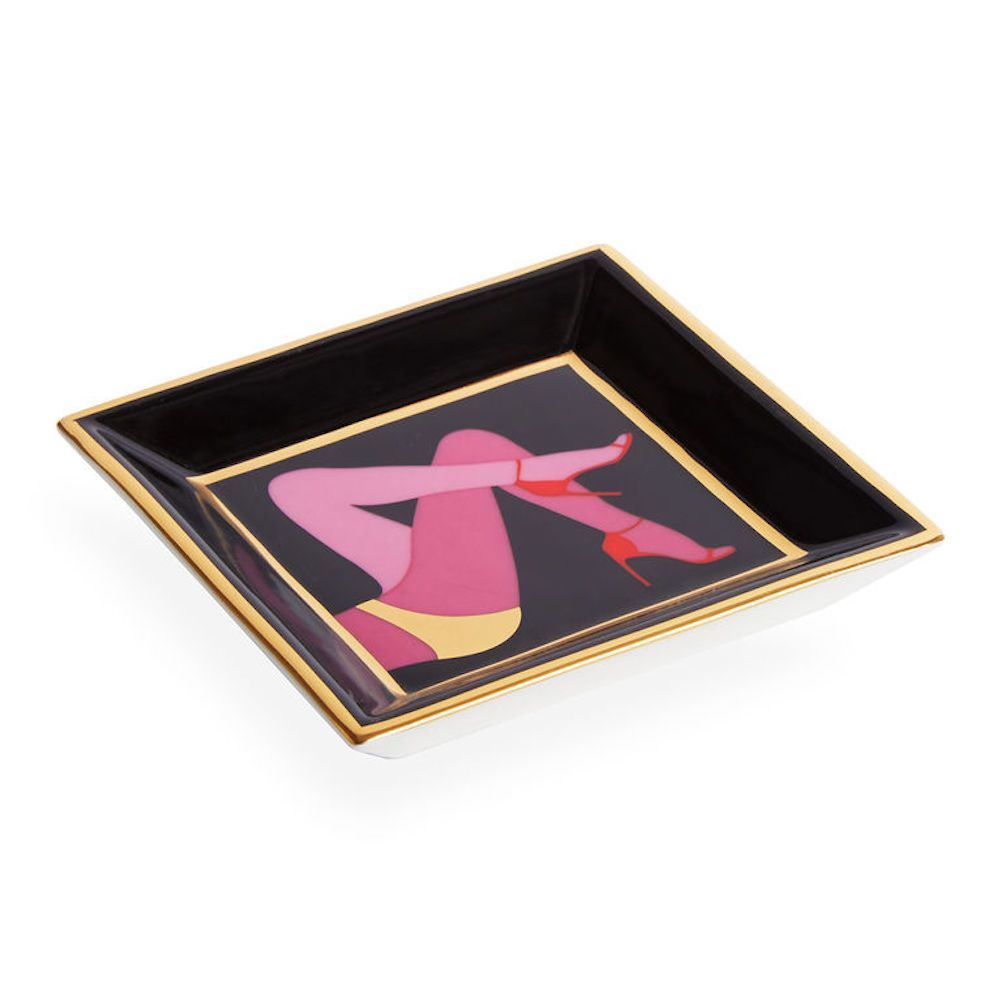 Inspired by one of JA's all-time favorite shows, Cabaret, this high-fired porcelain tray with real gold accents is ready to hold your trinkets to blunt-ash in glamorous-leggy style.
Jonathan Adler Square Tray – Les Girls, $34, available at eBay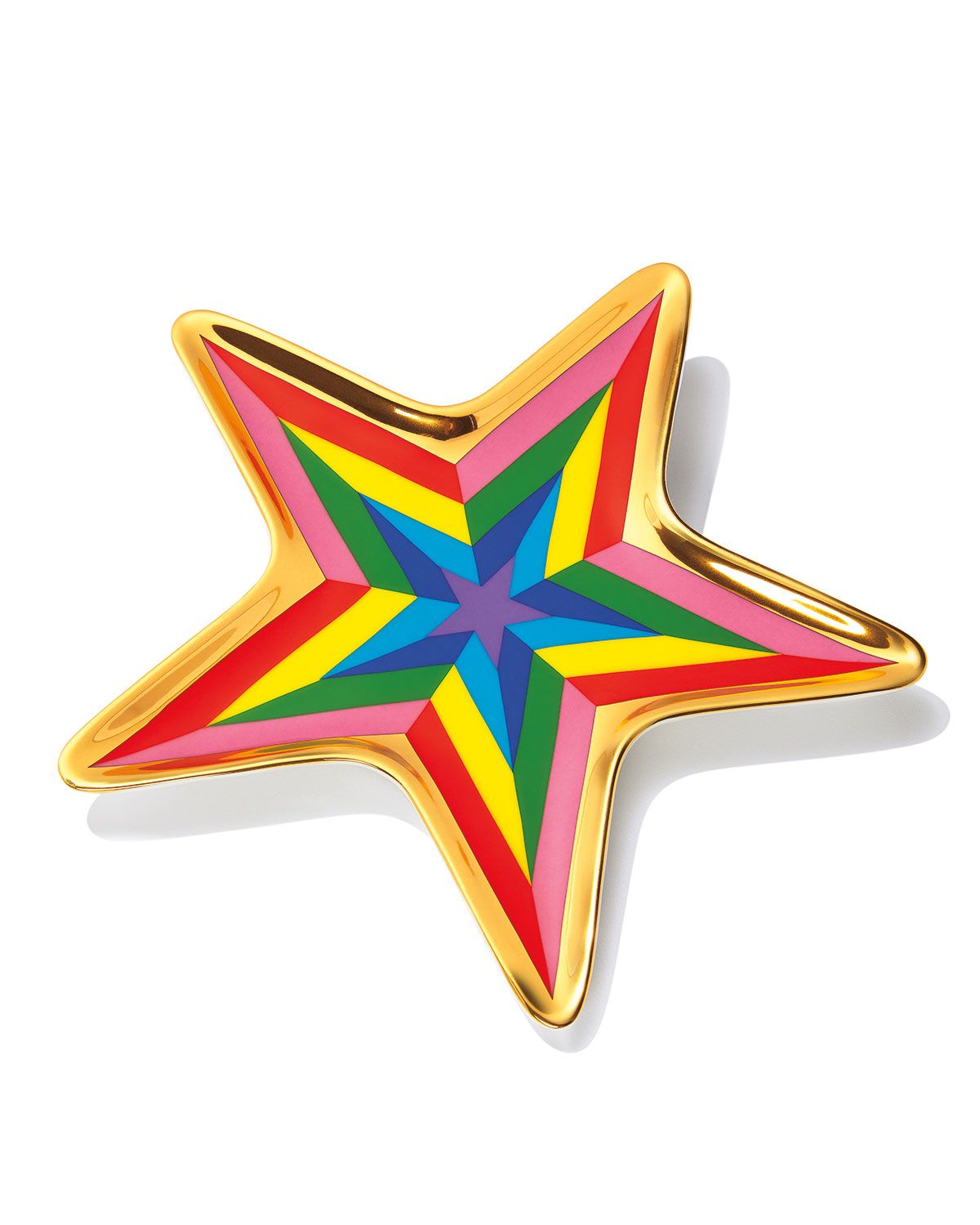 Add an intense and uplifting pop of multicolor to your space with Adler's gold-accented, rainbow-star tray.
Jonathan Adler Technicolor Star Trinket Tray, $98, available at Neiman Marcus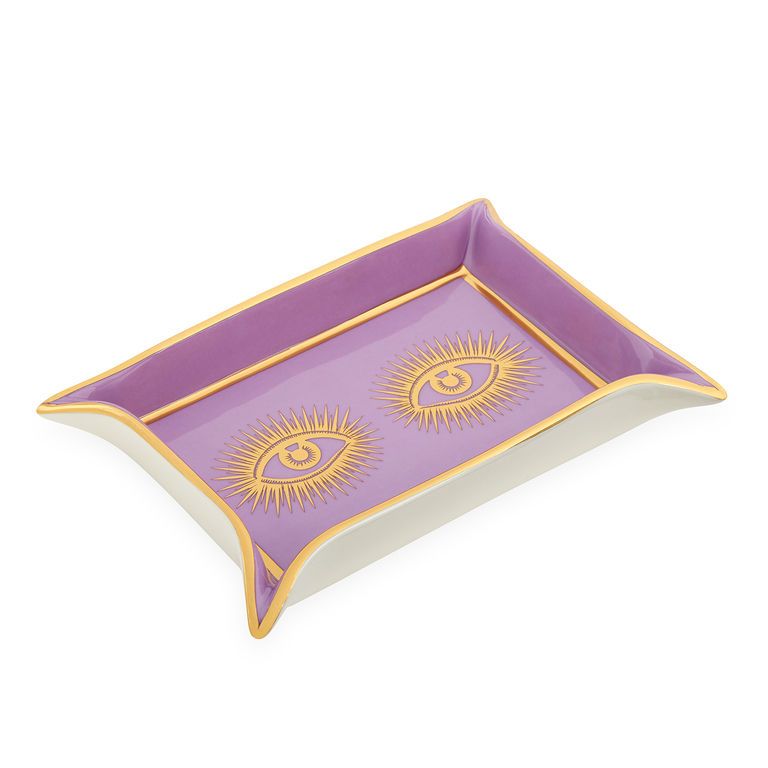 For more boho-style spaces, this small ceramic and metallic-eye accented tray is on-point.
Jonathan Adler Eyes Valet Tray, $68, available at Shopbop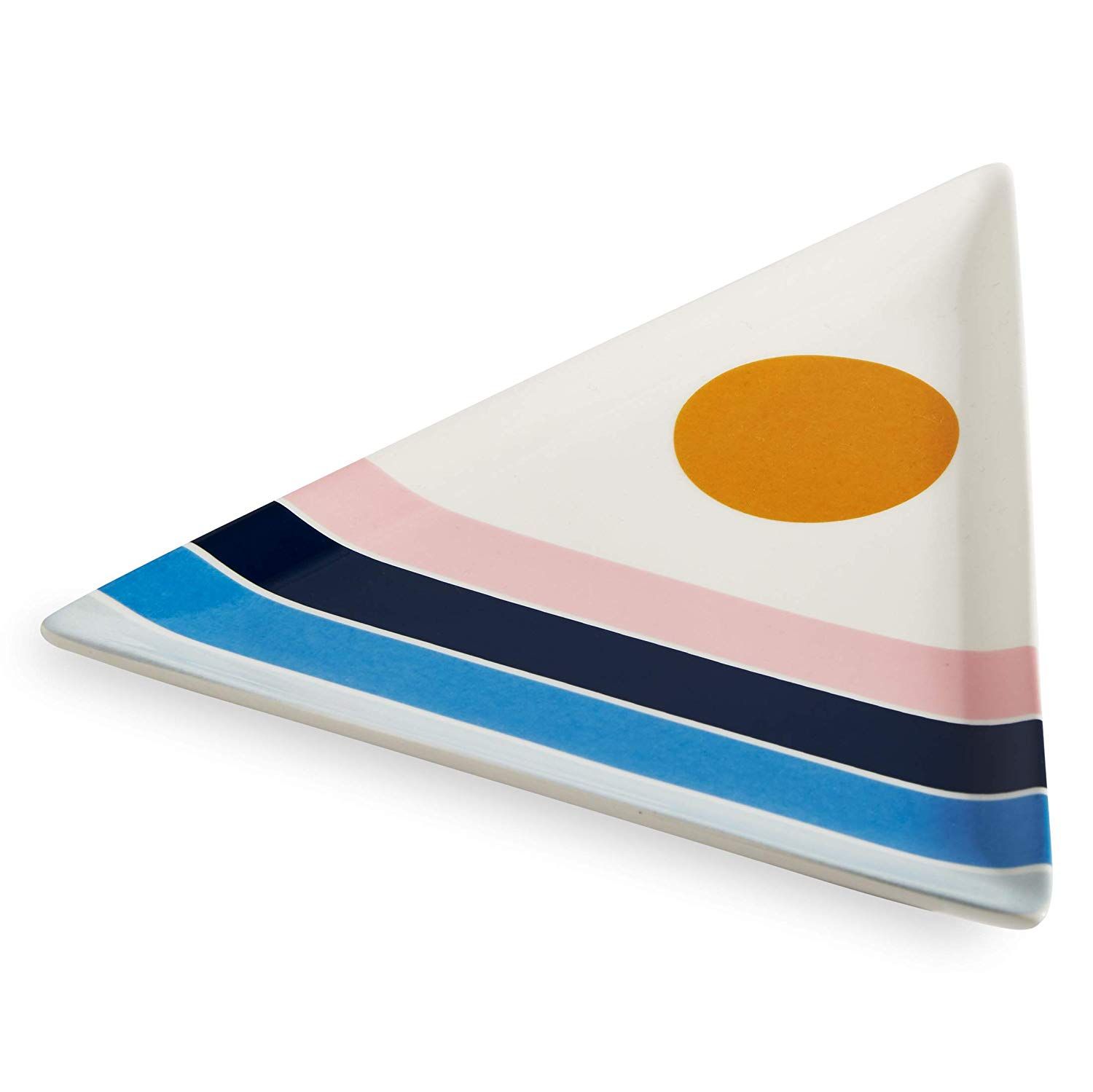 We adore the low-key, '70s surfer-vibes that this triangular Adler design radiates.
Now House by Jonathan Adler Miami Decorative Tray, $24, available at Amazon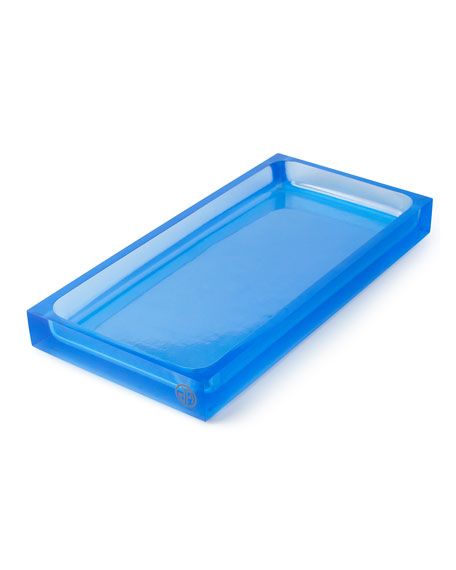 This thick acrylic tray with its frosted-lozenge interior has more minimalist home-decorators' (or smokers') style on lock.
Jonathan Adler Hollywood Vanity Tray, $48, available at Horchow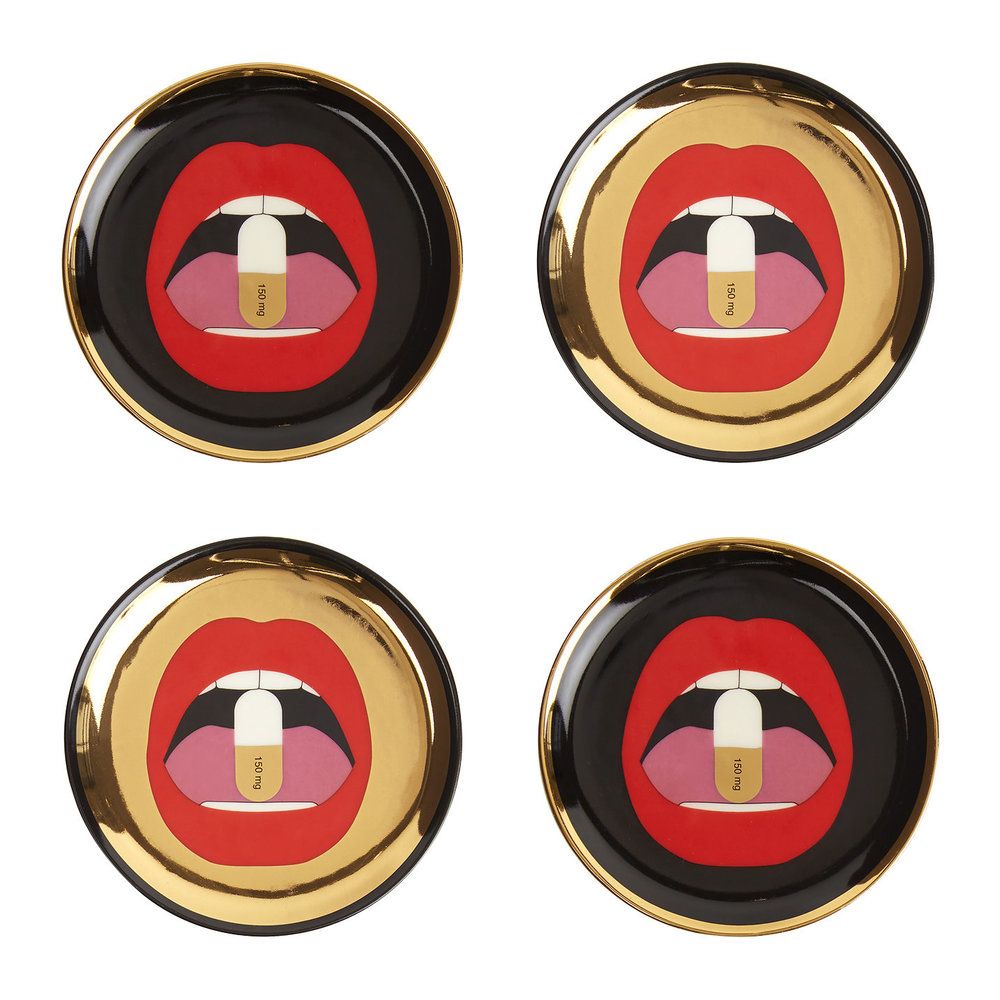 Statement-making coasters to some, and a glamorous set of porcelain and gold-accented mini ashtrays to others.
Jonathan Adler Full Dose Coaster – Set of 4, $78, available at Amara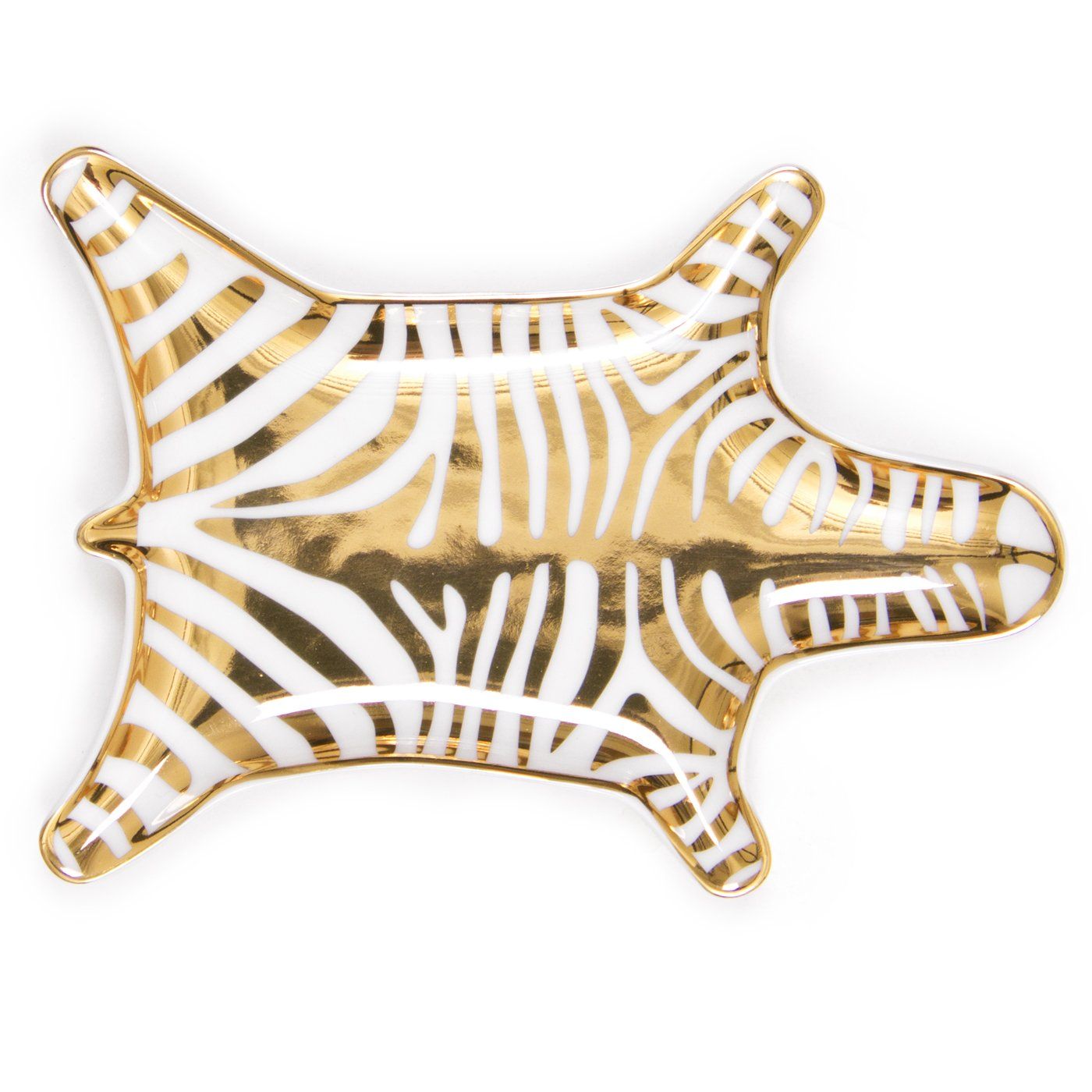 This classic zebra-skin-rug design from Adler can serve as a catchall for your grandmother's jewels — or, a catchall for your 4/20 smoke-stash.
Jonathan Adler Metallic Zebra Dish, $32, available at Amazon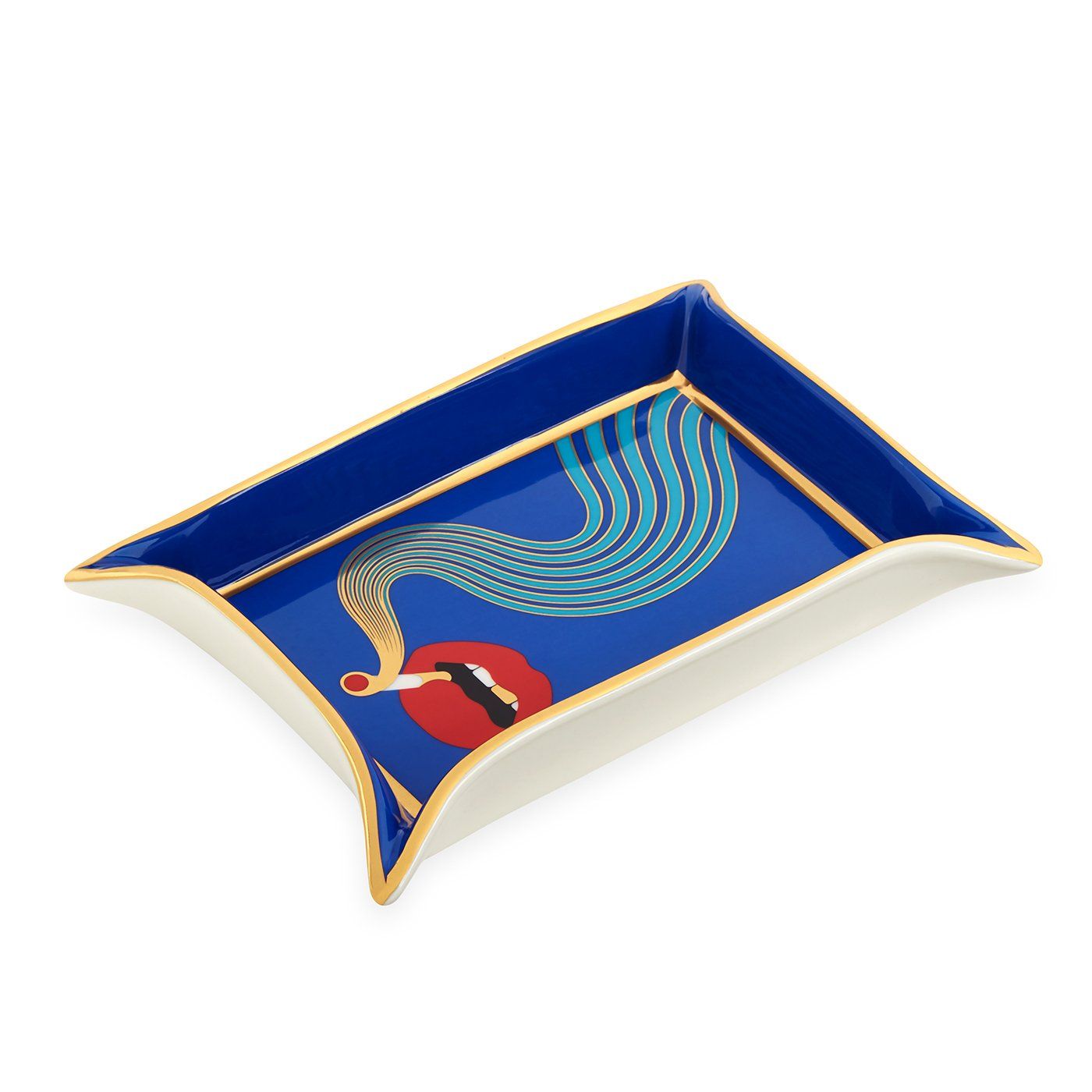 Another more colorful iteration of Adler's evocative smoking-lip design in a sleek and modern blue-sheen.
Jonathan Adler Full Dose Valet Tray – Blue, $73.59, available at Amazon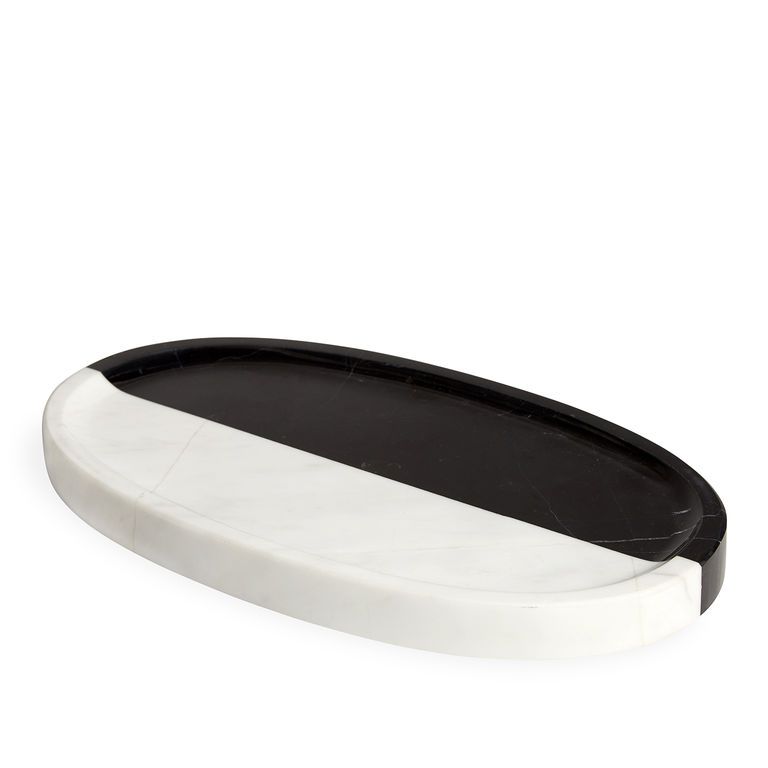 A black and white combo paired with smooth marble material and oval shape makes for one glamorously minimal home decor accent.
Jonathan Adler Canaan Oval Tray, $48, available at Jonathan Adler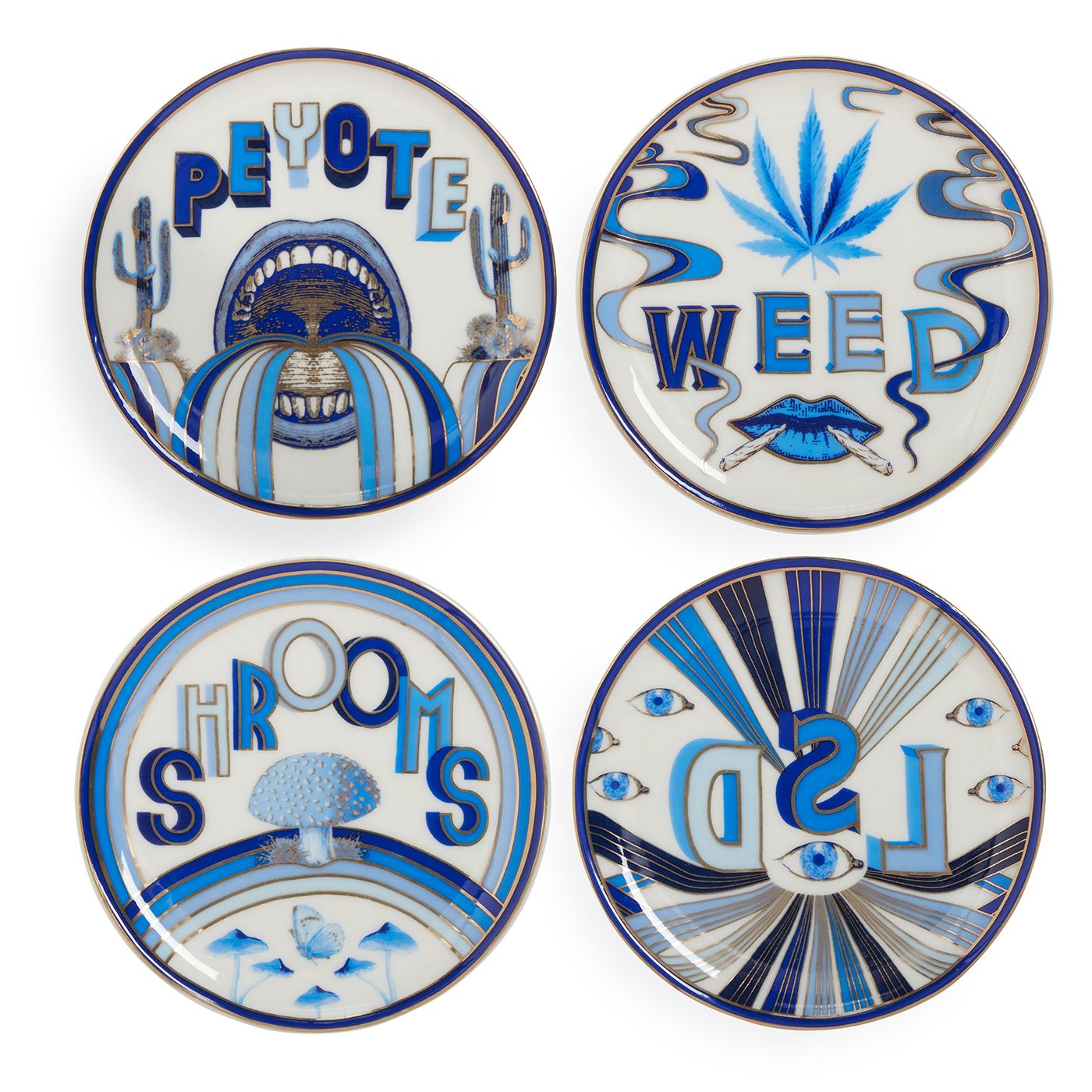 This stylishly psychedelic set is a mood — use the dreamy, glitter-accented collection as coasters, statement decor pieces, or resting places for snuffed-out blunts.
Jonathan Adler Druggist Coasters (Set of 4), $78, available at Jonathan Adler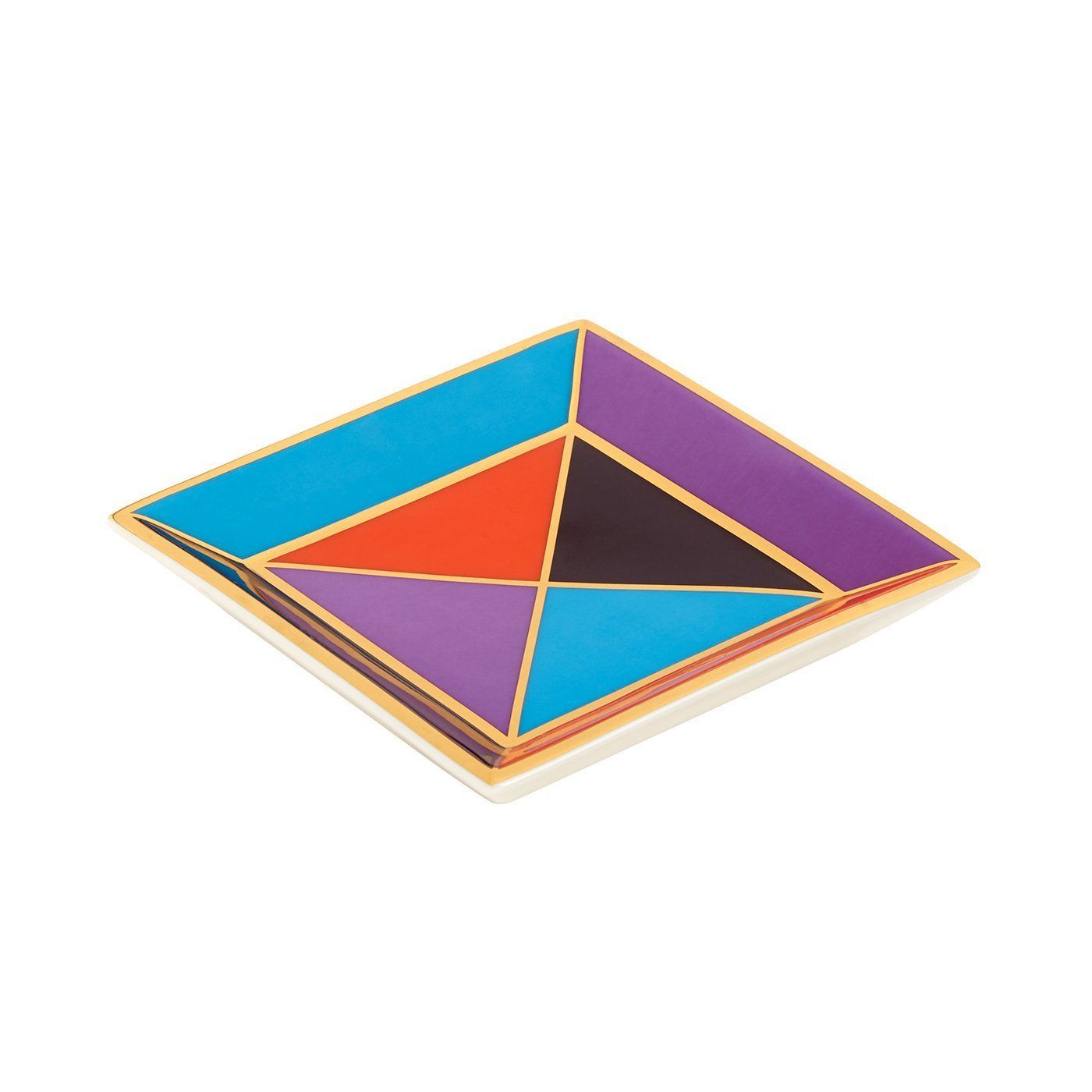 Add a little '70s-inspired, jewel-tone glam to your area with this gilded-trim tray.
Jonathan Adler Multi Harlequin Square Tray, $21.97, available at Nordstrom Rack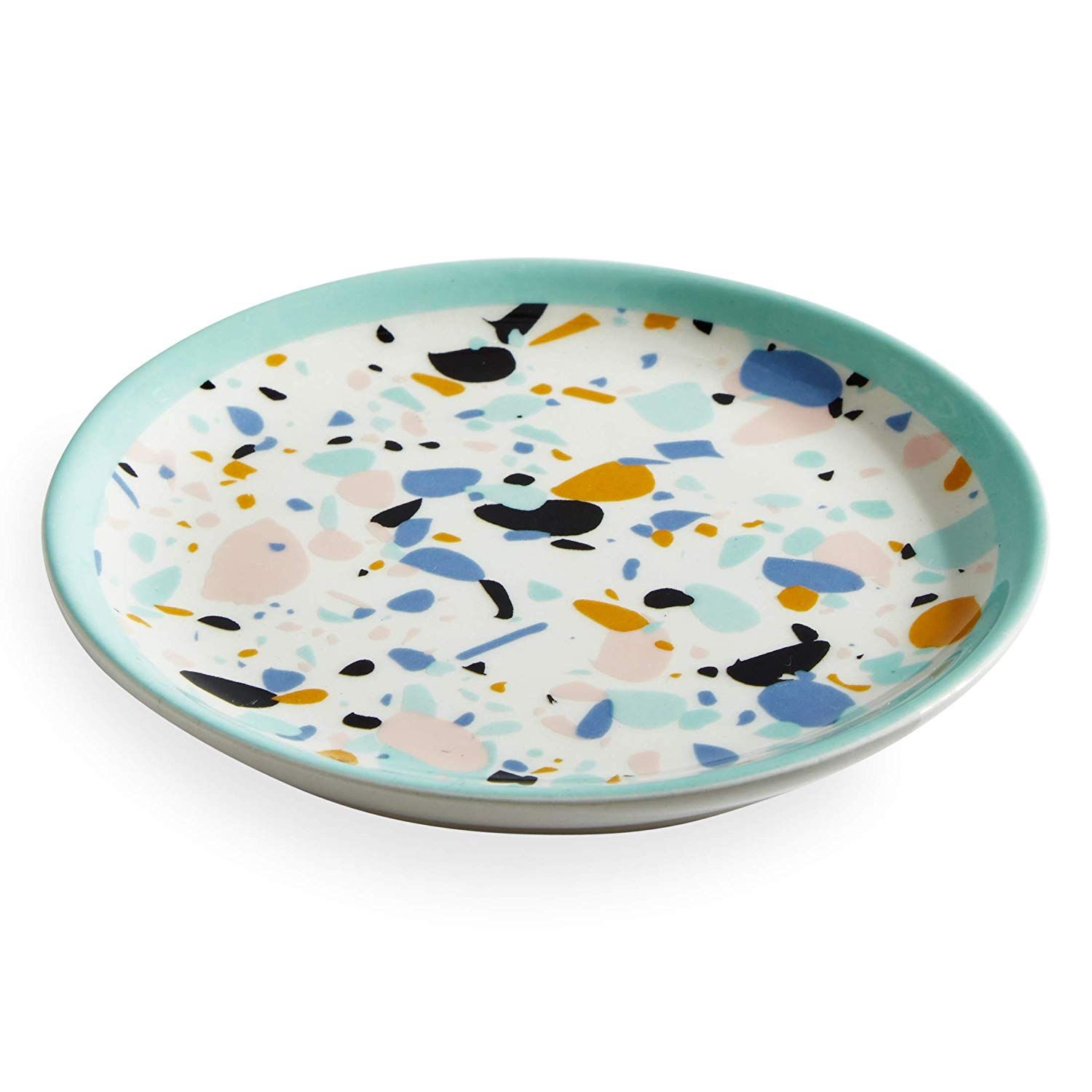 This ceramic terrazzo tray is another favorite from Adler's Now House collection — its confetti-speckled design in soft pastel hues makes for a subtle yet chicly eye-catching accent.
Now House by Jonathan Adler Terrazzo Decorative Tray, $16, available at Amazon
Click HERE to read more from Refinery29


Loading ...