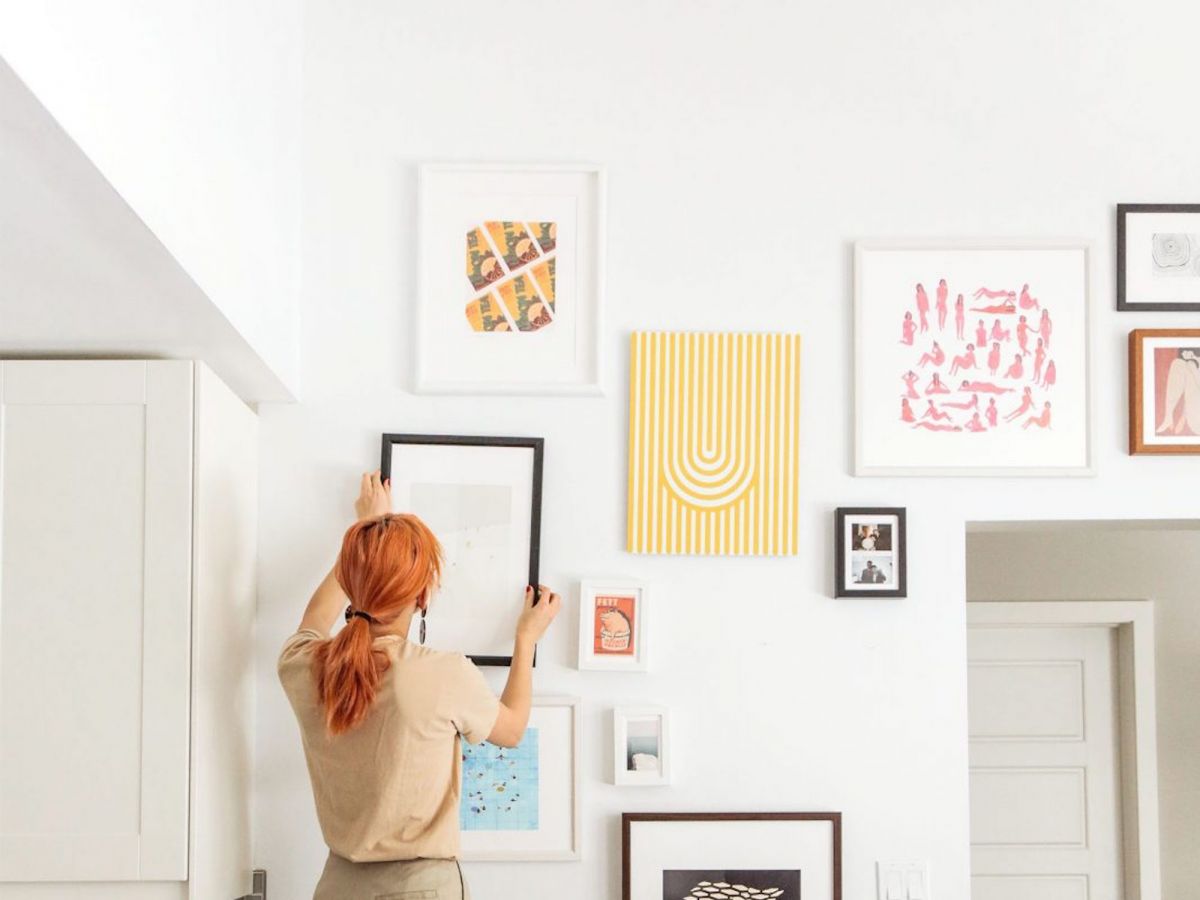 Art is an immense and relative term, making it either a dream or a nightmare for those attempting to navigate it on a buyer's level. Regardless of if you're deciding where to hang a print, debating whether or not to pull the trigger on a first acquisition, or still wondering where the hell to even start your search, the artwork-purchasing process can feel like a tremendous endeavor — but, you don't need to feel intimidated by it. We tapped experts across the online art-space to break down any stigmas still surrounding researching, buying, and home-styling quality pieces as beginners on a budget.
We've come a long way from an art world that once felt accessible to insiders only; today the influx of online galleries allows both buyers and artists all around the globe to seamlessly connect across a multitude of mediums, styles, and price points. Ahead the stylists, curators, editorial directors, and trend-experts from four top art-buying destinations (Etsy, Saatchi Art, Minted, and Society6) share their tips for navigating it all — from search-start to design-finish and even dishing on their own personal firsts. It doesn't matter whether you're a seasoned collector, a budget beginner, or somewhere in between, scroll on to shop an expert guide to your affordable art journey.
Promote your product line on a page similar to this. Contact matt at oyetimes.com for more details.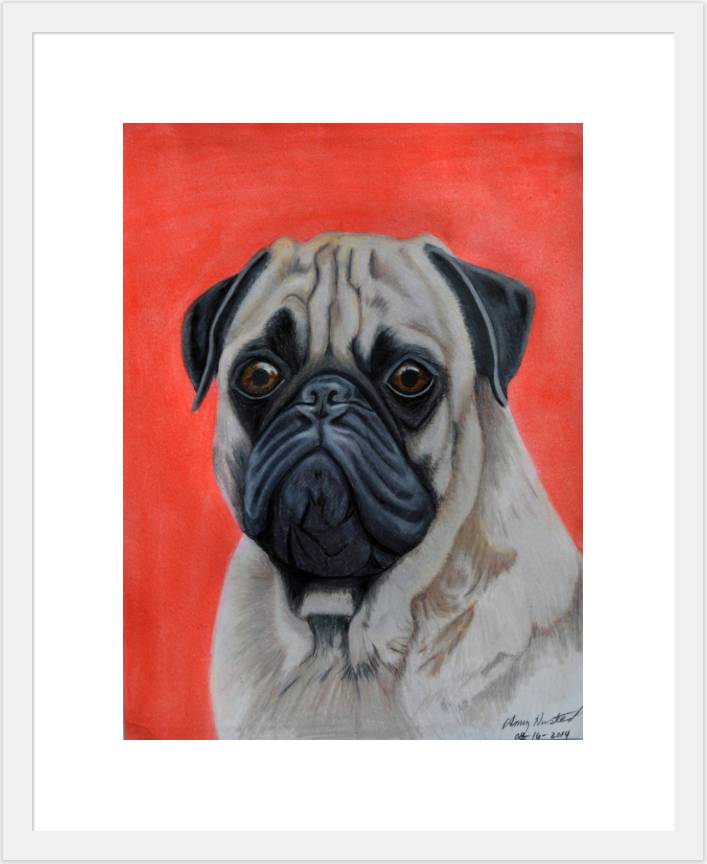 Buy Art That You Respond To
"The notion that you need to know what you are looking for when you begin your search for art is probably the biggest misconception. In actuality, collectors tell me that they enjoy the discovery journey more than anything, and are surprised and thrilled when they fall in love with a style or medium that they never would have considered before.
The main thing is that you have a strong response to the work. After that, I'm always eager to learn more about the artist and what has inspired the work which can sometimes give even further reason to feel a strong connection to it." — Monty Preston, Assistant Curator at Saatchi Art.
Amy Husted Pug Portrait Drawing, $120, available at Saatchi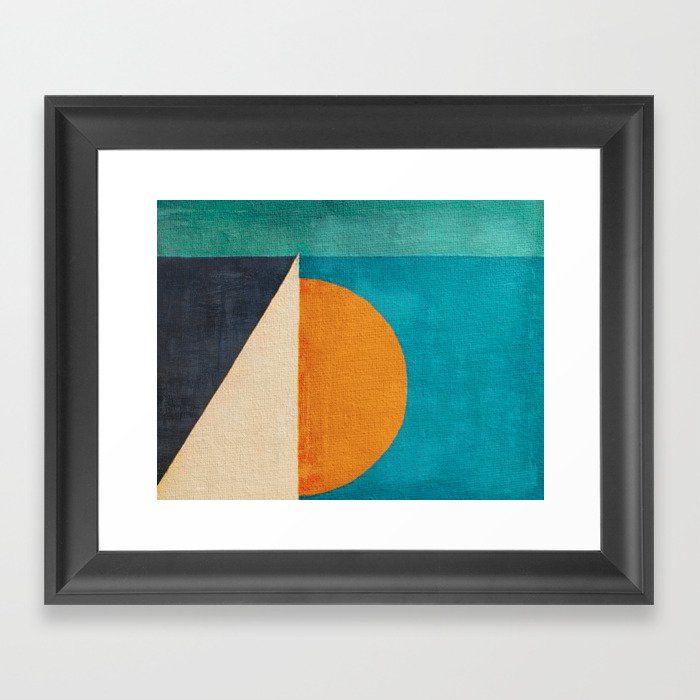 Look Online & Offline For Art
"Our community has over 350,000 artists and if you find one that really speaks to you, I always recommend seeking out their personal website or even emailing/DMing them to see if you can purchase originals. Often our artists are massively talented but just starting out, so you can get a gorgeous piece of artwork at a really reasonable price. Offline, my favorite place to find artwork is estate sales or local flea markets. It's definitely hit-or-miss and essential to go in with an open mind, but I've found some incredible pieces just rummaging around on a random Sunday." — Stephanie Dixon, Editorial Director at Society6.
Fernando Vieira Regata al Tramonto Framed Art Print, $38.99, available at Society6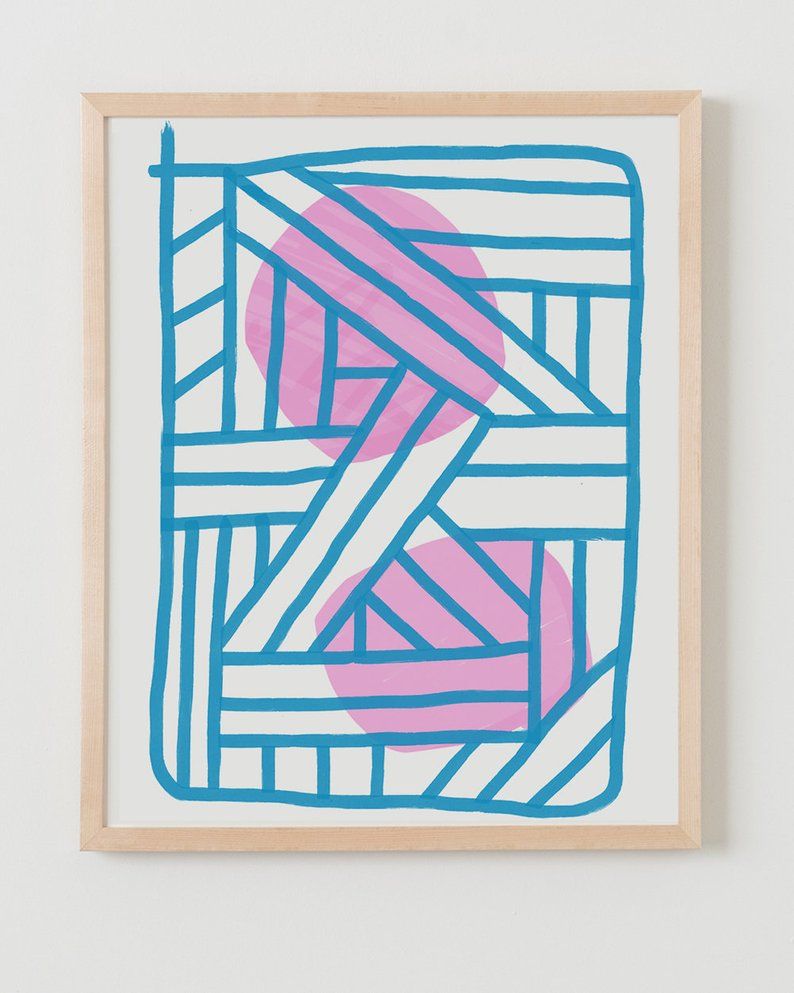 Find Your Style & Establish A Budget
"When buying art for the first time, start with identifying your style and thinking about what kind of art you are looking to purchase. Ask yourself: are you into styles like modern block prints, or vintage oil paintings, or photography? From there, establish a budget and stick to it. Filter the search results by price, so you're only seeing items that are within your budget. Once you've found that perfect piece, make sure to read all of the details, including dimensions, return policies, and materials used. When shopping on Etsy, you're working with a real person, so don't be afraid to reach out and ask any clarifying questions if needed." — Dayna Isom Johnson, Trend Expert at Etsy.
JoreyHurley Fine Art Print. Abstract, November 26, 2017., $48, available at Etsy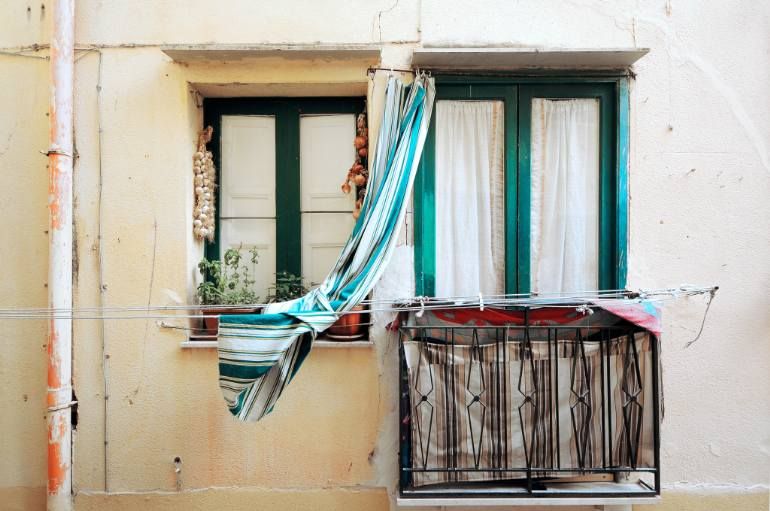 Start With Photography
"Photography is a great medium for first-time buyers to focus on. Often prices for photographs are lower than for paintings or sculpture, and photography can be an especially striking medium that is endlessly enjoyable to live with.
Buying works by new graduates before they get taken on by galleries is a very affordable way to start your collection (once they are taken on by a gallery their prices are likely to double), as well as being a critical time to support artists at an early stage in their careers." — Monty Preston, Assistant Curator at Saatchi Art.
Eleonora Pecorella Window-19 (Edition of 10, 2 sold) Photograph, $140, available at Saatchi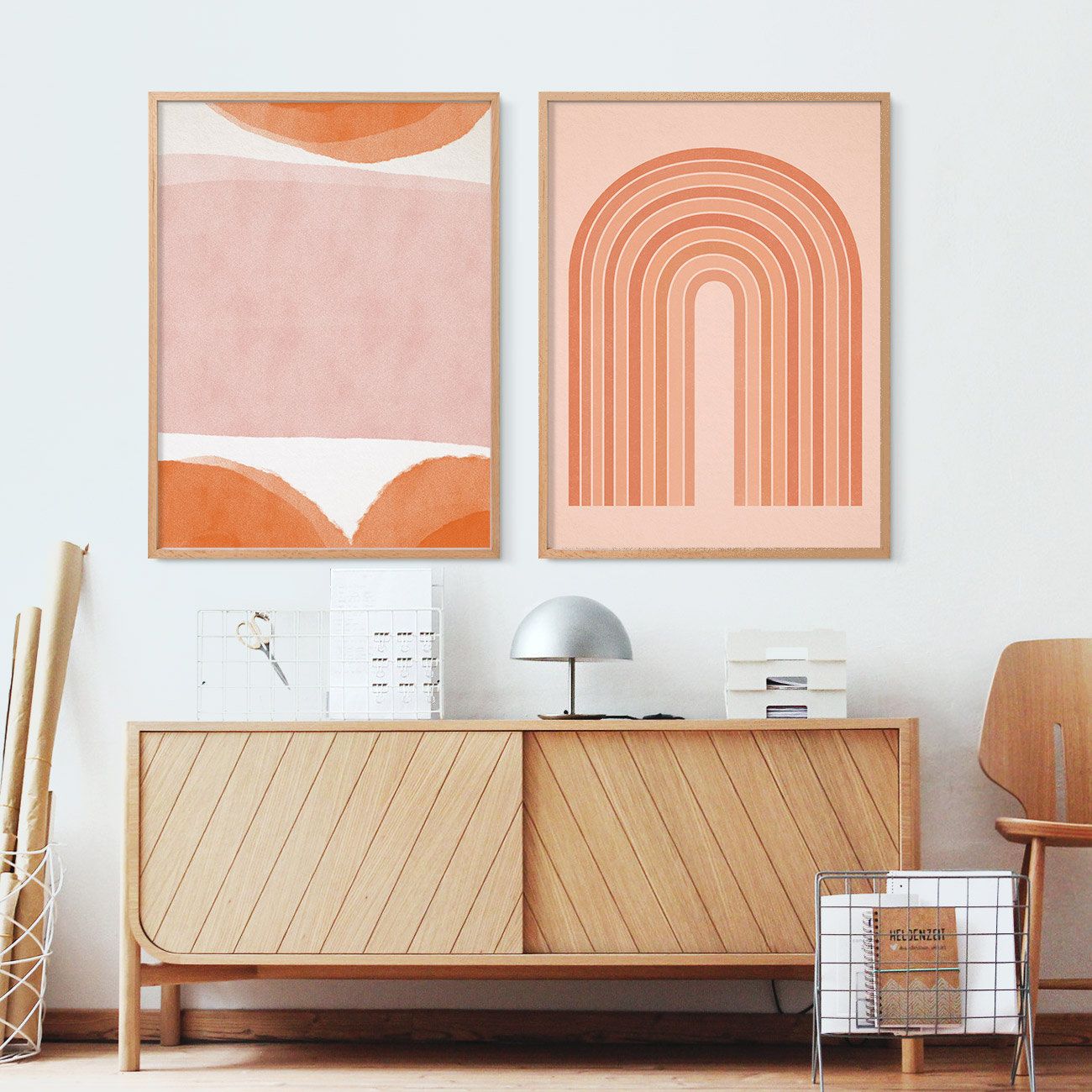 Download Designs To Print & Frame At Home
"My go-hack for purchasing affordable art is to purchase a downloadable design, and then print and frame it yourself. Etsy sellers offer thousands of printable options, even including customizable designs." — Dayna Isom Johnson, Trend Expert at Etsy.
fornStudio Set of 2 abstract prints, Downloadable, $12, available at Etsy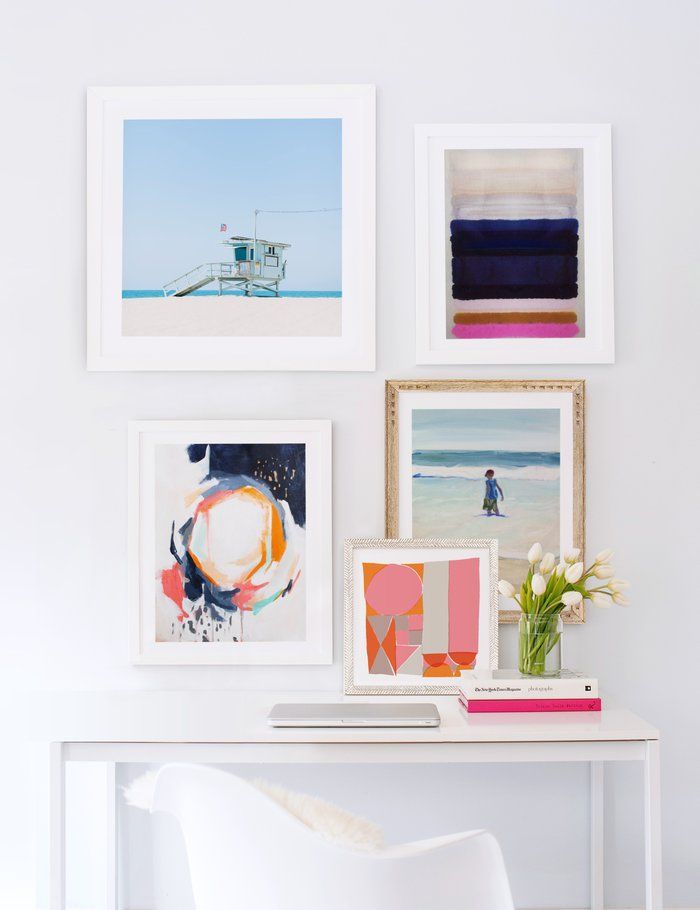 Determine A Loose Color Palette
"Another common misconception is that art has to match. So many people put the same color scheme or subject matter on every wall of a room, or make a gallery wall with only photos of their family from a single photo shoot. Interiors end up looking like show homes or catalogs. You don't have to collect over time to make it look that way (our stylists can help!) but your interior should look personal to you.
Always choose art that you love — your personality will automatically shine through. Determine a loose color palette to help keep it all cohesive and ensure that it will integrate well with your décor. Or change your décor to suit the amazing art you just bought!" — Art Stylist at Minted.
Jessica C. Nugent Venice Beach Print, $44, available at Minted
Yours Madly Block Party, $71, available at Minted
Annie Seaton Oxnard Zachary I, $147, available at Minted
Jihye Back Kim Light in dark, $48, available at Minted
Kristi Kohut Do It Anyway 2, $89, available at Minted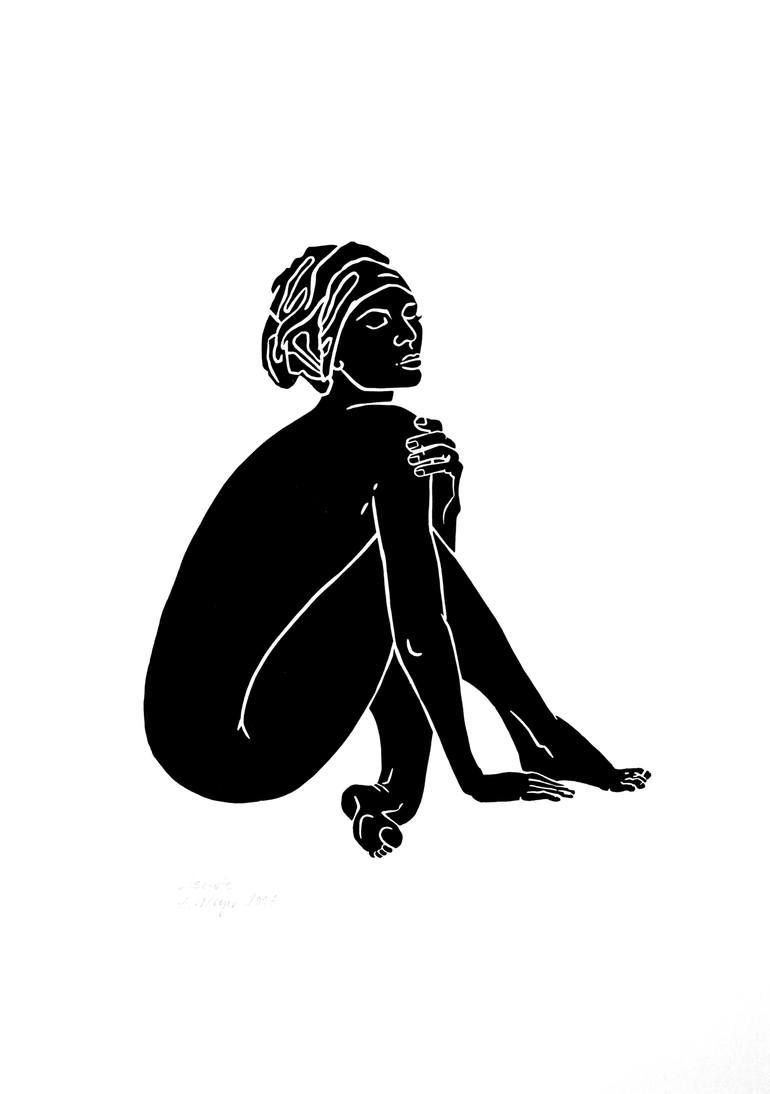 Invest In Art That Improves Your Mood
"Ideas surrounding art and wellness are becoming more prevalent, with a growing recognition that artwork can augment your mood and mental wellbeing. We find that many clients are looking to art in an effort to bring balance, zen and clarity into their homes and their lives. We actually just put together some great collections inspired by this trend!" — Monty Preston, Assistant Curator at Saatchi Art.
A Weyer Liselotte – Limited Edition 2 of 2 Art Print, $280, available at Saatchi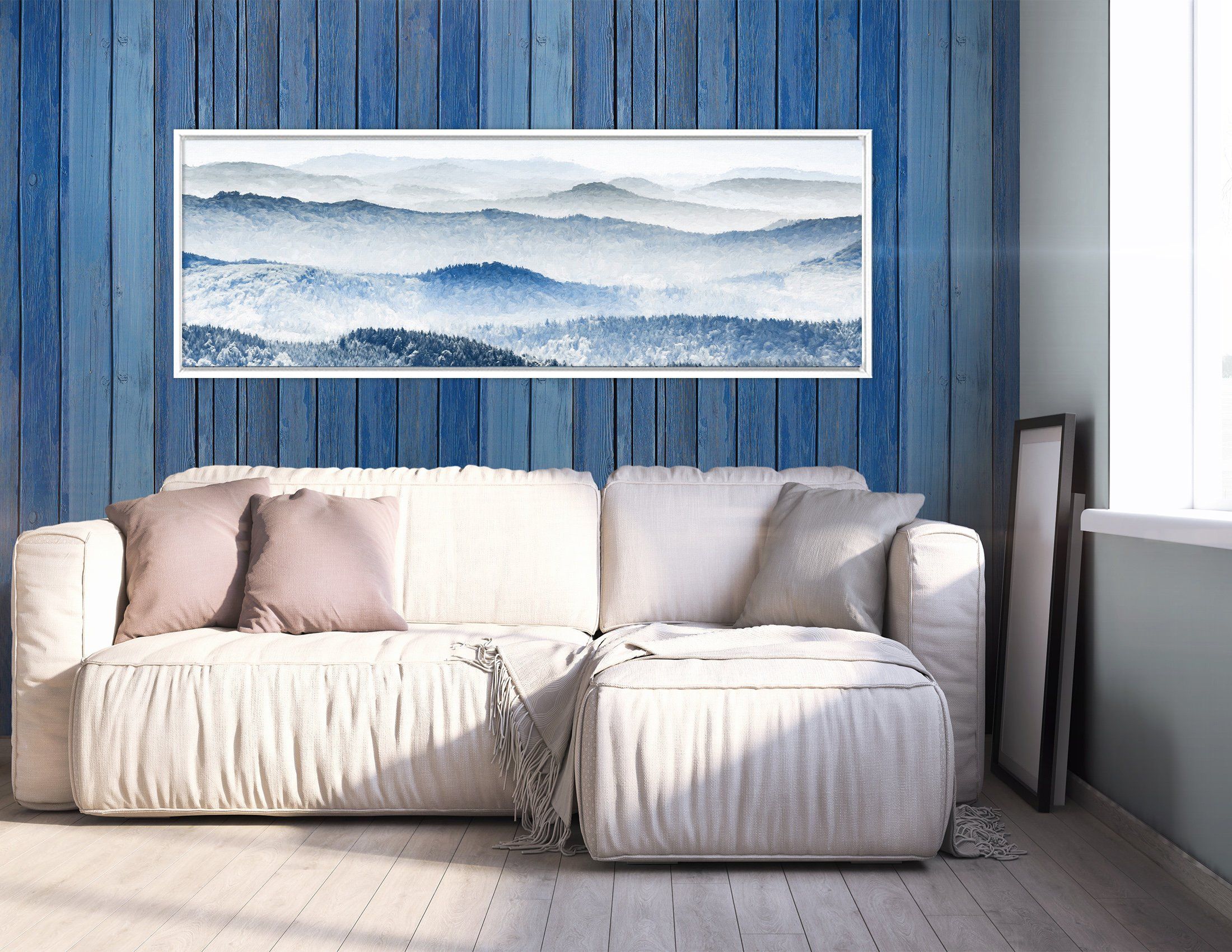 Choose Statement Art Or Furniture (Not Both)
"How you style your space should be based on what was purchased first – either the art or the furniture pieces and decor. If you're looking to make a statement with your art, opt for more muted furniture and decor choices. But if you're looking for your furniture to be the eye-catching piece in the room, go with understated art that compliments, rather than overwhelms, your decor." — Dayna Isom Johnson, Trend Expert at Etsy.
MyGalleryWall Foggy mountain forest. (oil abstract landscape painting, $69.59, available at Etsy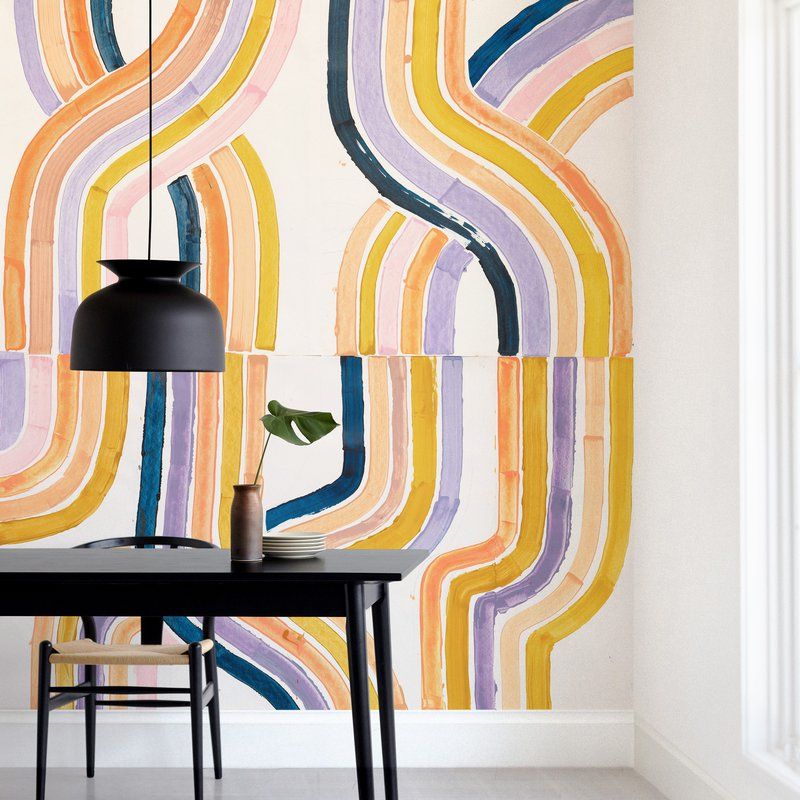 Consider Wall Murals
"Wall murals are huge right now. Gracing interiors for centuries, wall murals were traditionally hand-painted and very expensive. However, advancements in large-scale printing technology have made murals significantly more affordable and opened up the creative possibilities. Minted wall murals are easy to apply and made from recycled materials with a high-end matte, woven look. Whether you choose a figurative or abstract design, a mural is a great way to truly transform a room. And Minted wall murals are removable, so there's no commitment and they're great for rentals." — Art Stylist at Minted.
Lise Gulassa "dawnlight" Removable Wall Mural, $330, available at Minted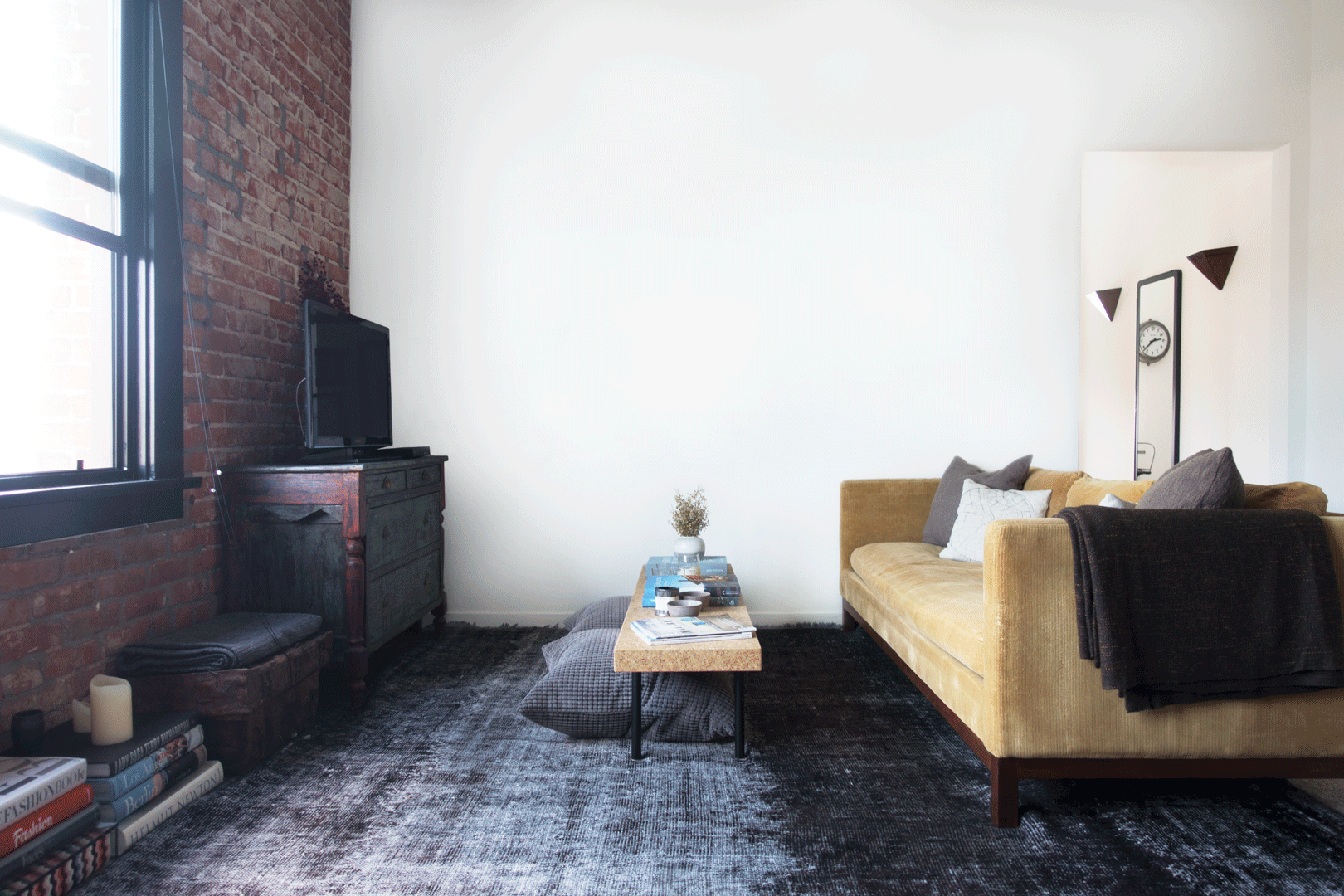 Cluster Small Frames & Create A Gallery Wall
"A salon wall can be a lifesaver. It can be tricky to find enough space for a large or oversized statement piece, and if you aren't in your 'forever home' it's hard to know what might suit your next house or apartment. A gallery style wall (several smaller artworks, hung together in a creative layout) can be a great way to express your individual personality, tell a story, and can often be more affordable than purchasing one large work." — Monty Preston, Assistant Curator at Saatchi Art.
Tehos Frederic CAMILLERI Three walking men Drawing, $120, available at Saatchi
Sammy Slabbinck Day 4 / The Summit Art Print, $395, available at Saatchi
Jan – Thomas Olund Opus IV Painting Print, $143, available at Saatchi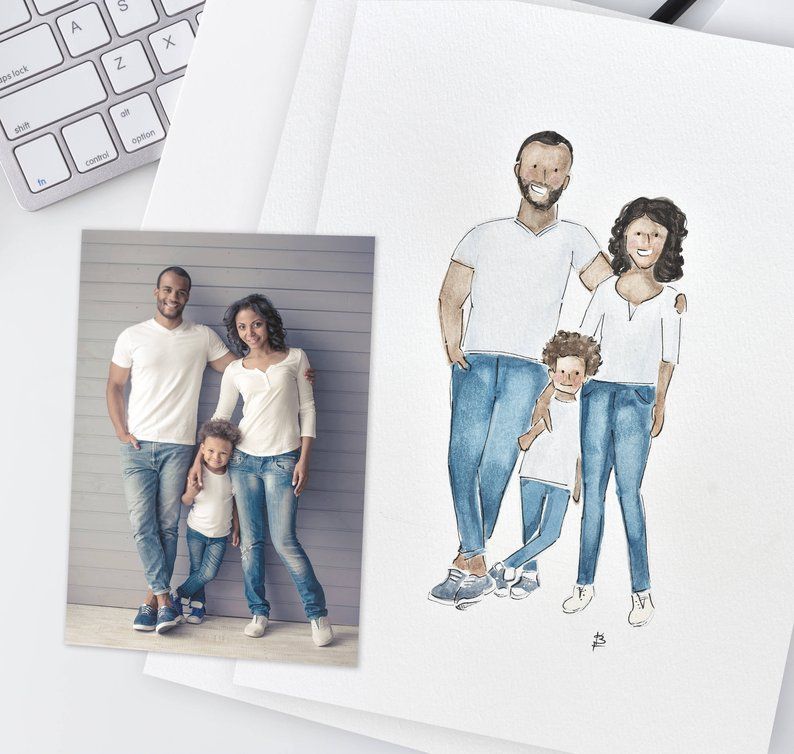 Commission An Artist
"One of my first and favorite art acquisitions was a watercolor print of my husband and me from our wedding day, that I had commissioned by an Etsy seller. I found an original design that I liked and worked directly with the artist to customize a portrait in the same style. I immediately fell in love with the final piece and it still hangs in my living room today. " — Dayna Isom Johnson, Trend Expert at Etsy.
HoneyTreeCreative Custom Watercolor Portrait, $45, available at Etsy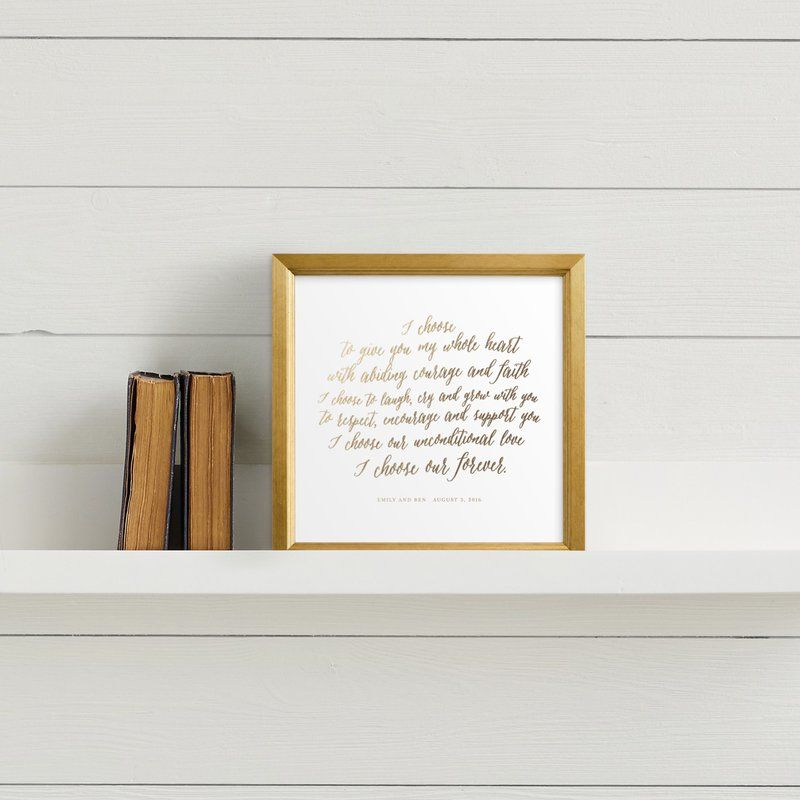 Frame Your Wedding Vows
"The first piece of art that we put up in our home was our hand-scribbled wedding vows which we had custom foil-pressed by Minted as a keepsake. My husband has beautiful handwriting and the gold really goes with everything so it's moved around the house quite a bit, in and out of gallery walls. It's my favorite piece to this day and makes my heart flutter every time I walk past." — Art Stylist at Minted.
Minted Your Vows as a Foil Art Print, $115, available at Minted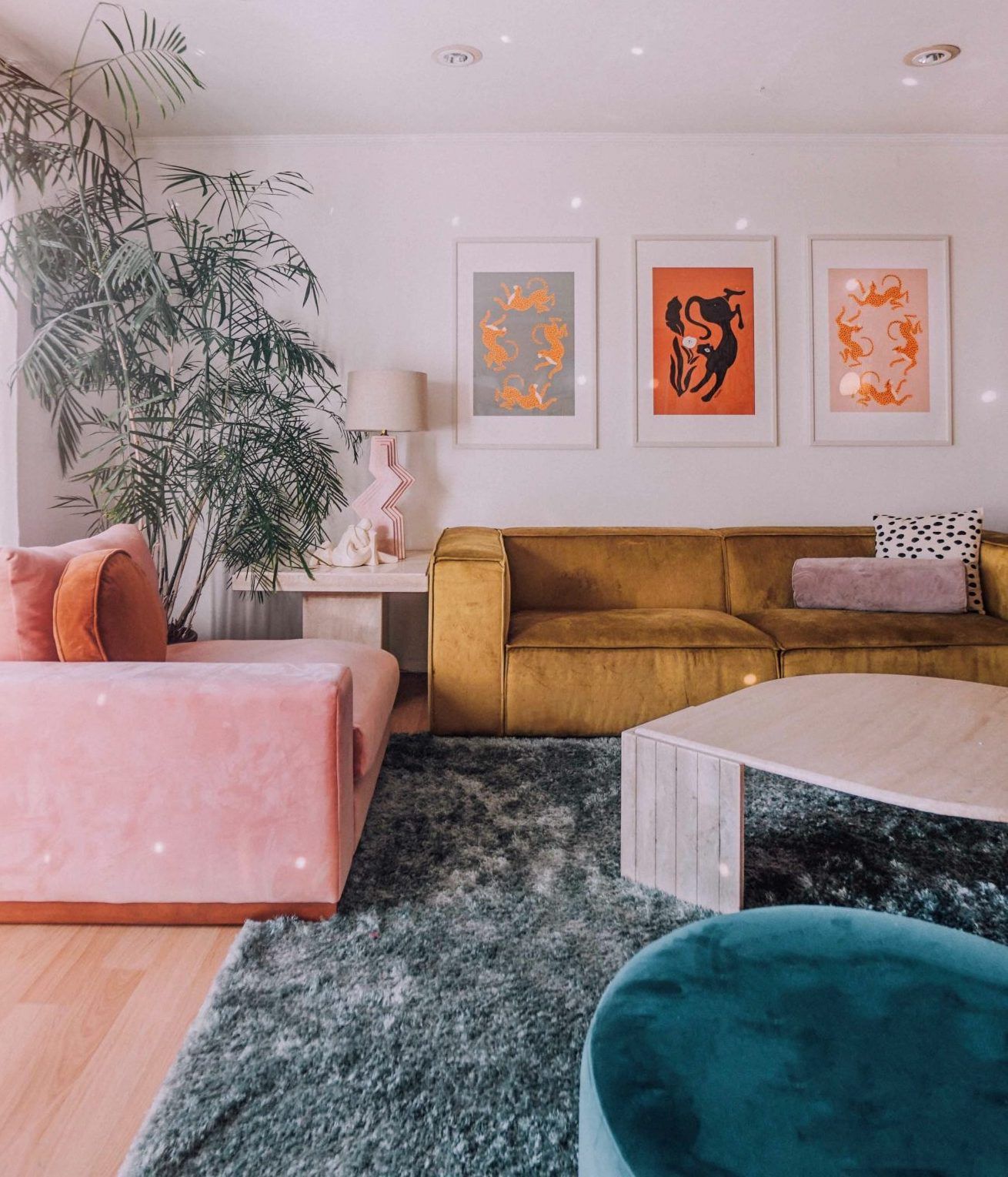 Hang Art In Odd Numbers
"Odd numbers — whenever you're choosing multiple artworks for a space, always go with a set of odd numbers to create immediate balance. It works every time!" — Stephanie Dixon, Editorial Director at Society6.
Megan Galante Leopard Race – Framed Art Print, $190.99, available at Society6
Megan Galante Panther Diem – Framed Art Print, $178.99, available at Society6
Megan Galante Leopard Race – Pink Framed Art Print, $190.99, available at Society6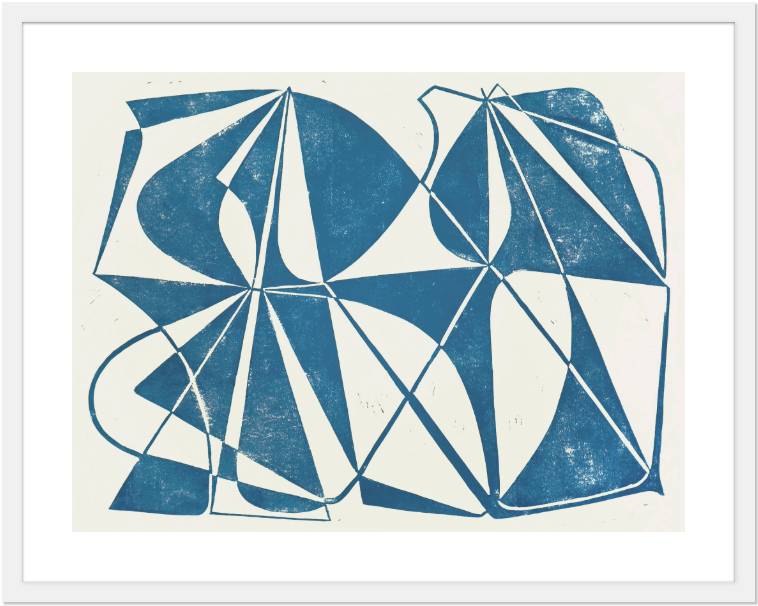 Look For Limited-Edition Prints
"My first art purchase was a gift for my brother and sister-in-law, for their nursery. I bought a Robert von Bangert limited edition print for the baby shower, hoping that they would find the serene blue color and clean lines calming. (Perhaps we'll end up with a little geometry aficionado in the family!)" — Monty Preston, Assistant Curator at Saatchi Art.
Robert von Bangert "Marbella" Limited Edition of 100, $155, available at Saatchi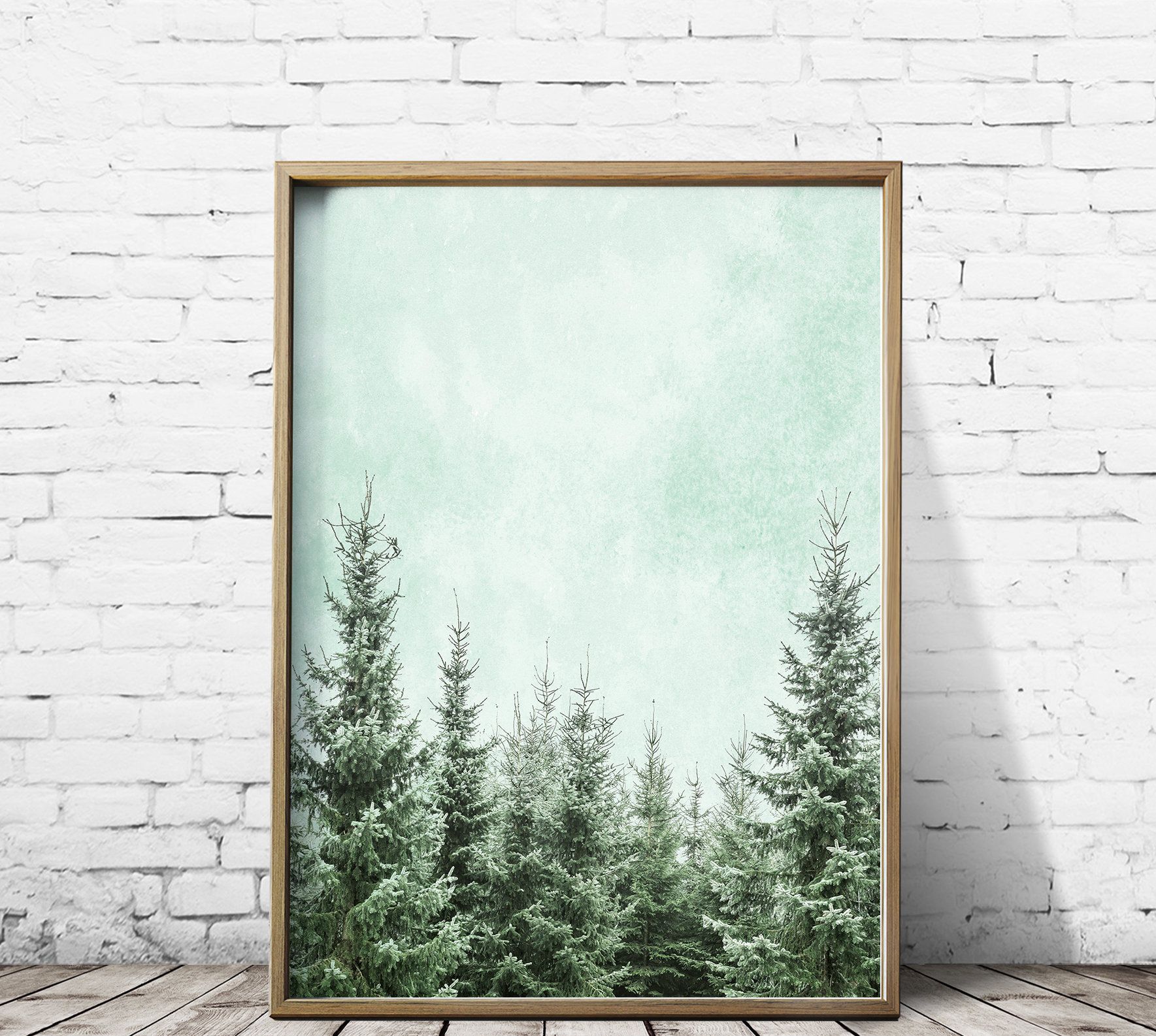 Embrace Statement Art
"I'm really excited to see the maximalist trend returning this year. Shoppers are filling their homes with bold colors, daring prints, and a variety of textures to create an over-the-top space with tons of character." — Dayna Isom Johnson, Trend Expert at Etsy.
PrintStyler Forest Print (24'x36'), $58.08, available at Etsy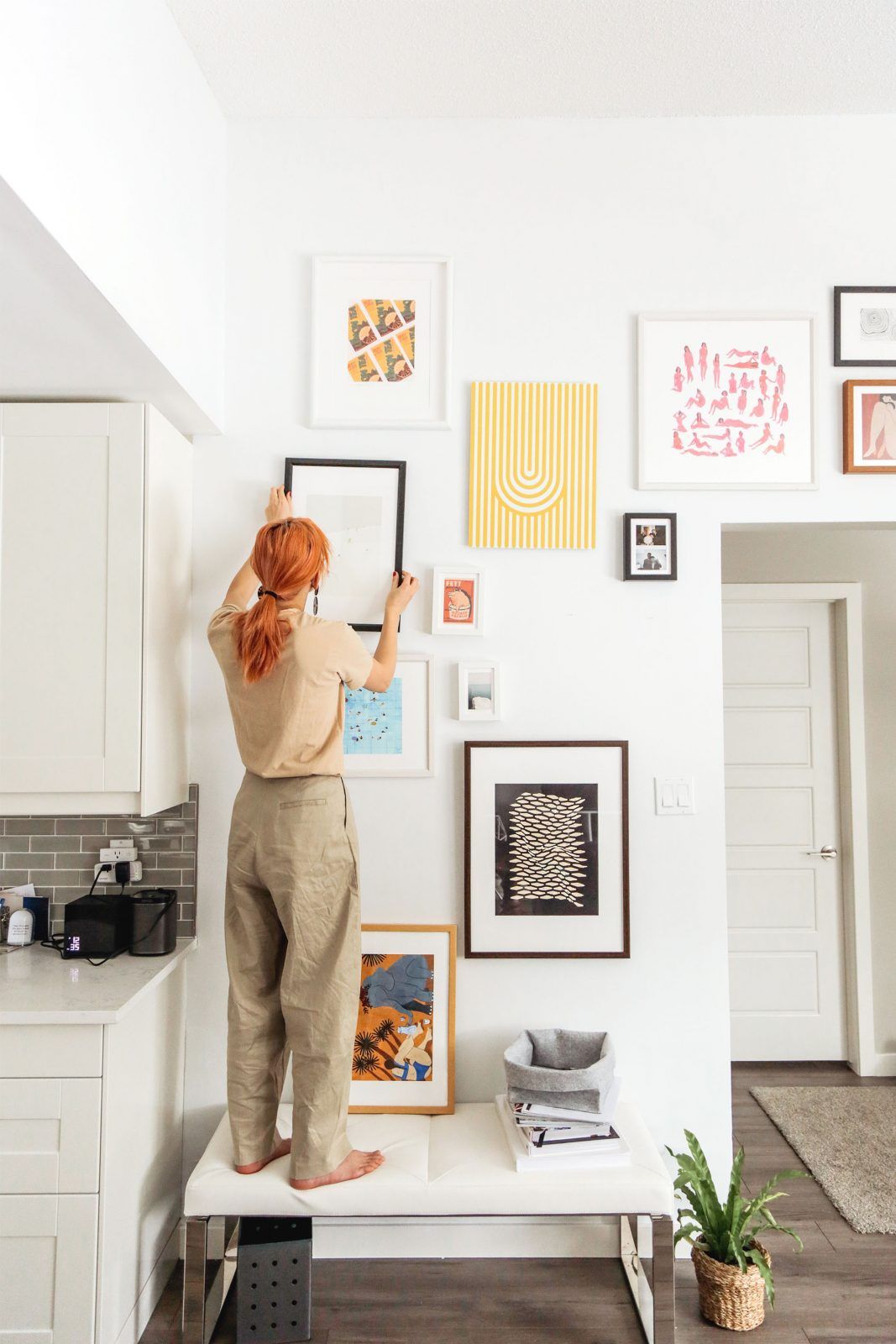 Play With Textures & Mediums
"Maximalism is creeping back into the popular aesthetic and one way we're seeing this manifest is through over-the-top, Wes Anderson style gallery walls. Create a multimedia gallery wall with framed artwork, canvas prints, textiles, polaroids and more. Here, the different textures and sizes give a really dynamic and unexpected look. " — Stephanie Dixon, Editorial Director at Society6.
Leah Reena Goren Naked Ladies Framed Art Print, $58.99, available at Society6
MADEYOUL__K U, Metal Print, $91.99, available at Society6
Isabelle Feliu Gray Matters Shoes Framed Art Print, $55.99, available at Society6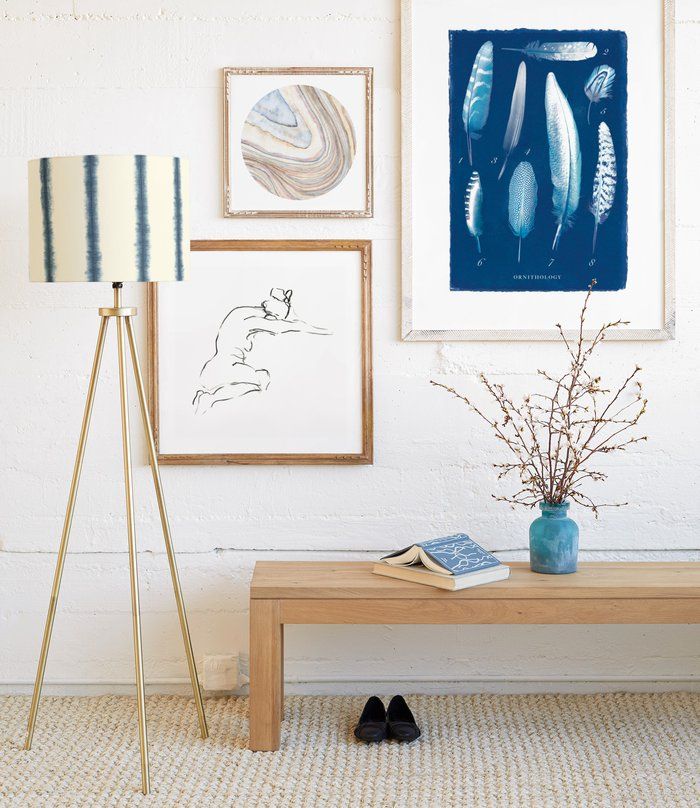 Position Art Off Center
"You don't have to put art at the center of a wall. Placing your art off center can create a visual balance with your furniture and add instant personality to a space." — Art Stylist at Minted.
cambria The Collection no.2, $48, available at Minted
Miranda Mol Model9, $71, available at Minted
Lily Hanna Mineral 03, $71, available at Minted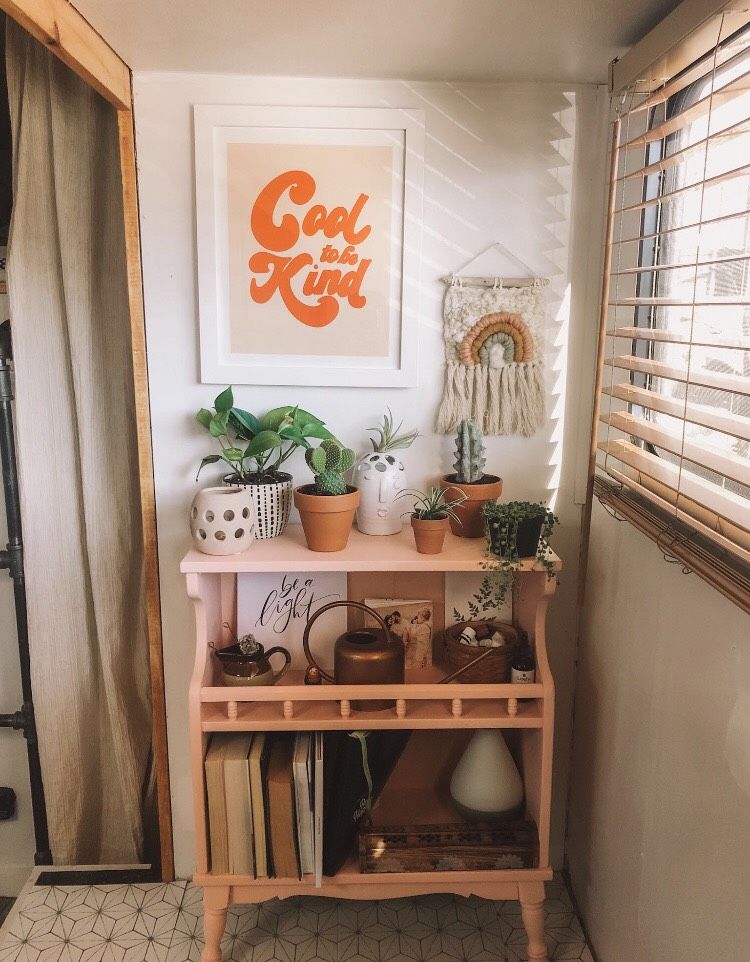 Use Art To Fill Gaps Inside Your Space
"If you've stumbled upon a piece of artwork that you absolutely love and cannot live without, then it definitely makes sense to use it as a focal point in whatever room you're styling—over a bed, fireplace, dining room table etc. However, art is also a great way to fill gaps in a space that you're already in the midst of styling. For example, a grouping of framed prints or a large canvas is an excellent solution to an awkward stairway or a forlorn living room wall. " — Stephanie Dixon, Editorial Director at Society6.
Rhianna Marie Chan Cool To be Kind Art Print, $23.99, available at Society6
Click HERE to read more from Refinery29


Loading ...