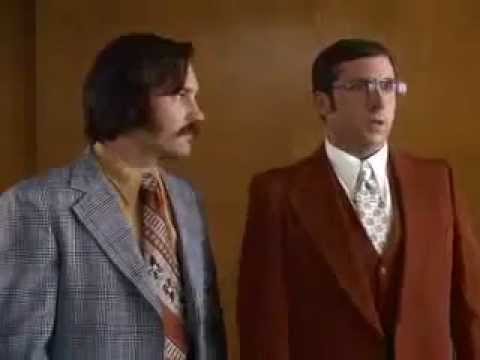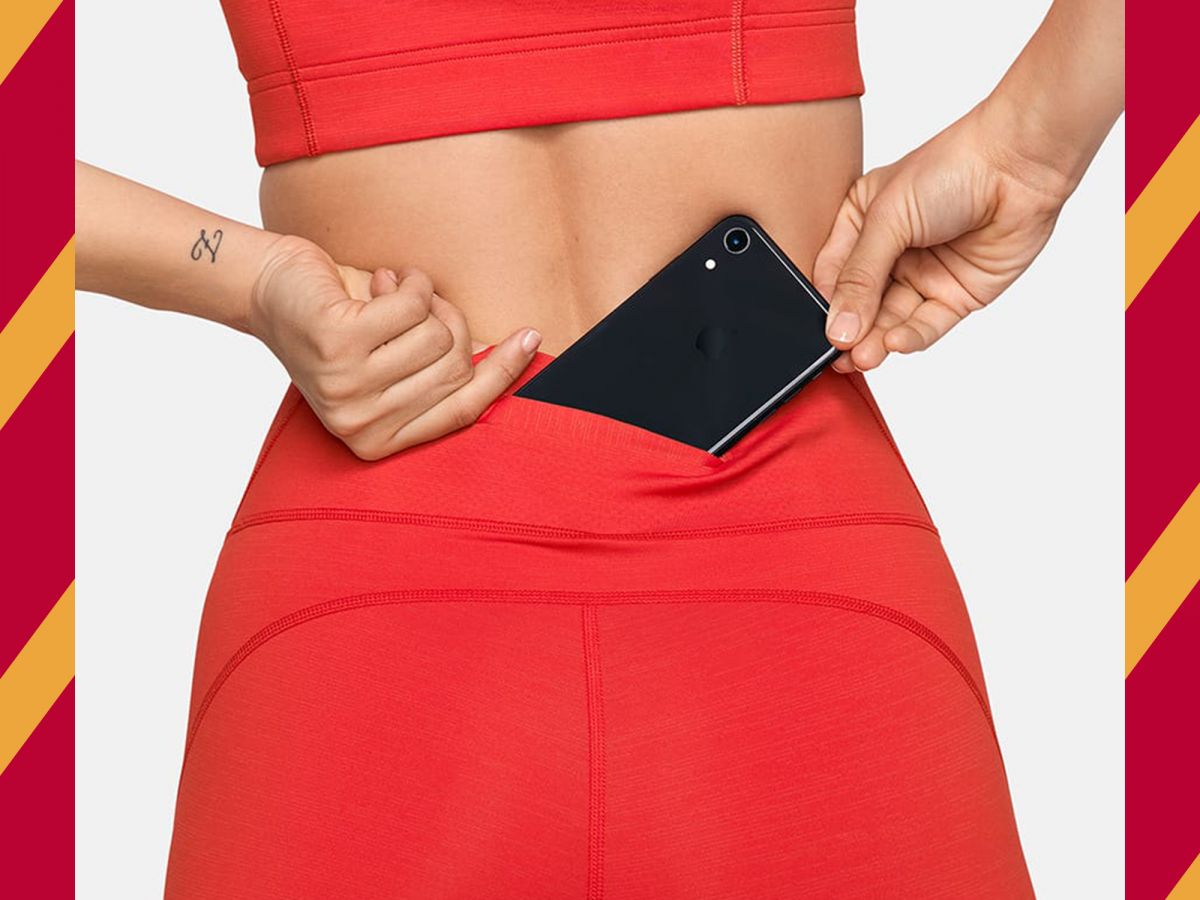 We love lamp leggings. The stretchy pants that first hit the scene in the 1960s and caught on fashion fire in the 1980s are still doing the damn butt-cupping to hip-hugging thing today. These all-purpose bottoms can be worn everywhere from gyms to brunch spots, couches, airports, and beyond with a careless ease that still feels fashun. We not only love leggings for supporting us in figure-flatting and moisture-wicking style, but we also love them for providing streamlined storage that we can actually use.
Leggings with pockets are the functional pocketed pant. We aren't talking about two-inch slits at the back of a waistband, we're talking built-in compartments that go deep enough to securely store our stuff. While your favorite pair of jeans won't hold a tablet-sized iPhone XR, overstuffed wallet, chunky keyring, granola bar, or a bottle of your favorite rosé (true story), a pair of stretchy pants should be able to. Ahead, we've rounded up the top-rated, deep-pocketed leggings that will securely stash your stuff — and still stylishly support your bottom half while dining on eggs Benedict or crushing Vinyasa flow.
Promote your product line on a page similar to this. Contact matt at oyetimes.com for more details.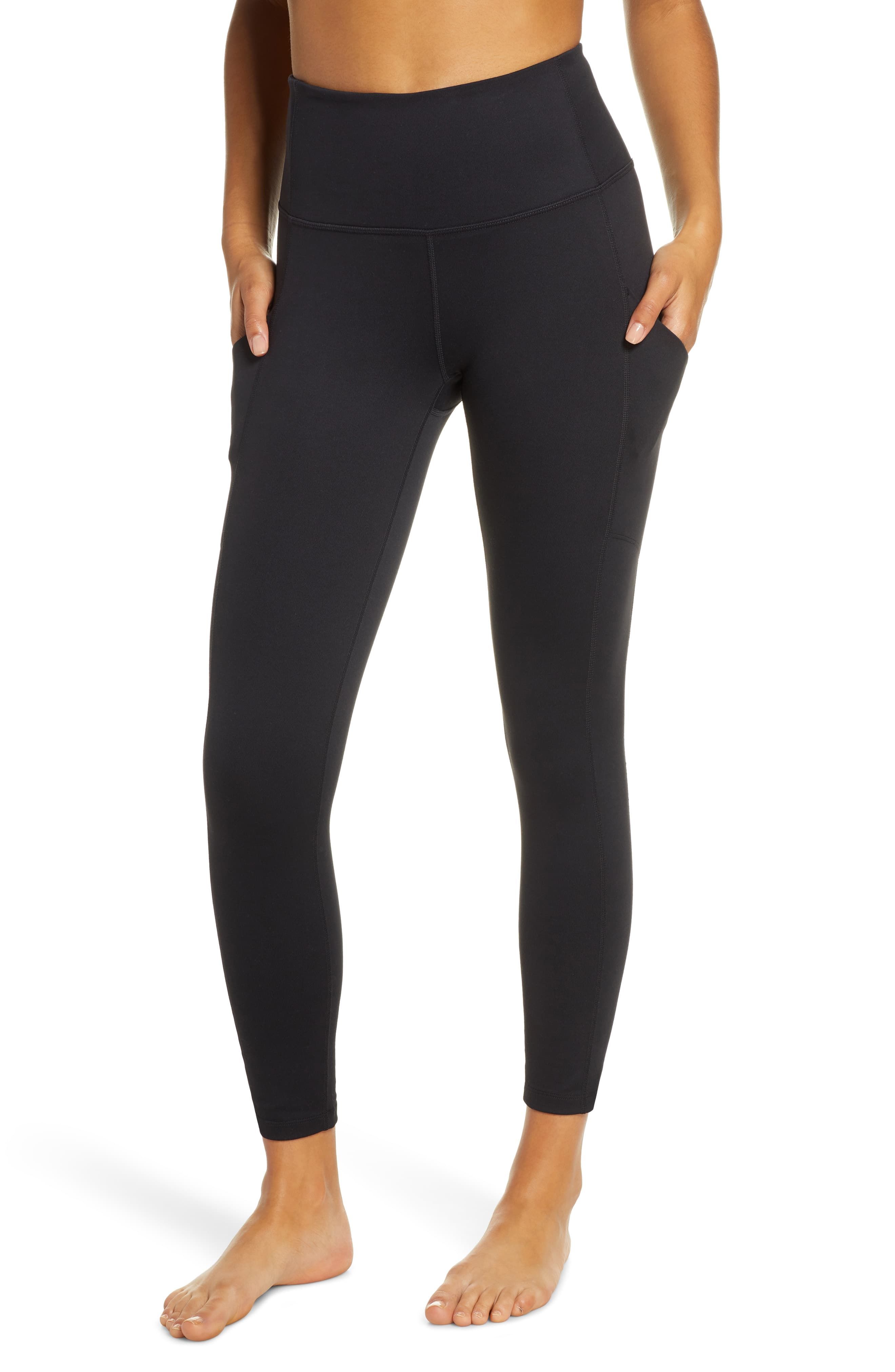 Zella Live-In High-Waist Pocket Leggings
Made from moisture-wicking Zeltek fabric, this pair of top-rated and hip-hugging leggings boasts three different compartments for stashing essentials — one smaller pocket on the back of the extra-wide waistband and two deeper pockets flanking the sides.
As one reviewer raved, "I love these leggings. They're super comfortable and the perfect 'tightness' for working out. I'm a big fan of the pockets for my cell phone so I can have my phone on me while working out without having it on my arm or the ground. I highly recommend purchasing these and you can't go wrong for the price!!!"
Zella Live In High Waist Pocket 7/8 Leggings, $59, available at Nordstrom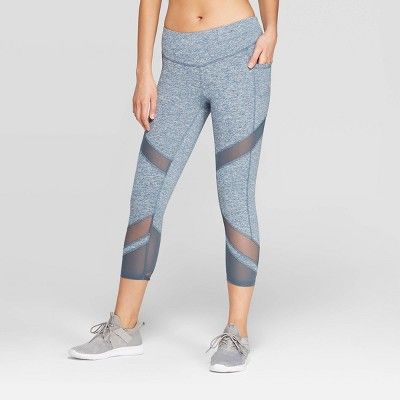 C9 Champion Mid-Rise Capri Leggings
According to reviewers, this pocketed pair of capri-style leggings: pass the "Wore to Walt Disney World" comfort-test; come equipped with a pocket that, "fully supports the weight of an iPhone"; and are "better than any competition."
C9 Champion Women's Studio Mid-Rise Capri Leggings 20", $27.99, available at Target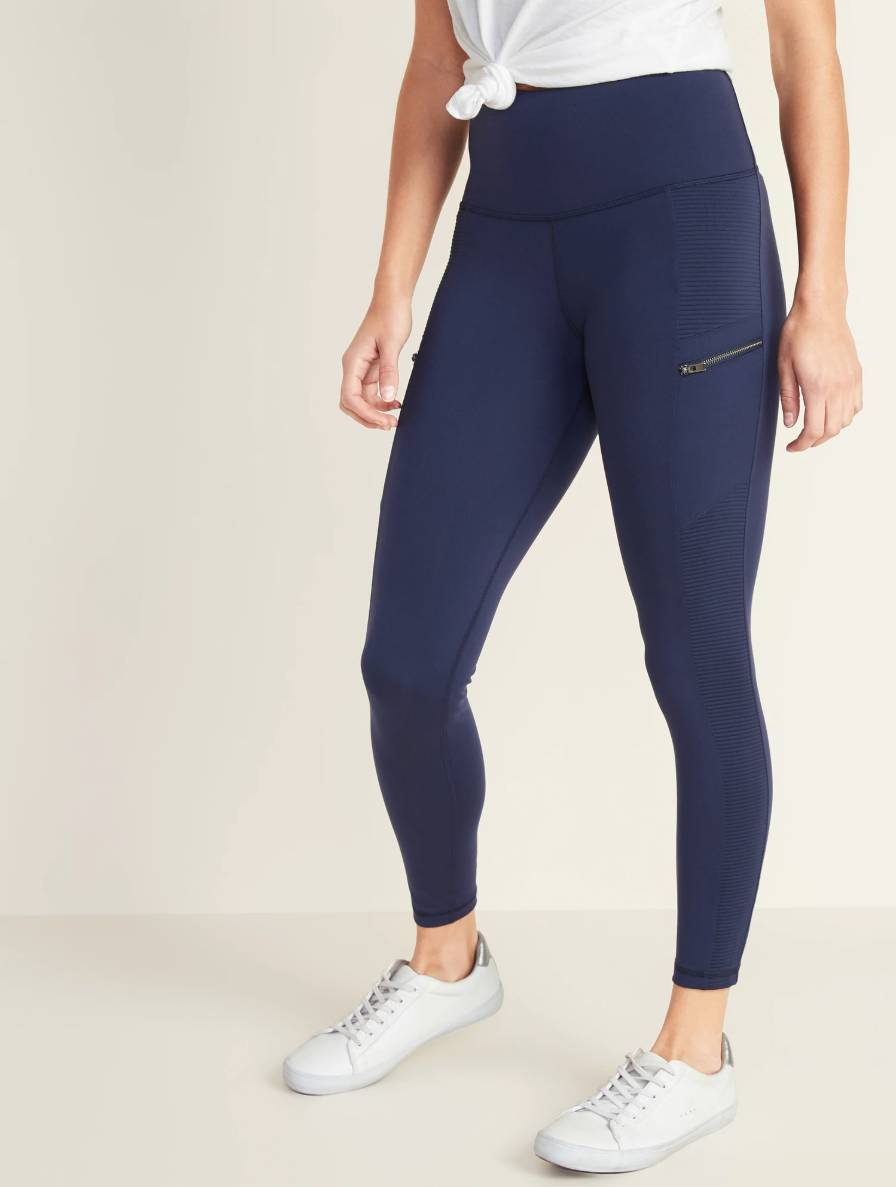 Old Navy High-Waisted Zip Pocket Street Leggings
A subtle ribbed texture adds stylish, street-wear edge to these moisture-wicking leggings with dual zippered-pockets on each thigh for extra-secure stashing.
Old Navy High-Waisted Zip Pocket 7/8-Length Street Leggings, $39.99, available at Old Navy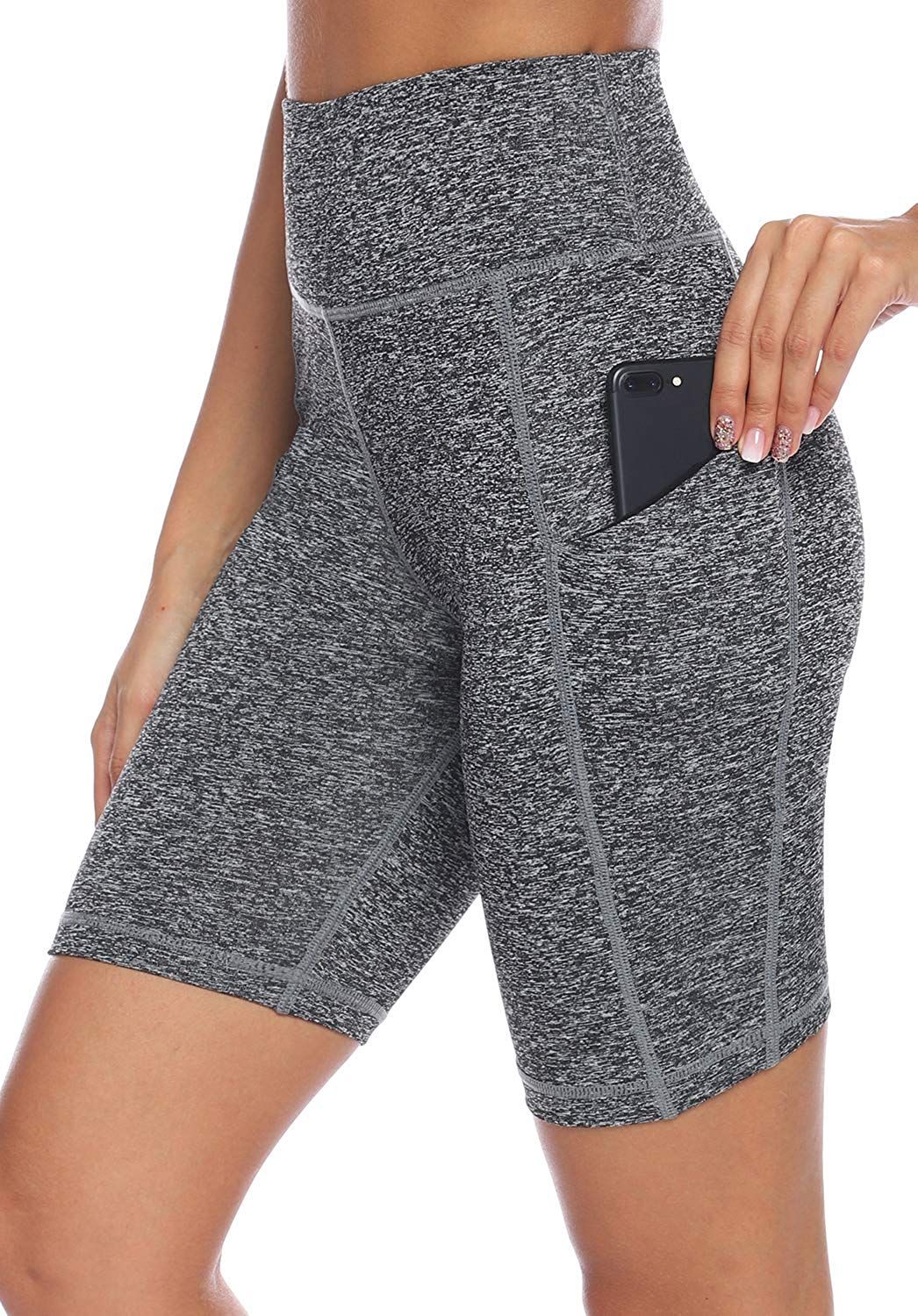 Stay on the bike short trend while still keeping your on-the-go essentials safe and sound. This high-waisted pair is crafted from a stretchy spandex-blend, boasts two deep-set pockets, and is touted as an Amazon #1 New Release.
AUU High Waist Workout Shorts, $17.49, available at Amazon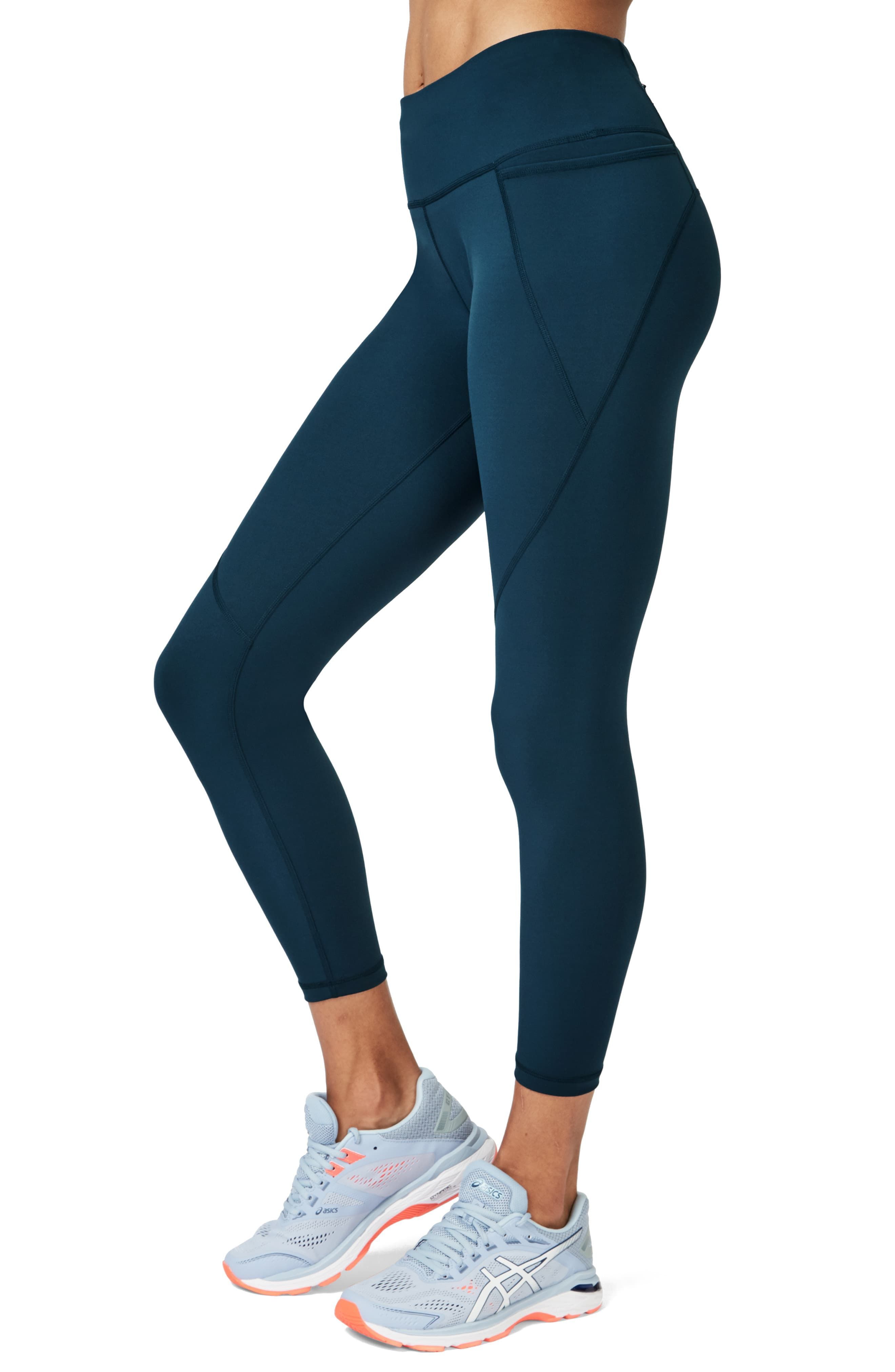 Sweaty Betty Power Workout Leggings
Crafted from super-stretchy and sculpting material with a triple-pocket design, these top-rated leggings have secure storage during intense activities covered. As one rave reviewer attests, "Perfect pocket pants! I am LOVING the new style Powers with the side pocket. Makes carrying phone in the gym so much more convenient. Plus I am a huge fan of the beetle blue color! #teamsweatybetty"
Sweaty Betty Power 7/8 Workout Leggings, $100, available at Nordstrom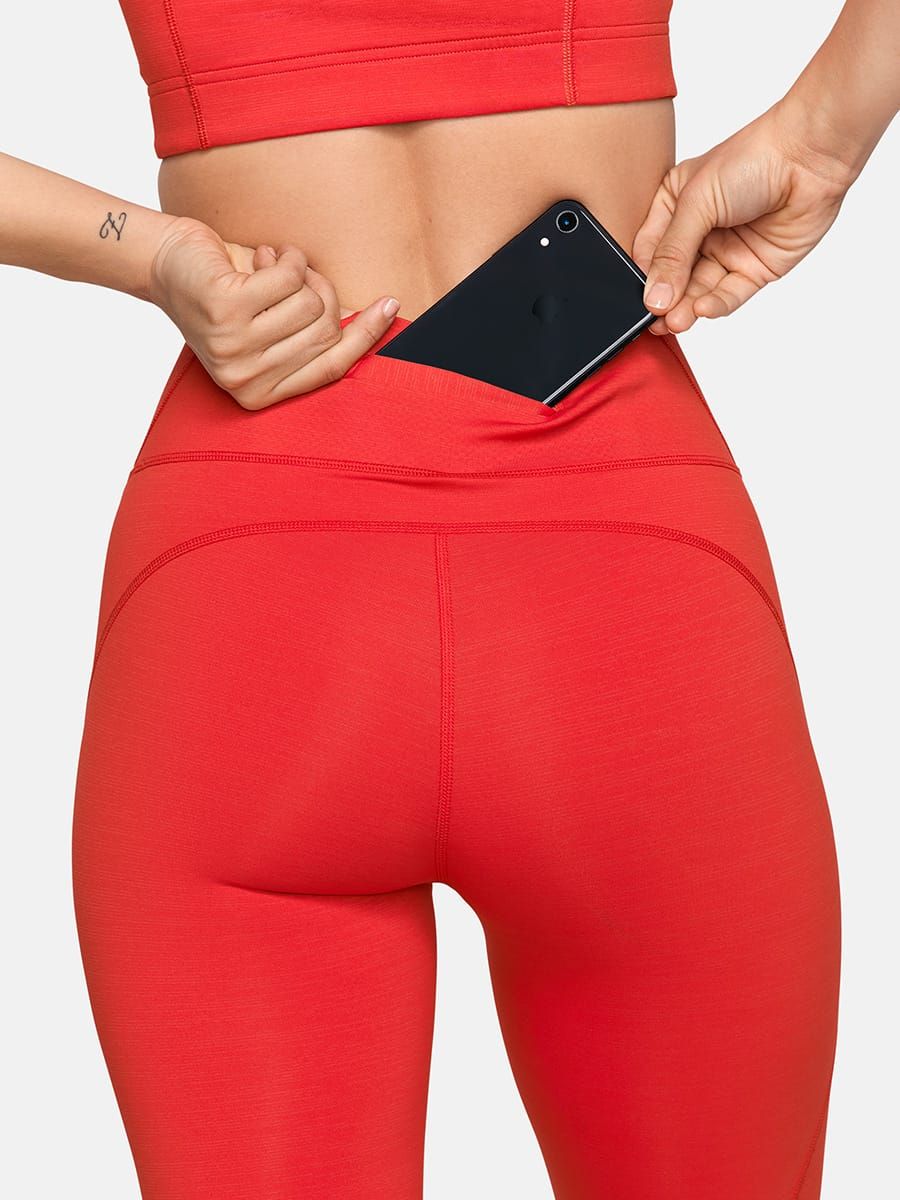 Outdoor Voices TechSweat Leggings
OV's popular TechSweat leggings are giving the infamous tiny-waistband slit a new, deeper-pocket name — the back pocket is built to securely hold both your keys and your phone.
Outdoor Voices TechSweat 7/8 Leggings, $85, available at Outdoor Voices

Baleaf High-Waist Compression Shorts With Side Pockets
Looking for even tinier, top-rated pair of leggings with deep pockets? Look no further than this #1 Best Seller compression short from Amazon that boasts close to 2,000 reviews and 4.3 out of 5 stars.
The customer hype says it all: "The pocket fit my iPhone 7 in its case and held it firmly against my upper outer thigh so there wasn't bouncing around and I didn't get chaffed. There was also a hidden pocket at the waist that could actually hold a key with fob, not just a single key. Again, HOORAY and why don't more makers of activewear think of this? How many people just run out the door with NOTHING when they go run, walk or bike? I am 5'6" and wear a size 8 comfortably and the medium fit the way I wanted. It felt supportive and snug but nothing was tight. I am a runner and appreciate that the legs of the shorts didn't ride up as I ran. Fabric was a good thickness, not at all see through. I am a fan!"
Baleaf 5" High Waist Compression Shorts With Side Pockets, $15.99, available at Amazon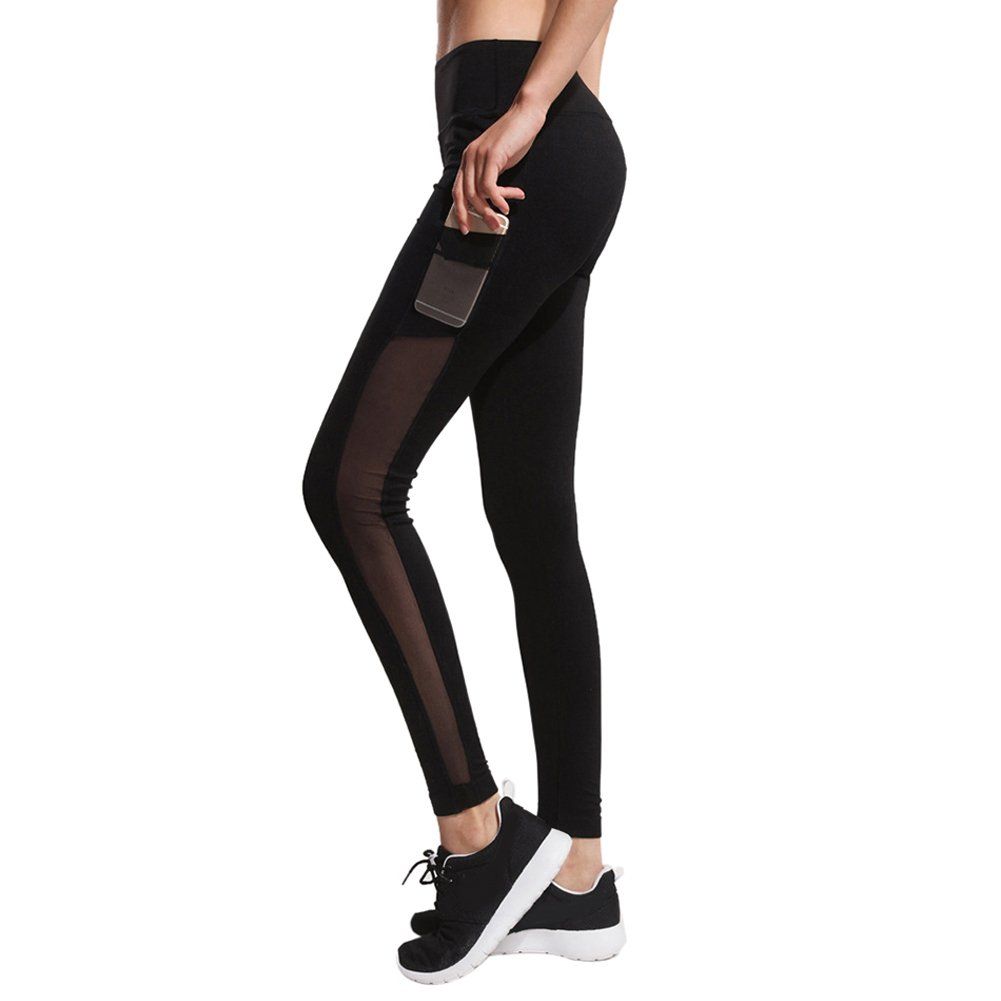 IMIDO Mesh Leggings With Side Pocket
This pair of Amazon's Choice leggings comes crafted with a stylish mesh detailing that not only flanks its sides, but also its deep pockets for peek-a-boo-style storage.
IMIDO Mesh Leggings with Side Pocket, $13.99, available at Amazon

JoyLab High-Waisted Laced Up Leggings
We're ready to sport this green pair of front-pocket leggings with edgy laced-up detailing all fall long — just throw on a slouchy sweater, slip your money into the streamlined storage pouch, and let them take you from workout to brunch in stylish ease.
JoyLab Women's High-Waisted Rise 7/8 Laced Up Leggings, $39.99, available at Target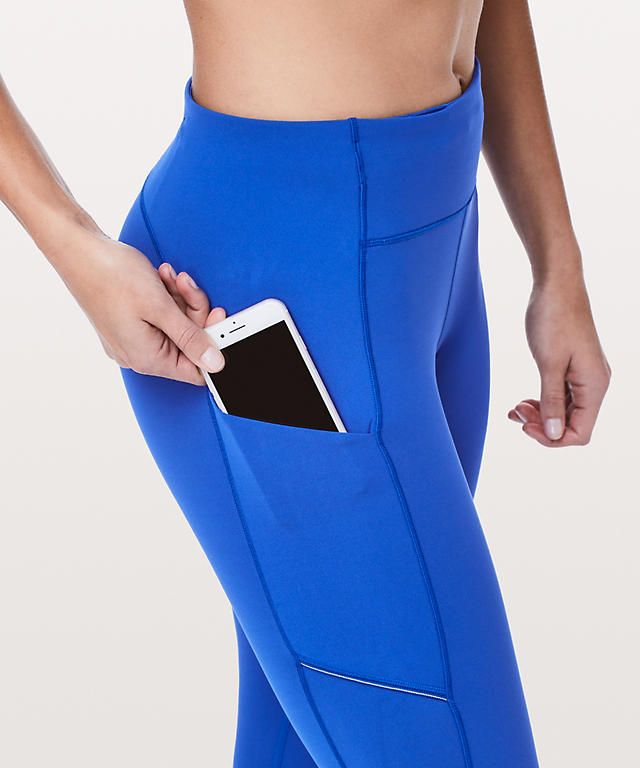 These premium running tights come equipped with sweat-wicking, reflective, and multi-storage capabilities — there's a set of side pockets, a back zipper compartment, and and interior waistband pouch.
lululemon Speed Up Tight 28" Full-On Luxtreme, $108, available at lululemon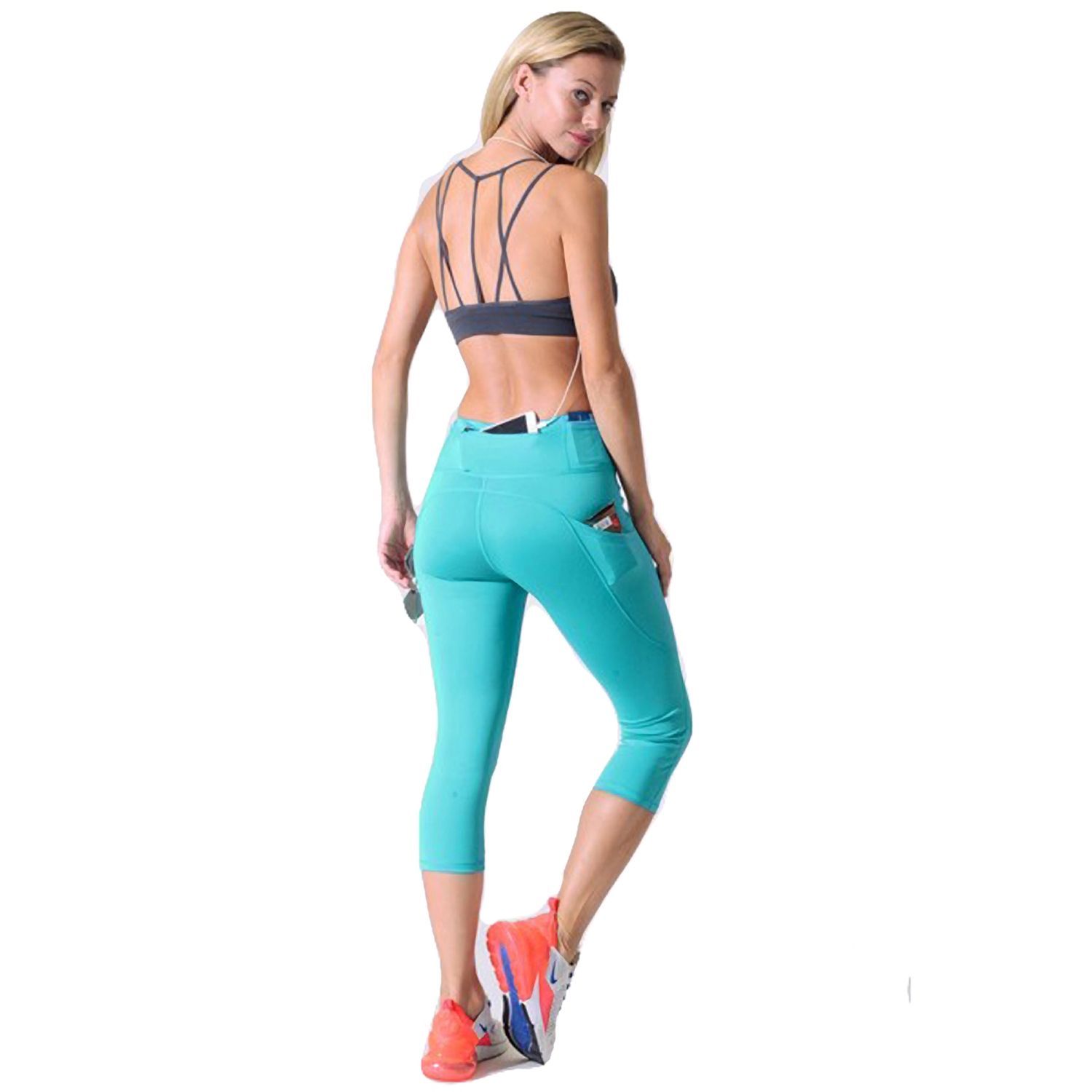 HoneyComfy Pocket Performance Capri Leggings
Pockets on pockets: These nylon, capri-style leggings come equipped with two exterior side pockets, one exterior back zipper-pocket, and an interior waistband pocket, too. As one reviewer put it, "These were great quality workout leggings! So many pockets!"
HoneyComfy Side Pocket Performance Capri Leggings, $20, available at Walmart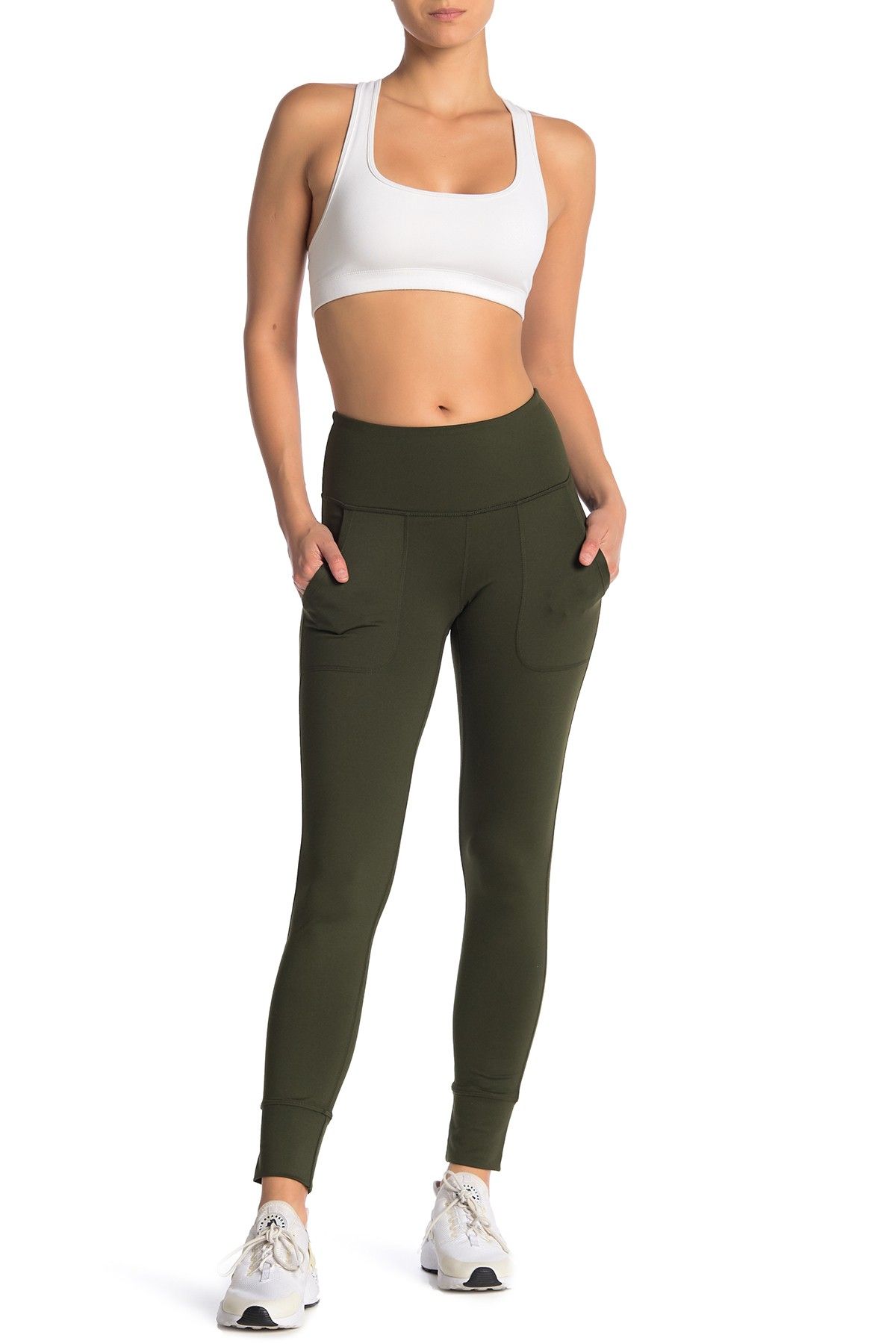 Z By Zella High Waist Momentum Pocket Ankle Pants
One part moisture-wicking workout pant, one part athleisure-style wardrobe staple, and all parts pocketed storage star — reviews rave that these fatigue-green leggings are, "PERFECT..! Comfortable, love the side pockets, can be worn at the gym or casually."
Z By Zella High Waist Momentum Pocket Ankle Pants, $28.97, available at Nordstrom Rack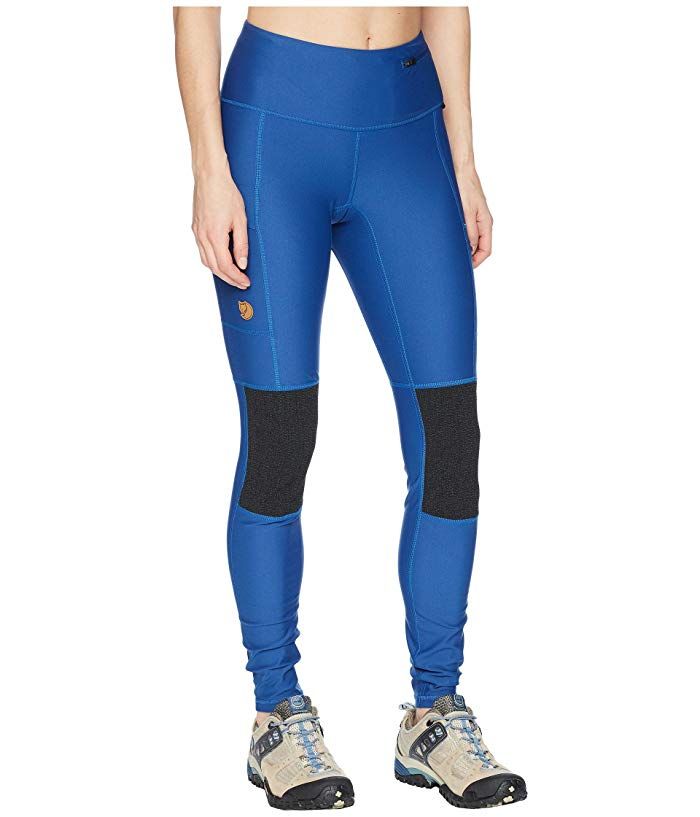 This pricey pair of leggings is not playing around when it comes to serious storage ability —designed with durable reinforced panels, a densely knit nylon material that provides UPF 50 sun protection, and multiple zippered pockets to will hold your goods during the roughest treks.
As one reviewer raves, "I've never paid this much for a pair of leggings but these are worth it. I've been living in them since I got them — obviously on hikes, but also to lounge around the house and to go out, with tall boots and a long sweater over them."
Fjällräven Fjällräven Abisko Trek Tights, $122.99, available at Zappos
Click HERE to read more from Refinery29


Loading ...