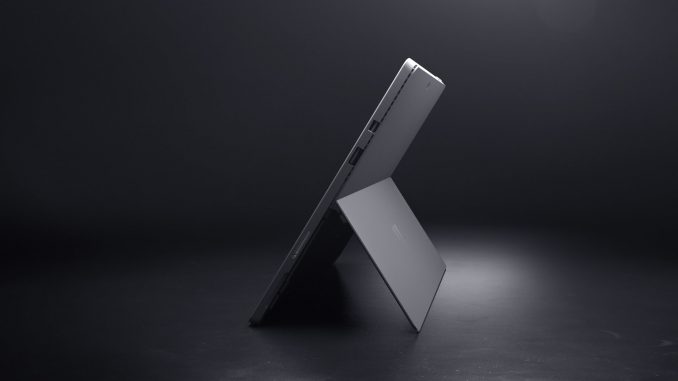 Receive up to $650 off a Surface Pro or Surface Book when trading-in a MacBook
Microsoft is offering a limited-time "trade up" offer to invite more people to experience Surface. If you have a Mac but want to experience the ultimate laptop with on-screen touch, Surface and Microsoft Store are there for you.
Anyone in the U.S. can trade in their MacBook Pro or MacBook Air at a Microsoft Store or online for up to $650 off a Surface Book or Surface Pro.
Microsoft has introduced the newest members of the Surface family, including the Surface Studio

— a new class of device that turns your desk into a creative studio. They also unveiled the
Surface Book with Performance Base

that boasts 30% more battery life and twice the graphics processing performance compared to the original Surface Book.
These devices join the Surface family, built from the ground up with innovation at the heart. Surfaces are designed to dissolve the barriers between device and human interaction, ultimately helping people do more.
No device line up can match the performance, portability and versatility of the Surface family.
People who have Surface Pro 4 and Surface Book love them. Surface has one of the highest levels customer satisfaction of any device.
When Microsoft asked people what they love their Surface a few things stand out. They love that it's powerful enough for any task they throw at it. They love all-day battery life. They love the ability to detach the screen and transform it into a tablet. They love how pen and on-screen touch enable them to create in new and unique ways. The versatility and benefits of Surface are unmatched.
97% of people who have a Surface Pro 4 or Surface Book use on-screen touch input regularly, according to Microsoft. Surface owners say that they can't imagine using a laptop without touch due to its ease and convenience. Surface fans use touch and pen to take notes at the click of the Surface Pen and go from idea to creation without having to hop between devices.
You can't do that on a Mac
Microsoft Surface Pro 4

starts at $899 and Surface Book

starts at $1499. The trade-in offer will be available through Microsoft Stores

in the U.S. and at Microsoft.com starting today through November 10, 2016.
*Offer valid from October 27, 2016 12:00AM PST, to November 10, 2016, 11:59PM PST, while supplies last. Available only in Microsoft retail and online store in the United States (including Puerto Rico).
Microsoft
Click HERE to read more