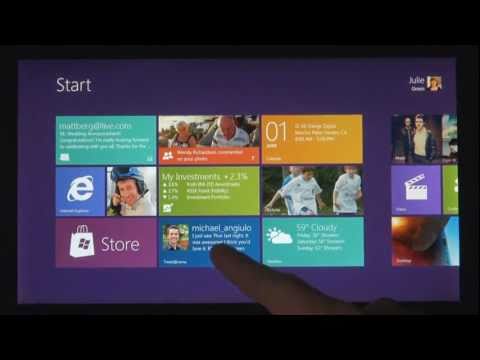 This article was last updated on April 16, 2022
Canada:

Oye! Times readers Get FREE $30 to spend on Amazon, Walmart…
USA:

Oye! Times readers Get FREE $30 to spend on Amazon, Walmart…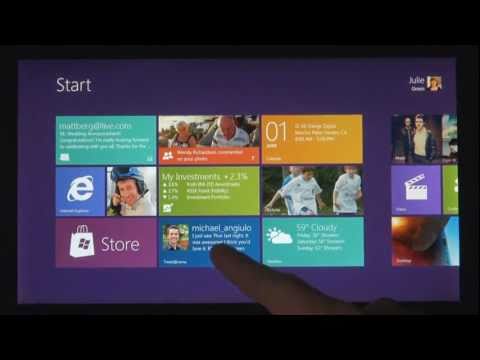 Next version of Windows due in 2012 brings desktops and laptops closer to the mobile world
Microsoft will play catch-up with Apple iPhone/iPad and Google's Android in 2012 with the release of the evolutionary Windows 8 interface.
The GUI of Windows 7 and all previous versions is being replaced by a touch enabled interface that looks like Windows Phone 7.
Why does this matter? At more than 90% market share and one billion users Microsoft Windows, Microsoft Windows has been been the worldwide operating system of choice for twenty years.
Apple is delusional if it thinks they can unseat Windows. Mac OS X simply doesn't have the traction with business or consumers to upset the market, notwithstanding the success of iOS on phones and tablets.

Windows 8 features
Windows 8 will be the first major refresh of the interface since Windows 95.
Gone will be icons, which is no loss in my opinion. How long can a 30 year old interface look fresh? With icons everyone is trying to establish a unique identity with some level of simplicity and cuteness.
Replacing icons are tiles that can contain live data through the wonder of HTML 5 and java script. The beta launch screen in the illustration above shows things like weather, photos, stock market results and social media comments that are updating live without opening the application. Windows Phone 7 already has that feature.
Tiles can be used to start apps such as the micro apps we use on smart phones or more fully featured applications we are accustomed to using like MS Office.
Check out the video which illustrates how it will work. The new interface appears to be very speedy.
http://www.youtube.com/watch?v=p92QfWOw88I
Microsoft began a blog in June that will release previews of the Windows 8 beta, called simply
Previewing Windows 8
Windows 8 will also support popular ARM processors used in smart phones and tablets and System On a Chip or
SOC
.
Microsoft will be releasing more at the
Build Windows
conference on September 13, 2011
Live tiles are a good idea. I've become used to micro bits of information like the latest tweets, Facebook updates or the weather. Placing that on the desktop will be a big improvement.
The ability to integrate pictures and videos from all sources will also improve the computer experience. I spent 4 hours Friday and Saturday looking for pictures and video clips of a 2009 trip through Montreal, across two computers and one server. I felt like a librarian.
I can use Adobe applications to catalog media files but it does not work transparently across all applications. I'd rather see it at the operating system level, which is apparently a prospective feature of Windows 8.

Touch versus mouse then Kinect
I was in a professional office this week where they had a Windows Touch computer. The operator said she like it, although her hands seemed to stay on the mouse and keyboard until I asked for a demo.
Frankly, using a mouse is a pain – think carpal tunnel pain – another 30 year veteran that needs retirement. However, most of us don't want to compute with our arms stretched out across a desk. There are other ways to invoke touch, like touch pads. We will also position the screen closer.
Using the same interface across desktops, laptops, tablets and smart phones will be an improvement for everyone.
Windows 8 new features summary

"Fast launching of apps from a tile-based Start screen, which replaces the Windows Start menu with a customizable, scalable full-screen view of apps.

Live tiles with notifications, showing always up-to-date information from your apps.

Fluid, natural switching between running apps.

Convenient ability to snap and resize an app to the side of the screen, so you can really multitask using the capabilities of Windows.

Web-connected and Web-powered apps built using HTML5 and JavaScript that have access to the full power of the PC.

Fully touch-optimized browsing, with all the power of hardware-accelerated Internet Explorer 10."

Preview
Personally, I see the Kinect motion sensing protocol replacing keyboards and mice. Remember Tom Cruise swiping screens in Minority Report. That was cool.
We're already there getting used to touch on iPads and iPhones. We just need to put air in motion.
Microsoft owns Kinect so the leap to Windows from X Box is not science fiction.

Windows versus Apple OS X
While Microsoft devotees don't have the rabid Mac fan boy mentality, it's hard to argue with the more than one billion users of Microsoft Windows versus the comparatively minuscule number of people using OS X from Apple.
As cute as Apple iPhones and iPads are, the world is not going convert from the familiar and comfortable world of Microsoft to the closed world of Steve Jobs at the Apple Pentagon in Silicon Valley.
Excluding iPads, Microsoft worldwide shipments of Windows totaled 80 million computers between April and June 2011. Apple shipped a mere 3.8 million for about 5% market share. (Gartner quoted on
Wikipedia
)
A major US retailer said this week that consumers look at Apple computers but overwhelmingly decide to stick with the familiar which plays in Microsoft's favour.

The world likes Windows
There will be plenty of changes to Windows 8 before it ships next year. Pundits are always discounting Microsoft's ability to maintain it's lead. Not me.
After the debacle of Vista, Microsoft enjoyed a resurgence of popularity with Windows 7 which will be installed on more than 42% of capable machines worldwide by the end of 2011.
That makes Windows 7 the most popular version of Windows, even surpassing XP a favorite since 2001.

Gartner
says 94% of computers sold this year will have Windows 7. That amounts to 635 million computers in one year. The magnitude of that number dwarfs the competition.
Some pundits predict that corporations will skip Windows 8. They may for 2012 but the pressure from consumers will be strong if Windows 8 has cool new features and works well.
The ability to move more than 600 million computers to Windows 8 within the first year gives Microsoft a tremendous strategic advantage.
Consumers are reassured they will be kept up to date with new and powerful Windows computers from their preferred developer.
Either way, there will be lots of cool new things for the more than one billion users of Microsoft Windows in the next rev.
By Stephen Pate, NJN Network
You can publish this article on your website as long as you provide a link back to this page.