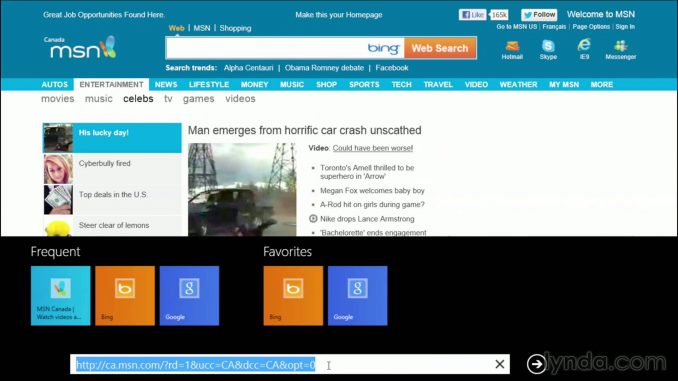 Quickly learn the new Windows 8 operating system at your own pace and make it work for you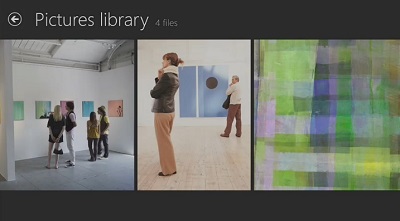 Lynda.com Windows 8 Essential – Photo Library (Lynda.com picture)
Lynda.com, the experts in online computer training, released "Windows 8 Essential Training."
"Windows 8 is a significant departure from previous versions of the operating system," says Lynda.com , "offering new mobile integration, cloud storage, and security enhancements."
I am amazed at the negative stories in the news and on the internet about Windows 8. Most likely the authors never took the course from Lynda.com. If they had taken a course, Windows 8 would be an asset in their computer productivity.
Lynda.com courses are the best way to learn new computer applications. They are relatively inexpensive and easy to take.
Windows 8 Essential Training costs $25 if completed within the month ($37.50 with take-away training materials). Lynda.com offers a one-week free trial subscription.
Windows 8 Essential
This course shows you all the essential features you'll need to jump-start Windows 8, whether you work with it at the office or use it at home. After the course you could be come the Windows 8 go-to person in your group.
"The author David Rivers discusses the migration path from older versions of Windows to Windows 8.
Then he tours the new interface, reviews the new file and folder behaviors, and introduces the most useful apps, including Calendar, Photos, and Music.
He also shows how to adjust system settings like default programs and volume, and how to work with external devices and setup networks. The final chapters show you how to keep your computer even more secure with Access Control and Windows Defender, and how to troubleshoot potential issues, like reversing fatal crashes."

Excerpt – "Windows 8 Essential tutorial" – Exploring the Internet Explorer 10 Metro style user interface | lynda.com
Lynda.com courses
Most of the course are 3-5 hours long divided into 3 or 4 minute chapters and include take-away lesson materials. The instructors are trained in adult education and experts in their topic. The instructors take you step by step until the subject is learned.
Last year a friend needed help getting a new job and my resume skills were a little rusty. I took the Lynda.com course, we worked on the resume together. She got a job within two weeks.
I could have saved tens of thousands of training costs if Lynda.com had been available during the 1990s and gotten my employees up to speed faster.
As a computer consultant and former employer, I know how expensive computers are. We buy them to become more productive but that goal is rarely achieved because we and our employees don't learn the software. Lynda.com changes fixes the problem – how to get people productive on computers.
With Lynda.com I have learned how to effectively use Photoshop, Adobe Premiere, Adobe Bridge, Blurb book publishing, CSS coding, and audio mixing from Lynda.com courses.
Courses from Lynda.com range from $25 a month to $37.50 with exercise materials. If you have several courses to take with one or more employees, the annual fee of $250 ($375 with exercise materials) saves $100.
Only one person can use the account at the same time in a family or small organization. They have special pricing for government and medium to large-sized organizations and an Enterprise Free Trial .
Window 8 Essentials Topics include: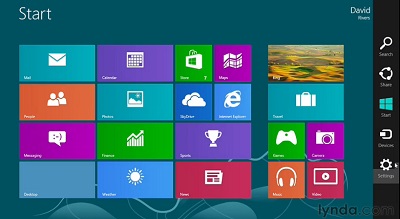 Lynda Windows 8 Essential, working with the Charms bar
• Upgrading from other Windows versions
• Transferring files to Windows 8
• Organizing files and folders
• Managing your inbox with the Mail app
• Sending instant messages with Messaging
• Working with Notepad, WordPad, and Paint
• Controlling system sounds, volume, and accessibility options
• Getting connected to the Internet
• Keeping your PC secure with Windows Update
• Using parental controls to block unwanted content
• Printing from Windows 8
• Fixing issues with the Problem Steps Recorder
• Keeping file backups with File History
• Navigating the web with Internet Explorer 10
Source: Lynda.com