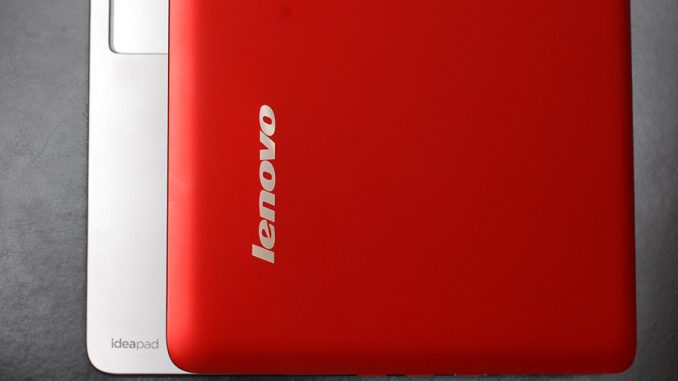 Lenovo's stylish entry into the Ultrabook world comes at a fair price. The IdeaPad U410 (4376B2U) in Ruby Red, which this article is based on, came in at a wallet friendly $899. While this may be in the upper spectrum for laptops, it is still in the median range, price wise, for an Ultrabook. However, bang for the buck is what you get in this platform.

Powered by a 3rd generation Intel Core i5 processor, 8GB of DDR3 SDRAM, along with a dedicated 1GB Nvidia GeForce 610M graphics card, this Ultrabook can handle most anything you throw at it. Battery life is surprisingly good, and comes from a 4 cell lithium polymer battery. Hard disk space is more than adequate at 750GB. What came as a shock to this scribe was the 24GB solid state cache which allowed Windows to boot in a speedy 26 seconds.
Display
The 14" screen is at the larger end of the Ultrabook class, and offers clear, crisp images. When compared to similar models in its class, such as the Acer Aspire M5, or the Toshiba Satellite U845W, it falls slightly behind in screen brightness.
Audio
Powered by Dolby Home Theater v4 software, sound quality is adequate, and what one might expect from small speakers located right in front of the display hinge.
Ports and Connectivity
The U410 comes with integrated Bluetooth 4.0, four USB 3.0 slots, SD card reader with a nifty dummy card to keep unwanted dust out when not in use, and the standard HDMI and Ethernet slots.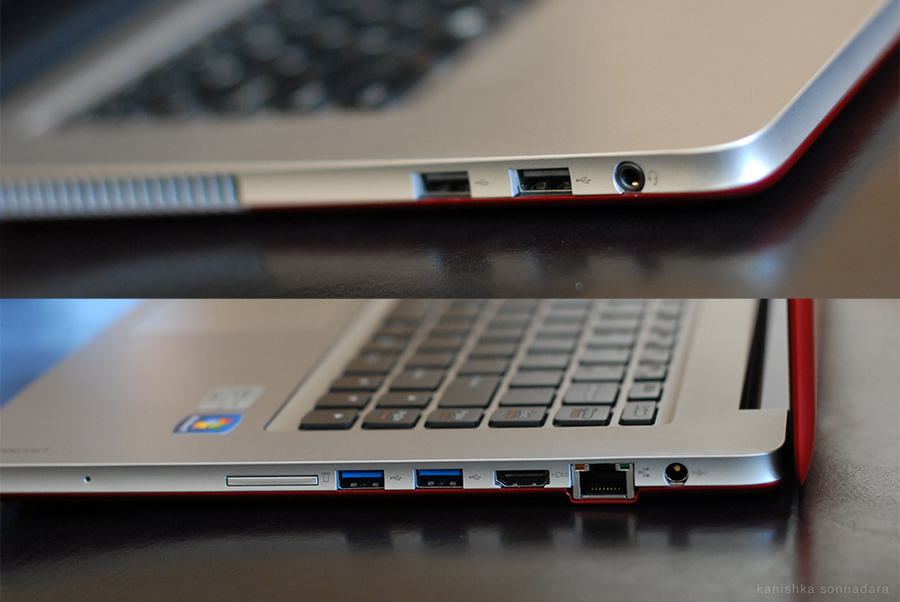 Performance
Now we can get into all the benchmark tests and all the other nitty gritty performance reviews found in abundance everywhere online, but most users, including yours truly finds them a bore, and don't intend to run games and graphics software requiring the top of the line, and usually top of the price range models.
Performance from our test U410 was above average with its i5 processor and 8 GBs of RAM. Internet browsing speed, streaming audio and video, and download speeds were quite good when connected to a wireless N network. We were able to stream episodes of The Three Stooges, yes, that's right some of us like the classics, while having 7 other tabs open in Internet Explorer.
Transfer speed, when using a USB 3.0 hard drive, was surprisingly fast. Transferring 4.6GB of music and photos was nearly a minute faster compared to the traditional USB 2.0 hard drive and transfer cables.
Opening Internet Explorer windows was quick, and sites loaded almost instantly, which is expected of any newer laptop or Ultrabook. Microsoft Word and Excel also booted quickly.
After 4 hours of run time, including streaming audio and video files the laptop was still cool to the touch. There was no annoying fan sounds coming from the underside or back of the U410 either, which was quite pleasing.
The power management utility is second to none. It's amusing to look at, but more importantly, it was very user friendly. Switching between power profiles is a breeze.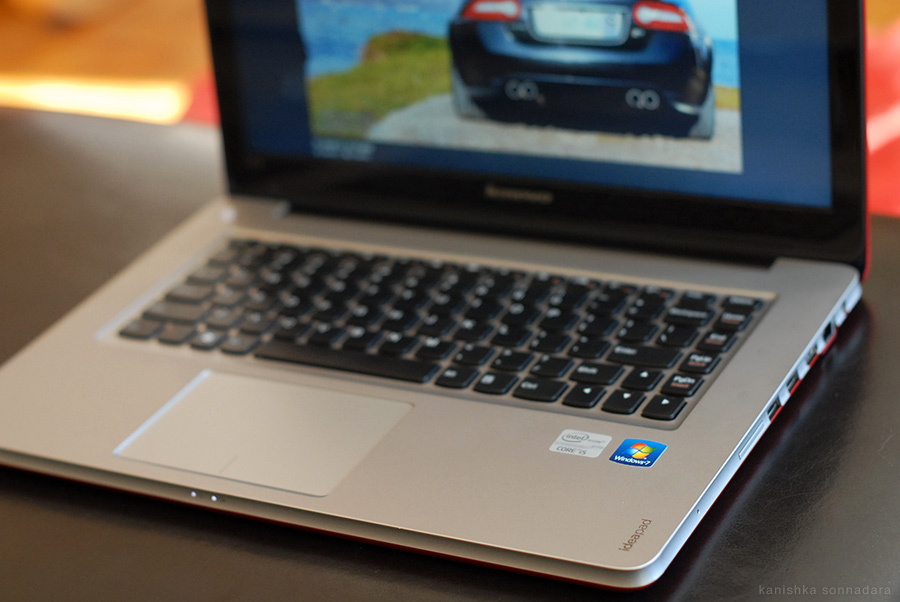 Interior
One of the first things you may notice upon opening the U410 is a similar keyboard layout to that of a Mac. The same can be said with almost any Ultrabook however, as it seems to be the norm with these machines. As with any other Ultrabook there is no number pad, which can be found in most traditional laptops. A backlit keyboard would've been a nice feature.
The touchpad provides plenty of room to glide your fingers when browsing or scrolling. It is a multi touch, button less design, placed slightly to the left side of the U410. The keyboard is nicely laid out, and the buttons are ever so slightly curved to contour to your fingers whilst typing. While these may seem odd points of mention, they're one of those little features that can actually make or break a purchase, as it's the main feature most people use on any laptop/Ultrabook. I can personally attest to avoiding a specific model simply because the touchpad didn't feel smooth to touch and the keyboard felt cheap.
The Ruby Red all aluminum chassis on this 410 feel anything but cheap. It's relatively light at 4.2 lbs, and gets you noticed anywhere you use it. It's hard to miss a bright red Ultrabook anywhere you go.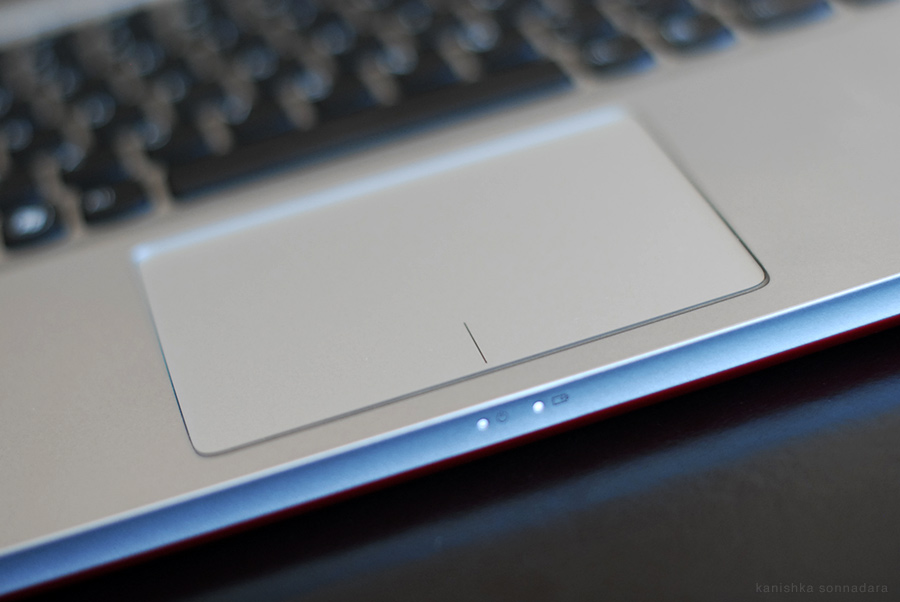 Operating System
Our test machine came pre-loaded with Windows 7. As an operating system, it works well and allows users to get the most from their U410 with ease.
Lenovo tells us that most tech retailers will be carrying U410s in this configuration. Buyers opting to buy their machine directly from Lenovo however, will find the Ultrabook comes with Windows 8.
Through complete luck, we happened upon just such a U410 at the same time we had our test unit. For those who've had an opportunity to use Windows 8, they'll recognize that the OS is designed for touch screen use. Now the U410 doesn't have a touch screen, but it doesn't really matter because 8 works just as well on a regular machine like this one. The real bonus comes in the form of speeding everything up on the computer.
Not only does the U410 have more than adequate system resources to handle Windows 8; it also allows the more streamlined OS to make maximum use of the available resources making the already superb Ultrabook even quicker.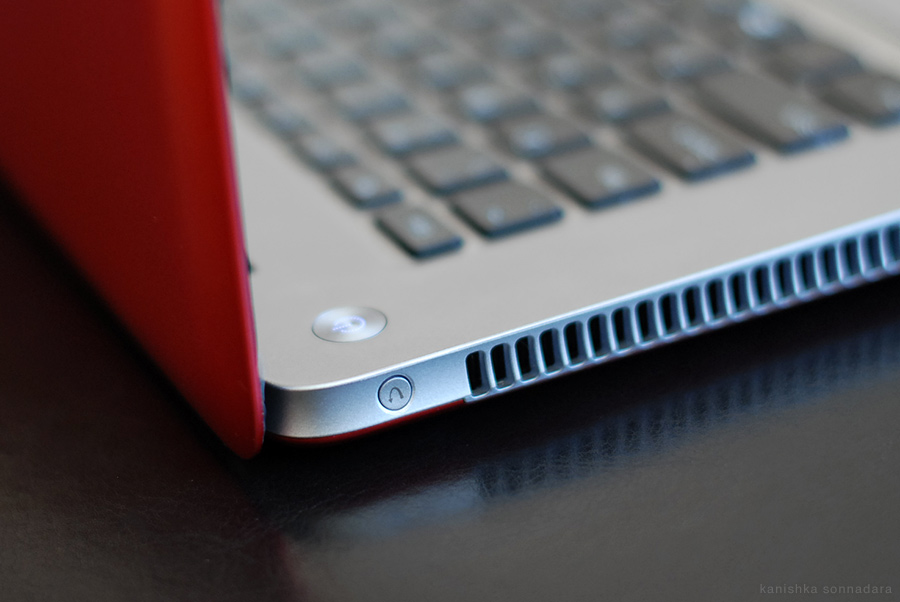 Favourite Feature
Lenovo's OneKey Recovery System is by far one of our favourite features of this, and really any new Lenovo computing product. As the name describes it, there's one button that a user can press in order to have the computer completely revert itself back to factory fresh specs within minutes.
It really is that quick and easy. Well, there are a few on-screen prompts users will have to navigate, but it's nothing requiring any level of tech proficiency. It is important to note that having a regular backup method for the data on your computer is vital if users hope to have access to it after a system restore.
The OneKey system makes the usual problem of machines performing at less than optimal levels after a few months a thing of the past. As long as you're backing up your data on an external storage device or cloud, you can just hit the button and have the computer work as well as it did the day you got it.
Other Opinions
We took the liberty of asking a small group of people their initial thoughts based on the look and feel of our U410. Here's a summary of what they had to say:
All of the latter said it would stand out anywhere you use it, and it feels well made, not 'cheap and plasticy' like other models in this price range. It was a little thicker than some of the other models they've seen, yet wouldn't be deterred from making the purchase because of it. In terms of size and weight, there was nothing but compliments.
[Photographs by Kanishka Sonnadara]
.