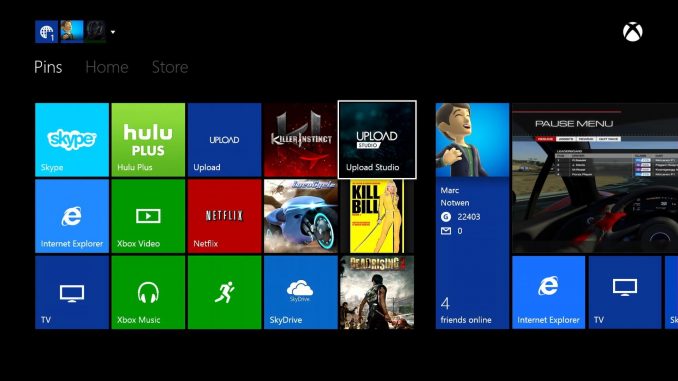 Watch a 12 minute demo of the most in-demand game gift for Christmas Xbox One the all-in-one home entertainment system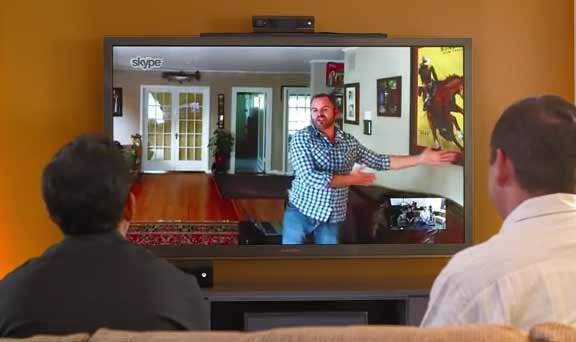 Xbox One using Skype – the Kinect wide-screen camera follows the caller as he moves around the room
If you don't have an Xbox One on order with a promise of November 2013 delivery, you won't get one for Christmas unless you buy one from scalpers.
Announced in May 2013, the Microsoft Xbox One combines gaming, Skype, Kinect voice and image recognition, the internet and home entertainment in one easy to use package.
Price $499 but they are going for $700 to $1,000 on eBay because Microsoft sold out the November 22, 2013 launch and December allotment.
The best way to see how cool Xbox One will make your home entertainment, check out the video.
Xbox One Console

Xbox One Details 8 cores
An 8-core x86 processor lets you instantly switch between a game and your favorite entertainment apps with ease.
Loaded with memory
8GB of RAM and a 500GB hard drive gives you storage for your games, demos, movies, apps, music, and more.
Blu-ray
Watch movies and play games in stunning HD with a Blu-ray player. Xbox One system software uses a significant amount of storage; less internal storage will be available to users.
Forget about having to switch inputs to watch TV or play a game. By connecting your cable or satellite box to your Xbox One, HDMI pass-thru enables you to watch TV through your Xbox Now you can run a host of apps right alongside your game without any loss of performance.
Supported television tuner or cable/satellite set top box with HDMI output and HDMI cable required (all sold separately).
Kinect

Real Vision
Kinect Real Vision technology dramatically expands its field of view for greater line of sight. An all-new active IR camera enables it to see in the dark. And using advanced 3D geometry, it can even tell if you're standing off balance.
Real Motion
Kinect Real Motion technology tracks even the slightest gestures. So a simple squeeze of your hand results in precise control over a game or app. Whether you're standing up or sitting down.
Real Voice
Kinect Real Voice technology focuses on the sounds that matter, thanks to an all-new multi-microphone array. Advanced noise isolation lets Kinect know who to listen to, even in a crowded room. And, for the first time, you can use your voice to launch any Xbox One experience from anywhere in the system.
Wireless Controller
The best gaming controller just got better with over 40 technology innovations. New Impulse Triggers deliver precise fingertip feedback for more realistic experiences.† The D-Pad has been redesigned for even more precise control and Xbox One will automatically and instantly pair a controller to a player when picked up.

Personal Home Screen
Xbox One, with unparalleled voice, vision, and motion technology, automatically signs you in when you enter the room, and gives you control via gestures and spoken words. It can recognize you, so you get to your own, personal home screen effortlessly, complete with all the games and entertainment you like best.
Play While Matchmaking
Keep playing, watching TV or surfing the web while matchmaking happens behind the scenes.
Matchmaking; Reputation System
Smart Match uses advanced algorithms to pair you with the right opponents, gives you more control over whom you play with, and has an extensive new reputation system that helps keep annoying players out of your games.
Realistic Gameplay
Xbox One games look and feel incredibly real, with cinematic gameplay that rivals Hollywood.
Record Gameplay Capture your favorite highlights with Game DVR, which keeps a rolling record of your most recent gameplay so you never miss a moment.
Games Learn From You
Games can learn to play like you and your friends, so you always have worthy opponents, even when your friends are offline.
Switch In An Instant
When you stop playing to watch a movie or TV show, if you go back to your game, it starts right where you left off, even if you were in the middle of a battle or race.
Never Switch Inputs
Connect your cable or satellite box to your Xbox One using HDMI pass-thru, which enables you to watch TV through your Xbox, and makes switching inputs seem almost pre-historic.
Supported television tuner or cable/satellite set top box with HDMI output and HDMI cable required (all sold separately).
Do Two Things At Once
Xbox One lets you quickly jump from TV to a movie to a game. And snap them side-by-side to enjoy both simultaneously. You can find game tips and tricks with Bing while you play, see Fantasy Football stats while you watch the big game, and more.
Use Skype In HD
Chat with friends on your TV in stunning HD. Use Skype in Snap mode to chat while you watch a movie. Or participate in group video Skype calls with up to three people around the world, all from the comfort of your living room.