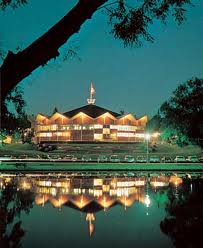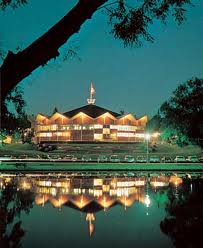 Stratford, Ontario is a quaint little town about a half hour drive west of Kitchener. Certainly it's off the beaten path, but it is home to something truly remarkable, the Stratford Shakespeare Festival. This world class and world renowned company produces the works of the Bard, however has branched out to cover other works, both old and new including musicals. As well as the
Festival Theatre
, the main theatre of the town, there are three other lesser theatres to choose from: the
Avon Theatre
, the
Tom Patterson Theatre
, and the
Studio Theatre
. As a consequence, when the season is on, there are choices and any visitor could plan on seeing more than one production.
Planning a trip
My recommendation is to make a night of it. Living in Toronto, I have about a two hour drive so coming back after a show which ends at 10:30pm is doable, but why kill yourself? There are a number of hotels to choose from but I have also stayed some bed and breakfasts. In fact, the last few times I've been down, I've managed to get accommodation within walking distance of the theatre which is great, no parking to contend with!
Obviously, any planning starts with the web site of the Stratford Shakespeare Festival as it is there you will discover the season's playbill. This year, the 2011 Playbill has a wonderful line-up including both Shakespeare and non Shakespeare productions. As for musicals, I note that this year they are going to put on Andrew Lloyd Webber's Jesus Christ Superstar and Lerner and Loewe's Camelot.
I said make a night of it, but if you do manage to arrange for a weekend, don't forget the other theatres. One of the last times I was down, as well as attending a performance at the Festival, I took in a play at the Studio theatre. It made for a wonderful two days in Stratford.
Besides the theatres, you have a number of restaurants and stores to keep you occupied. And but of course, you must visit the park. It is quite the size so if you manage to walk its circumference, you're in good shape, but you'll have to give yourself some time. Don't forget to visit the island.
Final Word
We always think in terms of vacations which may involve a week or two plus the associated problems of travel arrangements, reservations, passports, etc. Do we stop to think about smaller breaks, an overnight stay or a couple of days away? Do we think about what maybe in our own backyard, so to speak?
Stratford is a wonderful town and add on top of it the entertainment available and you've got a great town. Give yourself a break, a pause to refresh and regroup. You deserve it, don't you? It isn't necessary to hop on a plane and head to Mexico, you can take in a little of what's right around the corner. And if you're coming from far, far away, I will add that Stratford's theatre is world class and well worth the trip.
References
Wikipedia: Stratford, Ontario
Stratford is a city on the Avon River in Perth County in southwestern Ontario, Canada with a population of 32,000.
Wikipedia: Stratford Shakespeare Festival
The Stratford Shakespeare Festival (formerly known as the Stratford Festival of Canada) is an internationally recognized annual celebration of theatre running from April to November in the Canadian city of Stratford, Ontario. Theatre-goers, actors, and playwrights flock to Stratford to take part — many of the greatest Canadian, British, and American actors play roles at the Stratford festival. It was one of the first and is still one of the most prominent arts festivals in Canada and is recognized worldwide for its productions of Shakespearean plays.
What to see and do in this Ontaro Town.
The Stratford Shakespeare Festival
With William Shakespeare as its foundation, the Stratford Shakespeare Festival aims to set the standard for classical theatre in North America. Embracing our heritage of tradition and innovation, we seek to bring classical and contemporary theatre alive for an increasingly diverse audience.
The Stratford Shakespeare Festival: 2011 Playbill
The Stratford Shakespeare Festival: Visitor Info
Click HERE to read more from William Belle
Article viewed at: Oye! Times at www.oyetimes.com