EXPECTATIONS
When the entire album releases only on the day of the film's arrival, it is tough to really set much expectations. Reason being that you are hearing half the album for the first time ever and hence aren't really sure what to expect, even as the film is already playing in theatres. Multiple composers and lyricists come together for creating half a dozen songs for this Rajkumar Hirani film.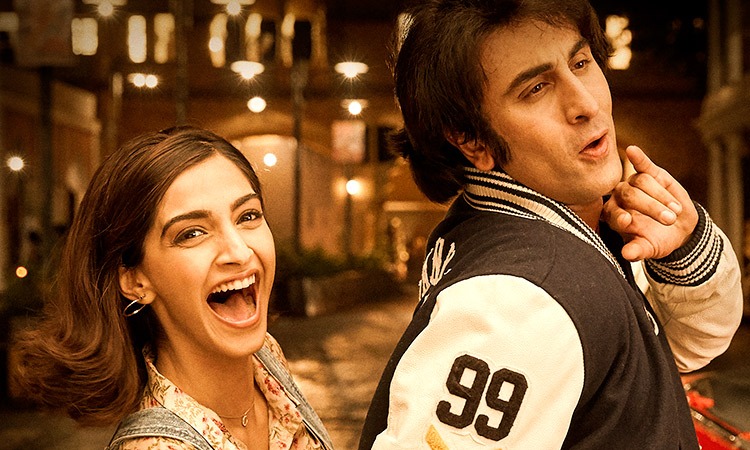 MUSIC
A 40s/50s style retro number
'Main Badhiya Tu Bhi Badhiya'
is the opening number for
Sanju
. The surprising part is that the situation in the film is that of early 80s and hence to have a song from the 40s playing a club appears to be a little odd. Rohan-Rohan come up with a decent tune for this song which has average lyrics by Puneet Sharma. While one can still make out the make voice as that of Sonu Nigam, Sunidhi Chauhan is completely unrecognizable in this retro avtar.
The song that does catch your attention though is 'Kar Har Maidaan Fateh' which should actually have been the opening number of Sanju. Newcomer Vikram Montrose comes up with a good passionate tune for this inspirational number that has been written well by another newcomer Shekhar Astitwa. Sukhwinder Singh is just the apt choice for this song that required high-on-energy rendition. He is ably supported by Shreya Ghoshal who too pitches her voice quite differently for this song that comes at a crucial point in the film's narrative.
AR Rahman is roped in for
'Ruby Ruby'
which is written by Irshad Kamil. A song set in the early 80s when Sanjay Dutt was all set to get engaged to a girl named Ruby (played by Sonam Kapoor in the film), this one starts off as a tipsy outing (especially during the crooning of words
'Ruby Ruby'
) but doesn't really sustain well soon after. Newcomers Shashwat Singh and Poorvi Koutish come together to render this one.
The sound of trumpets kick-starts the proceedings for 'Baba Bolta Hain Bas Ho Gaya'. A promotional number that appears in the end credit cards of Sanju, it takes upon the common practice of media where articles are written with frequent mentions of '…as per sources'. Challenging this practice, lyricists Puneet Sharma, Abhijat Joshi and Rohan Gokhale try to come up with a funny take on the state of affairs. An engaging number by composer Vikram Montrose which is crooned by Papon, Ranbir Kapoor and Supriya Pathak, one wonders why the makers didn't begin to play this one much sooner.
A fun number comes soon after in the form of 'Bhopu Baj Raha Hain'. Composed by Rohan-Rohan with lyrics by Shekhar Astitwa and Rohan Gokhale, this one is the kind of number that you could well have found in a Rohit Shetty or David Dhawan film. To actually have this number as an integral part of the film with Ranbir Kapoor in full fervour would not have been a bad idea as the song is totally in the actor's zone. Nakash Aziz catches the spirit of the song well and sets the mood perfectly well for the stage and ambience that it comes with.
Last to arrive is Irshad Kamil written 'Mujhe Chaand Pe Le Chalo' which is yet another tipsy outing with the sound design going really well with the song's theme. Nikhita Gandhi renders this 60s style song in just the right manner with AR Rahman giving her a major platform all over again. A song of seduction, it could well have helped the film had it been promoted much earlier.
OVERALL
The music of Sanju is decent to good with songs like 'Kar Har Maidaan Fateh' and 'Baba Bolta Hain Bas Ho Gaya' going well with the theme of the film. However, surprisingly it was 'Main Badhiya Tu Bhi Badhiya' that saw maximum promotion right at the beginning and then the entire soundtrack never really came out till the day of release.
OUR PICK(S)
'Kar Har Maidaan Fateh', 'Baba Bolta Hain Bas Ho Gaya', 'Bhopu Baj Raha Hain'
Click HERE to read more and view the original source of this article.


Loading ...