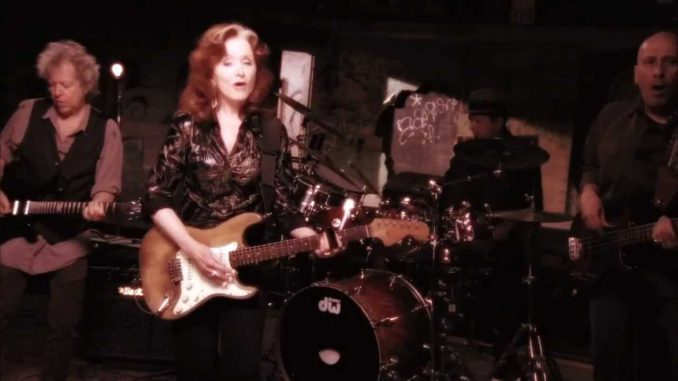 The official video from "Slipstream" is in the open
http://www.youtube.com/watch?v=-T_aMNbXVdA
The reggae infused version of Gerry Rafferty's "Right Down the Line" is the "single" as they say in the biz from the CD.
The CD is a welcome addition to Bonnie Raitt's recordings. It was self-produced with Joe Henry, using his home studio, which is the way things are done today. His home studio isn't second-rate of course.
By self-producing and owning her own label, Bonnie Raitt can earn more from CD sales compared to the old studio days when the artist got a tiny fraction of the retail revenues.

'Slipstream' Track Listing:
1. Used To Rule The World (Randall Bramblett)
2. Right Down The Line (Gerry Rafferty)
3. Million Miles (Bob Dylan)
4. You Can't Fail Me Now (Joseph Lee Henry/Loudon Wainwright III)
5. Down To You (George Marinelli/Bonnie Raitt/Randall Bramblett)
6. Take My Love With You (Gordon Kennedy/Wayne Kirkpatrick/Kelly Price)
7. Not Cause I Wanted To (Al Anderson/Bonnie Bishop)
8. Ain't Gonna Let You Go (Al Anderson/Bonnie Bramlett)
9. Marriage Made in Hollywood (Paul Brady/Michael O'Keefe)
10. Split Decision (Al Anderson/Gary Nicholson)
11. Standing in the Doorway (Bob Dylan)
12. God Only Knows (Joseph Lee Henry)

Who killed the video?
If MTV killed the radio song, did YouTube kill MTV? Probably since no one is spending $1 million on video productions any longer. The budget is considerably less.

Tom Wilson
, of
Junkhouse
, told me Sony spent almost all the band's royalties on the last video. When he was producing Lee Harvey Osmond, they did a more indie video of Queen Bee for peanuts – a rented suit from a second-hand clothing store and gas money.
http://www.youtube.com/watch?v=HJXHn_DgTB4
The "Right Down the Line" video is a bit low-key from the stylistic high production videos such as the saucy "Thing Called Love" with Denis Quaid from "Nick of Time." Raitt has done the theme of couples – straight or gay – before to better effect. She might find some young people with quirky sensibilities for her next video, just saying.
The "Nick of Time" and "Luck of the Draw" videos are from the good-old-days when the studios spent $1 million plus to produce a video promoting the CD. Some had Hollywood directors and story lines. You could buy the videos as a separate item. Now the videos are free on YouTube.
http://www.youtube.com/watch?v=krF6LpUXODc
"Thing Called Love"
Try the freaky and hot sensuality of "Love Letter". You can just feel the desert heat.
http://www.youtube.com/watch?v=UzWW1j-oVTM
People paid money to buy the videos in the 1990s, before YouTube. I have the LaserDisc version of Bonnie Raitt: The Video Collection [VHS]. Those are videos classics that work better on a big screen TV than a computer monitor. I can't find her video collection on DVD or Blu-Ray yet. It's worth a re-issue in my mind.
Related stories

Bonnie Raitt on the Web:
Where to get "Slipstream"
| | CD | MP3 | Vinyl |
| --- | --- | --- | --- |
| | CD | MP3 | Vinyl |
| Amazon.com | | With digital booklet | |
| | | | |
| Amazon.ca – Canada | | | |